How to Choose a College Major and Develop a Career Plan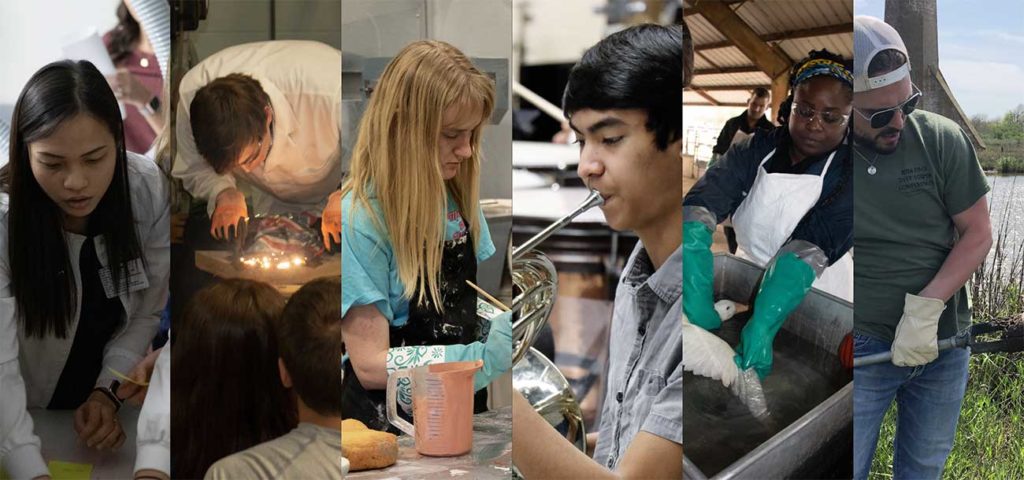 Going to college can seem daunting, and no small part of that is the prospect of having to choose a major. Not choosing the "right" major, or not choosing a major at all, can feel like you're starting off your college career on the wrong foot. So before we discuss how to figure out what major is right for you, we should dispel some myths:
College Major Myths
Myth #1: You major will set the course for the rest of your life. While choosing a major will give you direction on what college classes to take and what order to take them, it's just a starting point. Getting a college degree will prepare you not only with the skills you need to succeed in a specific area, but also a number of "soft skills" that are applicable in nearly any industry or business, including leadership, research, time management, communication and teamwork skills. No matter what program you choose, you'll graduate prepared with the basic skills needed to succeed in a professional workforce. For that reason, you should see your major not as a direct line from A to B, but as a roadmap to a variety of potential destinations.
Myth #2: You have to declare a major right away. While you might experience pressure from family, friends, guidance counselors or others to declare a major as soon as you enroll, there is value in taking the time to discover if what you think you might what to do is really what you want to do. While certain programs may give you less wiggle room than others with the number of required classes you have to take, most students don't have to declare their majors until their sophomore year.
But what if you aren't sure where to even start with choosing a major? What if the major you think you want to pursue conflicts with your family or friends' expectations or advice?
Choosing a Major
McNeese's academic program search can help you narrow down what majors might be a good fit for you, based on your interests, who you might want to work with, or what career you want. If you're not a current student and you're looking for some potential paths to pursue, our recruiters are here to help get your college career started on the right track. If you're already a student, our freshman advising staff and the staff of our Career and Student Development Center are on hand to make the decision a little easier.
Here are some additional steps that might help make your decision easier:
Step 1: Consider Your Interests and Passions
Do you want a career where you'll be able to express yourself, or work with numbers? Are you passionate about justice, or want to have a career focused on helping people? All of these things are important to consider when you're thinking about what major to choose. The financial return on a degree is important, but the average person will spend nearly 100,000 hours working in their profession before retirement. Make sure that time will be spent doing something you enjoy!
Step 2: Think About What You Like to Do
If you're not sure about you're interested in or passionate about, think about the classes that you've done well in while in high school, or other activities that you enjoy. Do you like to read, or spend a lot of time working with computers? Are you that friend that everyone comes to for advice? Do you still have a neighborhood of Lego buildings in your basement? Do you feel best when you're spending time outside? All of these could be good indicators of what career might be the best fit for you.
Step 3: Consider How Long You Want to Be in School
If you're pursuing a career in professional fields like medicine or law, you may require more than a four-year degree to get the job that you want. Certain professions may even require more than a decade of study, as well as certain GPA requirements, additional certifications, specialized internships and more.
On the other hand, there are a number of degrees where pursuing a master's degree or higher won't necessarily be helpful for your career. Will you want to jump right into a job after you graduate, or do you really want to dive into higher education and become a master of your field? Both of these are important when deciding what major is the best fit for you.
Step 4: Visualize Your Ideal Post-Graduation Life
Consider if the field is experiencing growth and if that career can give you the lifestyle that you want. For example, a career may have a high return salary-wise, but if there's no demand in your area (or if an industry is location-specific), you will likely have to relocate. If it's important to you to stay close to your hometown, this career field is probably an unwise choice. On the other hand, if you love to travel, certain careers can offer plenty of opportunities for you to see the world.
Also, while some fields may be very specialized – like engineering or pre-med – other degree programs offer a greater degree of versatility, like communication and business degrees. With these degrees, it's often easier to move to jobs in related career fields.
Step 5: Research Prospective Careers
If you think you have a career or a few careers in mind, make a list and do some investigating in person or online. Try connecting with people in the field and ask them what challenges they faced in getting their degrees and finding jobs afterwards, and what they might do differently (or the same). If you can't connect in person, try to find role models online and read about their histories – their journeys to success might surprise you!
Classroom learning can be very different from a real working environment, and internships, workshops, work-study and other opportunities can not only give you practical experience in your field, they can help you network with professionals who can give you advice on potential career paths and realistic expectations for your future.
Step 7: Give Yourself Time to Decide
Remember, you don't have to make this decision right away. Taking basic-level courses when you first get to college is also good way to gauge your level of interest and commitment in pursuing a degree program. It's much better to realize as a freshman or sophomore that you aren't as interested in a program as you thought you would be.
Plus, you could always decide to be an interdisciplinary studies major! This degree program gives you the freedom and flexibility to take a wide variety of classes so you can discover where your interests lie, and cater your classes to the career that you want.
Still Lost?
Remember, you don't have to make this decision alone! Our recruiters, freshman advising staff, and Career and Student Development are here to help. Contact them today!