Engineering Degree Program Highlights
The mission of the bachelor's engineering program at McNeese is to combine interdisciplinary curriculum, scholarly development, hands-on training and professional ethics to prepare students to meet the growing demand for engineers and technicians at the local, state and national level. Fueled by partnerships with local industry and accredited by the Accreditation Board of Engineering and Technology (ABET), McNeese's engineering program ensures both traditional and non-traditional students graduate with the practical experience and theoretical knowledge necessary to become the next generation of industry leaders across a range of disciplines.
Four areas of concentration
McNeese offers concentrations in civil, computer end electrical engineering, as well as a separate Bachelor of Science in mechanical engineering and Bachelor of Science in chemical engineering degrees. Each program offers the opportunity to participate in research projects, gain work experience through co-ops and internships and build global competencies through study abroad experiences – all while working with experienced faculty members.
Degree Type: Bachelor of Science (B.S.)
Program Length: 4 years (128 credit hours)
Engineering Degree Concentrations
Careers and Opportunities
What Can You Do with an Engineering Degree?
With a bachelor's degree in engineering, you can work in a variety of careers, including engineering services, research and development and manufacturing. You could also continue your education to broaden your knowledge, gain experience, learn new technology or develop project management skills, which will help you qualify for supervisory positions.

Graduate Schools or Programs
Master of Engineering, Chemical Engineering
Master of Engineering, Civil Engineering
Master of Engineering, Mechanical Engineering

Potential Job Titles or Employers
Champion Technology Services
Cheniere Energy
Citgo
ConocoPhillips
Entergy
Firestone Polymers
Flowserve Corporation
Halliburton
Honeywell
Levingston Group
LyondellBasell
Northrup Grumman
Packaging Corporation of America
Phillips 66
ReCon Management
SASOL
Triad Electric & Controls
Westlake Chemical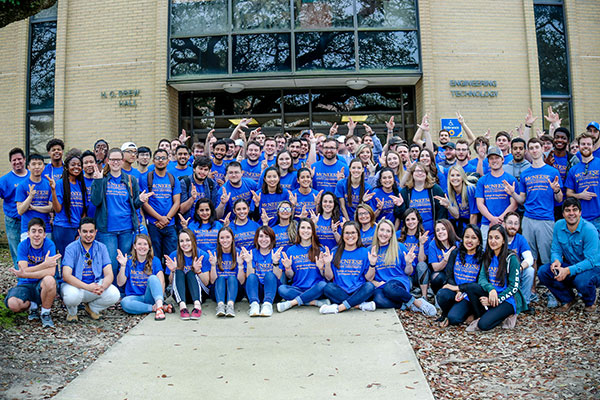 Student Activities
McNeese hosts student chapters for a number of engineering organizations, including:
American Institute of Chemical Engineers
American Society of Civil Engineers
Institute of Electrical and Electronic Engineers
American Society of Mechanical Engineers
National Society of Black Engineers
Society of Women Engineers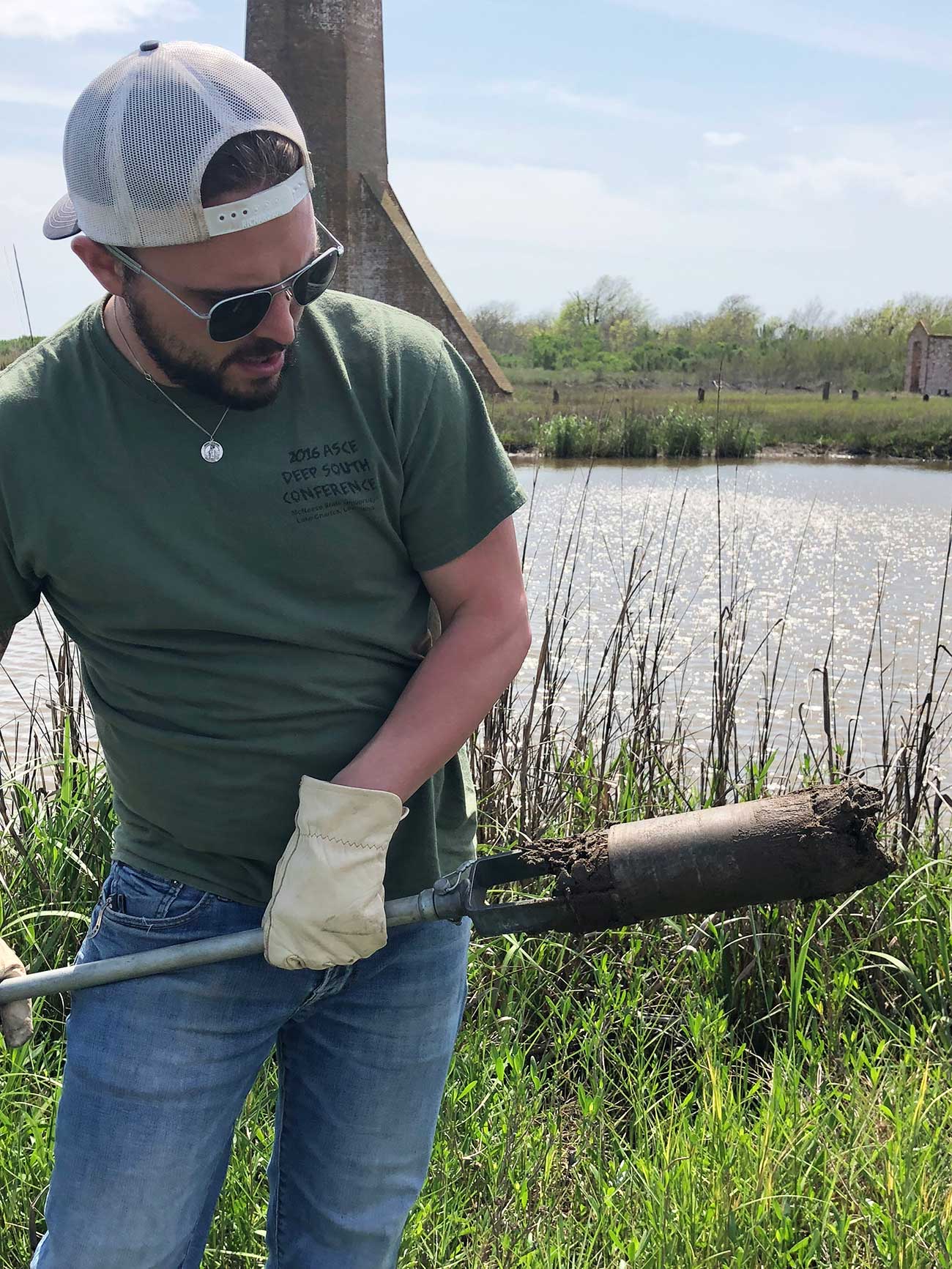 Experiential Learning
McNeese students' studies often take them into the field. Former students have used their engineering skills to preserve a local lighthouse, conduct atmospheric tests with the NASA LaACES balloon project and design tools to help sample volcanic formations on the sea floor.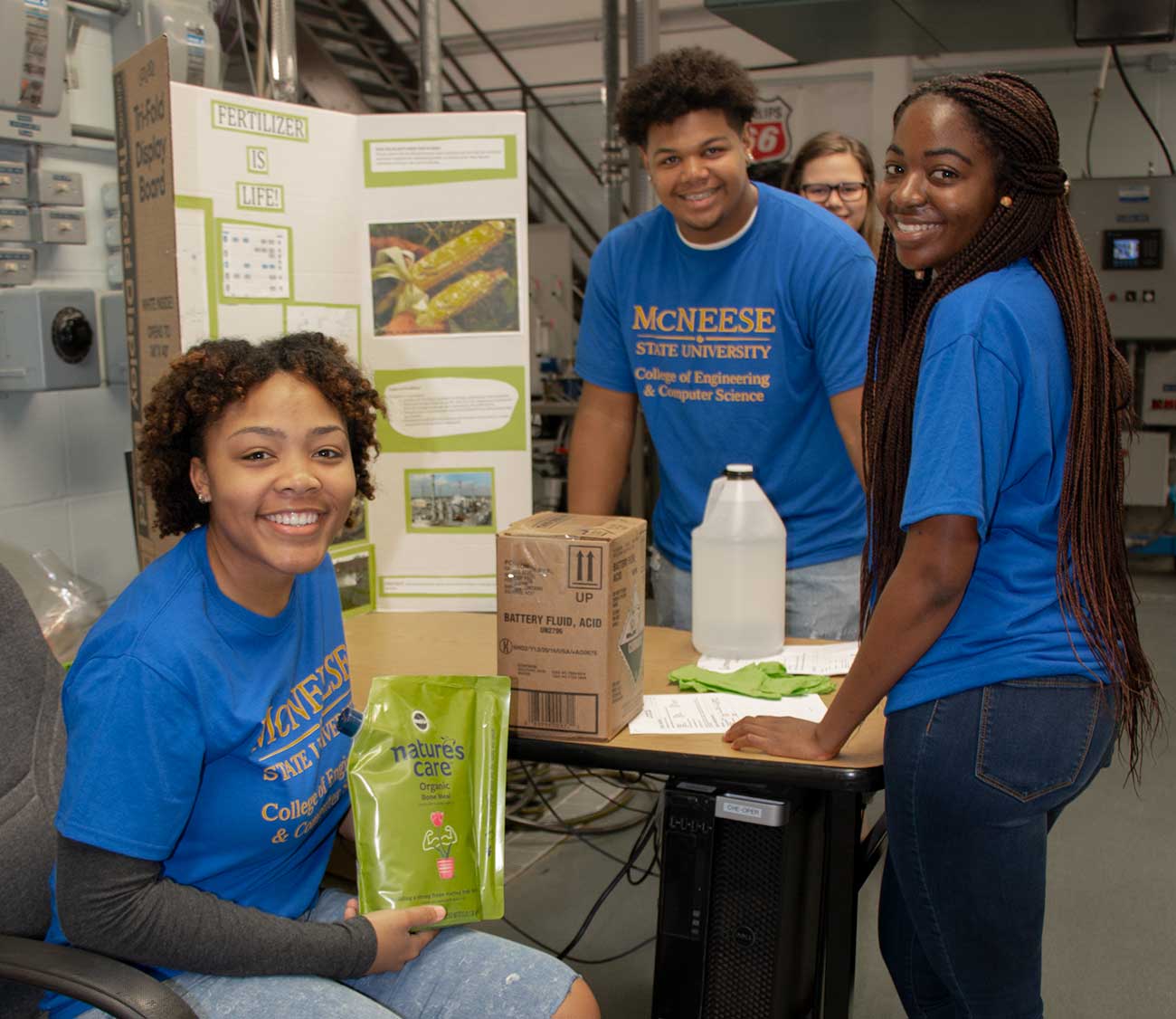 E-Week
Every year, McNeese celebrates National Engineering Week with events and activities for students of all ages, their parents and the community. Engineering majors demonstrate their knowledge, skills, research and experiments to help encourage engineering awareness and inspire a love of engineering in the next generation.
Additional Details on the Bachelor's Degree in Engineering
The Engineering program at McNeese State University is accredited by the Engineering Accreditation Commission of the Accreditation Board of Engineering and Technology. For more information, visit www.abet.org
Engineering Program Educational Objectives (PEOs)
The Engineering Program seeks to:
Prepare graduates to practice engineering and to be successful in solving the engineering problems encountered in industry, government or private practice.
Provide graduates with the motivation and skills to advance into positions of increased responsibility and to pursue continuing education or graduate studies
Produce graduates who are not only ethical and professional as engineers but also are responsible members of their communities and the larger society.
Engineering Program Student Outcomes (SOs)
At the time of completion of the Engineering Program at McNeese State University, graduates will possess all of the following skills and abilities:
Identify, formulate, and solve complex engineering problems by applying principles of engineering, science, and mathematics;
Apply engineering design to produce solutions that meet specified needs with consideration of public health, safety, and welfare, as well as global, cultural, social, environmental, and economic factors;
Communicate effectively with a range of audiences;
Recognize ethical and professional responsibilities in engineering situations and make informed judgements, which must consider the impact of engineering solutions in global, economic, environmental, and societal contexts;
Function effectively on a team whose members together provide leadership, create a collaborative and inclusive environment, establish goals, plan tasks, and meet objectives;
Develop and conduct appropriate experimentation, analyze and interpret data, and use engineering judgement to draw conclusion; and
Acquire and apply new knowledge as needed, using appropriate learning strategies.
Programs Related to the Bachelor's in Engineering
Srinivasan Ambatipati – Department Head
sambatipati@mcneese.edu