Recreational Sports Complex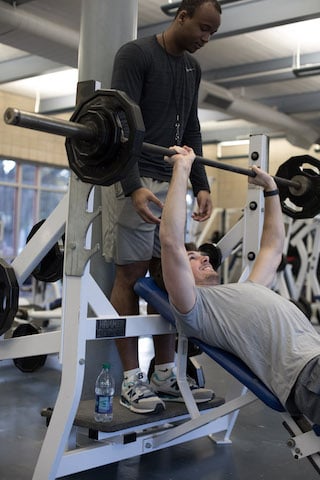 The Recreational Sports Complex offers students, faculty, staff and alumni the opportunity to participate in a variety of programs and sports that contribute to the educational environment, health and wellness of the university.
Visit the Olympic size swimming pool, weight room, or cardiovascular theatre to work on your fitness goals on your own time. Or, join one of the many fitness classes held weekly during the fall, spring, and summer semesters. Check out our General Information to make sure you have everything you need for the perfect workout.
Semester Hours: Fall, Spring Summer
Rec Complex:
M-Th: 9 a.m. – 9 p.m.
F-Sat: 10 a.m. – 6 p.m.
Sun: Closed
Pool:
M-Th: 12 p.m. – 6 p.m.
F-Sat: 12 p.m. – 6 p.m.
Sun: Closed
Fees:
Students, Faculty and Staff: Free!
Dependents (spouse/children only): $30 per semester
Alumni (30 credit hours): $400 per year, $150 per semester
Locker Rental: $5 per semester
Guests: Permitted with student/faculty/staff/alumni member for $5 entrance fee
Facilities
Indoor Track: Overlooking the basketball courts, the indoor track is 200 meters long (approximately 8 laps per mile) and is divided into six lanes. The track is wheelchair accessible.
Olympic Size Swimming Pool: The Rec Complex swimming pool is "L" shaped and separated into an approximately 50 yard outdoor section and 25 yard indoor section. Both sections have six lanes each and a lifeguard is always on duty. Kickboards, flippers, and other equipment are available for checkout. Showers, lockers, and a steam and sauna room are all located in close proximity to the pool.
Basketball Courts: The Rec Center houses three full basketball courts that can be separated by curtain and divided into three volleyball courts, eight badminton courts and two tennis courts. Basketball, volleyball, badminton and tennis equipment is available for checkout.
Racquetball Courts: There are four racquetball courts available for use, and racquets, balls and protective eye wear are available for checkout. Due to the popularity of racquetball, making a reservation is recommended. Courts can be reserved up to two days in advance by calling 475-5425.
Tennis Courts: The four tennis courts closest to the Rec Complex building are equipped with lights for play after sundown. Racquets and are available for checkout.
Wellness Center: The first floor of the Wellness Center is comprised of an 8,000 sq. ft. weight room and has state-of-the-art equipment including free weights, selectorized exercise equipment and a cardiovascular theatre. With our exercise entertainment system, anyone using any piece of cardiovascular fitness equipment can listen to a variety of audiovisual components with a regular pair of headphones. This system includes four bigscreen televisions and eight CD and FM radio players.
The second floor of the Wellness Center consists of a large aerobic room, a conference room, general offices and a Wellness Office for consultations and assessments.