Office of Student Services
The Office of Student Services enhances the educational mission of the University by engaging students in co-curricular programs and activities that promote development in the areas of leadership, professionalism, cultural awareness, service learning, morality, fiscal awareness, social ability, and recreation.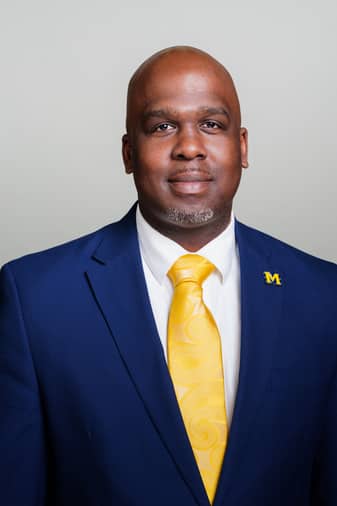 Dr. Kedrick A. Nicholas
Dean of Student Affairs
337-475-5609
knicholas@mcneese.edu
The motto of student engagement at McNeese is "E3 – Enhancing Education through Engagement". It is proven that the educational experience of a college student is enhanced by engaging in student life and building a deeper connection to the university.
Student Affairs and Services Leadership Team
Nancy McIntyre
Administrative Assistant for Student Services
nmcintyre@mcneese.edu
Jacqueline Clark, M.A.
Director of Student Engagement & Leadership
jclark@mcneese.edu
Lacie Wentzel, M.S.
Director of Recreation & Wellness Programs
lwentzel@mcneese.edu
Drew Hoffpauir
Director of Campus Housing
drew@mcneesereslife.com
Kendal Arthur, M.A.
karthur3@mcneese.edu
Director of Residence Life
Joey Macnamara
Director of Campus Dining
joey.macnamara@compass-usa.com
Desmond Wallace, M.A.
Director of TRIO Upward Bound Program
dwallace@mcneese.edu
Portia Metoyer
Director of Student Union Facility and Programs
pmetoyer@mcneese.edu
James Grimes, M.A.
Director of Counseling Services
jgrimes@mcneese.edu
Tim Delaney, M.S.
Director of Accessibility Services
tdelaney@mcneese.edu
Ashley LaHood, LPN
LPN for Student Health Services
alahood@mcneese.edu
Emily Derouen
Director McNeese Cowgirl Kickers
mcneesecowgirlkickers@yahoo.com
---
Holbrook Student Union (New Ranch)
4300 Col. Tony Polk Dr.
MSU Box 92535
Lake Charles, LA 70609
(337)475-5609
studentservices@mcneese.edu
Student Affairs and Services Departments and Functional Areas