Get Connected, Get Engaged
Cowboy Camp: New Student Orientation is designed for first-time freshmen and provides them with essential information and tools necessary to be successful McNeese students. The experience assists freshmen in adapting to the University environment and becoming a part of the campus community. Sessions are scheduled during the summer for students who will be first-time freshmen in the fall. Freshmen participate in several programmatic elements including general assemblies, engagement activities, and content-specific breakout sessions. All first-time freshmen are required to attend a Cowboy Camp session to gain credit in ORIN 101.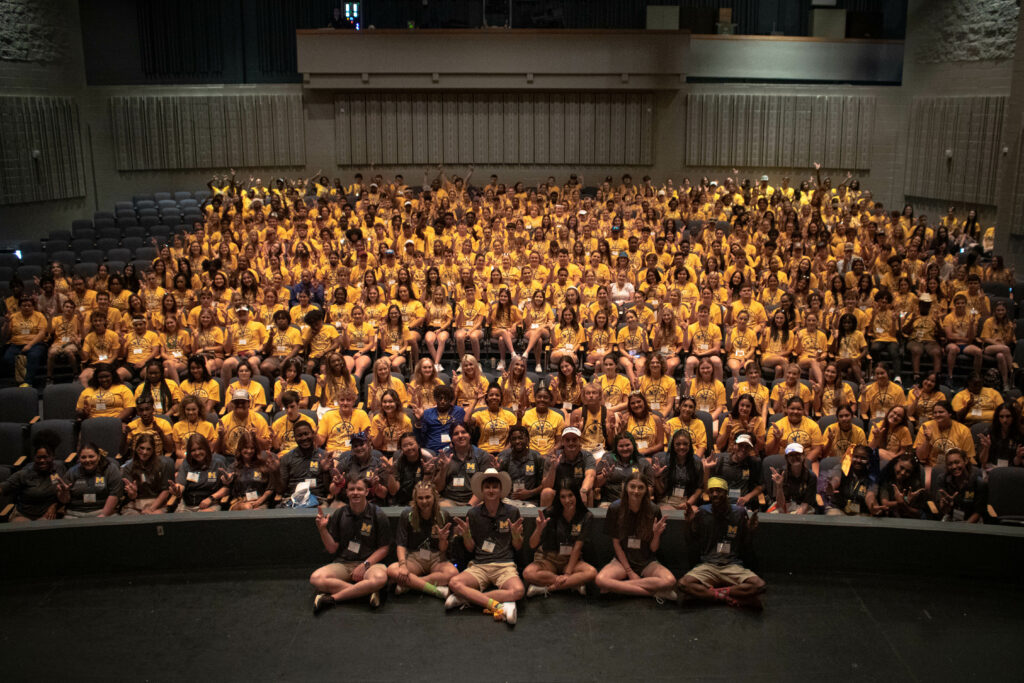 What will happen at Cowboy Camp?
Cowboy is exciting, interactive, and motivational. In addition to learning what it means to be a fully engaged McNeese student, meeting student leaders and peers, Cowboy Camp participants will have the opportunity to attend breakout sessions on the following topics:
Financial Aid and Scholarships
Student Health and Wellness (Counseling, Health Services, Wellness Programs)
Student Support Services (Writing Center, Tutoring Center, Library, Academic Success Center)
"So You Want to be Greek": Fraternity/Sorority Life Information Session
Enrollment Management 101 (drop/add information, registration procedures, etc.)
"Fifteen to Finish": A Path to Graduating College in Four Years or Less
SGA and Student Life Coalition Information Session
"Becoming a Campus Leader": Stories from Current Student Leaders
"Adjusting to a New Home": Tips for Enjoying your Campus Housing Experience
Student Activities and Student Organizations
Campus Safety
Intramural Sports and E-Sports
Financial Literacy for New College Students
Guidance for Underrepresented Populations (Black Student Success)
McNeese Athletics Student Engagement
Accessibility Services (pre-scheduled consultations)
Peerleader Student Ambassadors Information Session
Local Community Involvement
Students will also be able to participate in leisure campus activities such as:
Swimming at Recreation Complex
Working out at Recreation Complex
Gaming at Recreation Complex
Relaxing and watch TV in the student union
Campus "Class Schedule" Tour
Leisure Learning Activities (Self-defense and awareness with McNeese Police, Creating your first budget with a College of Business professor, etc.)
Registration for Summer 2022 Sessions
Pre-registration is required for Cowboy Camp. Students who attend Cowboy Camp Sessions A and B are required to stay overnight on-campus. Students with addresses in Calcasieu Parish may opt out of overnight accommodations, but are strongly encouraged to stay with their peers. Session C students will stay overnight on-campus if they are slated to live in campus housing for the school year. Other students attending Session C must commute. Limited registration spots are available for each session.
REGISTRATION NOW OPEN – Click a button to register for a session
Students who have already registered for Session B are not allowed to register for Session C without approval from the Office of Student Services. If a student has a prior submission for Session B, their Session C submission will be rejected if approval is not on record.
Tentative Cowboy Camp Schedule
Day 1
Time
Activity
Location
11:00am
Check-In for Orientation and Housing Begins
Recreation Complex – Ward Arena
11:30am
Lunch Begins
Rowdy's Dining Hall
12:30pm
Check-In Ends
1:00pm
Lunch Ends
1:30pm – 2:15pm
Opening Assembly w/ Parents
Tritico Theater
2:30pm – 3:15pm
Small Group Session
Designated Locations
3:30pm – 4:00pm
Breakout Sessions 1
Designated Locations
4:15pm – 4:45pm
Breakout Sessions 2
Designated Locations
4:45pm – 5:30pm
Flex Time
TBD
5:30pm – 6:00pm
First Dinner
Rowdy's Dining Hall
6:15pm – 6:45pm
Second Dinner
Rowdy's Dining Hall
7:00pm – 9:00pm
"19:39 at the Clock Tower" Tradition

Evening Large Group Activities
TBD
Day 2
| | | |
| --- | --- | --- |
| Time | Activity | Location |
| 7:45am | First Breakfast | Rowdy's Dining Hall |
| 8:15am | Second Breakfast | Rowdy's Dining Hall |
| 9:00am | Morning Assembly | Tritico Theater |
| 10:00am – 10:30am | Small Group Session | Designated Locations |
| 10:45am – 11:15am | Breakout Sessions 3 | Tritico Theater |
| 11:30am – 12:00pm | Breakout Sessions 4 | Designated Locations |
| 12:15pm – 1:45pm | Lunch and Midday Activity | TBD |
| 2:00pm – 3:00pm | Flex Time (Campus Housing Checkout) | Designated Locations |
| 3:15pm – 4:15pm | Closing Assembly | TBD |
| 4:15pm – 5:00pm | University Business Time | |
Overnight Housing
Overnight housing is available on campus for Cowboy Camp sessions A & B. Students with home addresses outside of Calcasieu Parish are required to stay on campus. Students with home addresses inside of Calcasieu Parish are strongly encouraged to stay overnight on campus but may opt-out if they wish to commute back and forth home. More information concerning overnight housing, room assignments, and items to bring will be provided closer to your registered date for Cowboy Camp.
Session C on-campus housing is only available to students who will be campus residents for the 2022-2023 school year because the session takes place days before the start of fall classes. Those students will be allowed to move into their residence hall prior to the Cowboy Camp session.
Meals
The following meals are provided to students at Cowboy Camp at no cost.
Day 1: Lunch and Dinner
Day 2: Breakfast and Lunch
Orientation Fees
Students who register for one of the Cowboy Camp: New Student Orientation sessions are assessed a non-refundable $250 orientation fee that covers expenses associated with the program and advisor support throughout the freshman year. The charge is applied to the student's tuition and fee bill after a student has attended an orientation session.
More Information
Plan to check this page for more information in the future including:
What to bring
Attire
Rowdy Rider orientation leaders
Concurrent Parent Orientation sessions
Questions
If you have any questions concerning Cowboy Camp, contact the Office of Student Services at 337-475-5609 or email studentlife@mcneese.edu.