McNeese Graduate First Choice for Economics Program
February 22, 2021 | McNeese Public Relations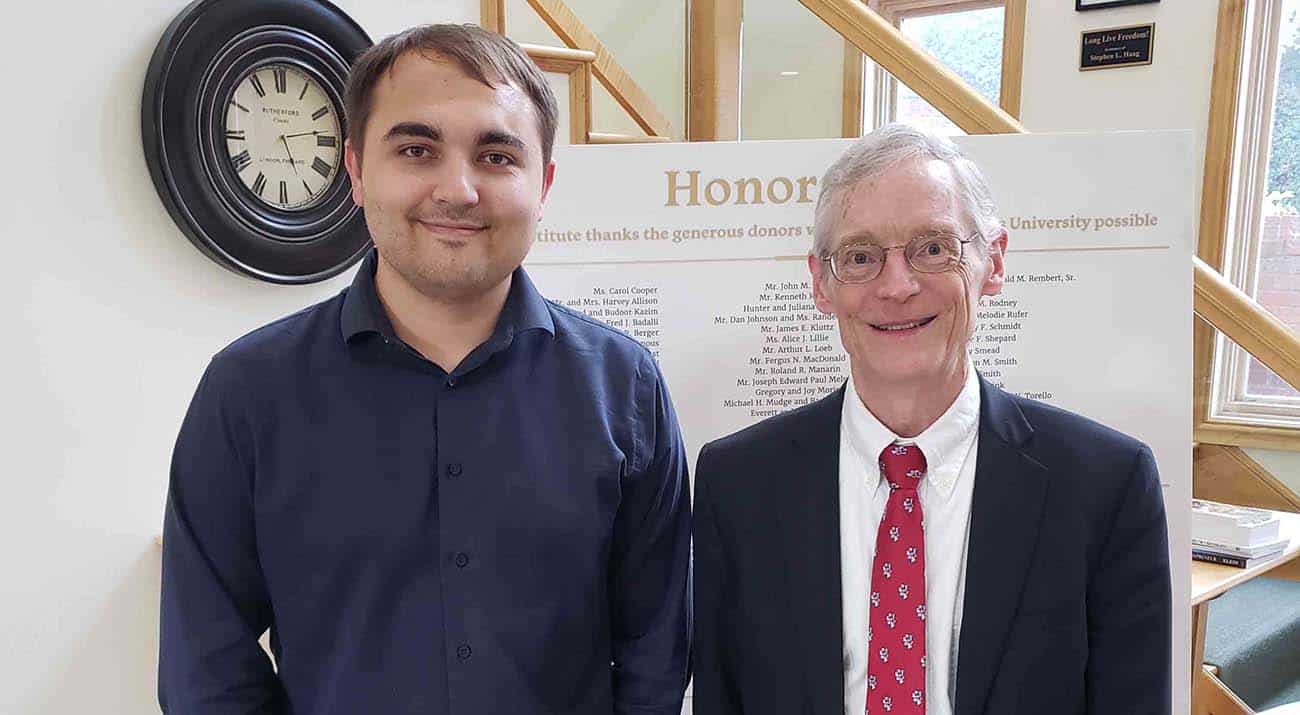 McNeese State University graduates are First Choice for potential employers because of the quality education they receive in the classroom and extracurricular learning opportunities the university offers. Devin Cooper, a 2020 accounting graduate, attended the Mises Institute in Auburn, Alabama, to learn from the greatest minds in economics.
Each summer, the Mises Institute hosts Mises University, the world's leading instructional program in the Austrian school of economics for university and college students. Mises University, a highly selective weeklong summer program for students from all over the globe, follows the teachings of economists Ludwig von Mises and Murray N. Rothbard to promote Austrian economics that has an entirely different approach that dissents from the mainstream on method, theory and policy.
"Austrian economics studies the existence of economic law that explains the laws of supply and demand, the cause of inflation, the operation of foreign exchange rates and the subjective nature of economic value," explains Cooper. "This form of study focuses on the methodology of economics and how human choice impacts monetary value."
Cooper's accounting professor, McNeese president Dr. Daryl Burckel, recognized Cooper's dedication and talent in economics.
"The Mises University program is highly competitive, and this unique experience will impact the way Devin makes a life, makes a living and makes a difference in his community as a McNeese graduate," says Burckel. "Devin is just one example of the exceptional McNeese students that successfully compete on every level."
Cooper says he has followed the careers of several Mises University faculty – among the finest international scholars of Austrian economics and libertarian political theory – for many years and was excited to have the opportunity to attend.
"I learned about the Mises University program a few years ago and it's always been a goal of mine to attend," says Cooper. "Each day of the program is filled with lectures by renowned researchers. The days are long, but it's worth the time to interact with scholars I've read about and listed to and have them take my questions at any time."
He encourages other students interested in economics to apply to the Mises University program.
"I will be applying for the program again and it would be great to see more students from McNeese there," Cooper says. "I recommend this program to anyone interested in researching how people and economics impact each other. It is definitely a one-of-a-kind experience."
Cooper is currently interning with KPMG International, an international firm that offers audit, tax and advisory services and is one of the largest internship partners for McNeese's College of Business.
Want more stories like this one sent straight to your inbox every week? Sign up for our McNeese eNewsletter!
The Office of Marketing and Communications
4205 Ryan Street
Lake Charles, LA 70609
337-475-5640
communications@mcneese.edu