Meet Natural Resource Conservation Management Major Cutter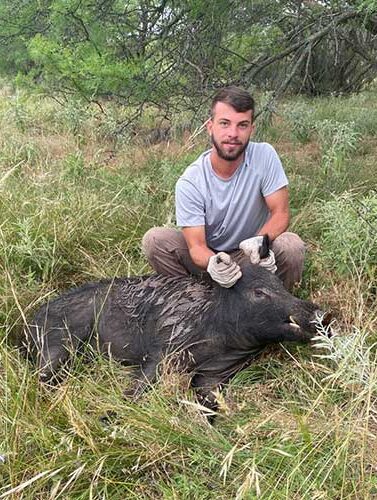 I grew up watching Steve Irwin on TV, and I kept thinking to myself, 'That would be cool to go out and study this animal, or play with this animal,' and so throughout life I just started easing into it. When I got to McNeese and started the natural resource conservation management program I thought, "This is what I want to do for the rest of my life."
I've been in three internships so far – I was a bear hair trap technician in north Louisiana with the Louisiana Department of Wildlife and Fisheries, and I worked in an alligator park at Gator Country Adventure Park in Beaumont, Texas, and most recently I was a ranch hand at the MT7 Ranch in Breckenridge, Texas. It's really hard to say which I prefer. So far I've enjoyed working with three different species of animal in three different environments, the diversity is different with each one.
Getting out there was really something new. I've grown up doing FFA and 4-H, but doing something that I wanted to do – it sticks with you, being out there and getting your foot in the door. Going straight into an internship is the best thing I could have done. Being out there and realizing, 'Man, being out in nature is where I feel most at home.'
With the LDWF, I worked at the Tensas River National Wildlife Refuge as part of a partnership between the LDWF and the University of Tennessee – Knoxville. It was my responsibility to set up, bait and maintain traps to harvest hair from wild black bears. At the University of Tennessee they had a statistician who would use the samples to determine species and gender and other data. I was one of six people there, and they were from all across the US. It was great working as a team, meeting people and connecting with friendships. After a long hot day, you get an ice cold water, tell a story or two. And now I know when I'm in that part of the country, I can look them up.
At the MT7 Ranch, I helped manage the ranch, doing maintenance and helping manage hog populations and the ranch's deer. I was also able to do some land surveying, which was cool. One of my professors taught us some techniques in our plant science class but, because of COVID, we never had the chance to go out into the field and use them. With the range surveys out here, I've actually been able to use that knowledge and those techniques.
I've had the chance to take two graduate-level courses in my last semester, which is helping me decide if I want to go to graduate school or not. Dr. Eddie Lyons is my advisor and one of my main professors, and over the past couple of years I've gotten really close talking with him. He's always encouraged me and his mentorship is definitely one of the main reasons I've been looking into grad schools.