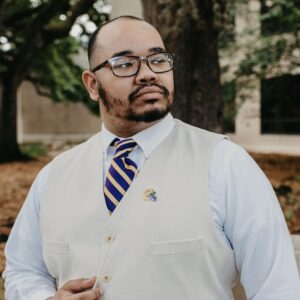 Dr. Jeremi Edwards is a Louisiana native, Graduate from McNeese State University with a bachelor's degree in Music Education. Dr. Edwards then graduated from the University of Louisiana at Lafayette, with a Master of Music in Theory and Composition where he studied composition with Dr. Quincy Hilliard and worked as a Graduate Assistant for the Music Theory department and the Pride of Acadiana Marching Band. Dr. Edwards then continued and earned his PhD in Music Composition from the Louisiana State University from the studio of Dr. Mara Gibson. At LSU Dr. Edwards worked within the Music Theory Department as an instructor on record and Graduate Assistant.
Dr. Jeremi Edwards has had several world premieres of his music both on Local, National, and international stages. Dr. Edwards has won several awards and joins the ranks of those top composers apart of the Millennium Composer's Initiative. Most recently Dr. Jeremi Edwards had his chamber piece "Beneath the Veil" premiered at Carnegie Hall with the LSU Constantinides New Music Ensemble (CNME). This past summer Dr. Edwards attended the Mostly Modern Festival for their 3rd season where he was able to premiere his most recent piece of music "Aquatic Portraits" with the American Modern Ensemble.
Dr. Edwards is an Alumni of Kappa Kappa Psi and Phi Mu Alpha Sinfonia. Dr. Edwards is also the Interim Corps Director for the Louisiana Stars Drum and Bugle Corps and has recently joined the Arts advisory board for the Cultural Noir Theater Company in San Diego California.