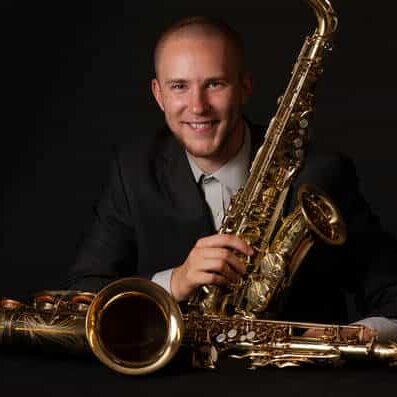 Dr. Benjamin Cold is currently Artist/Assistant Professor of Woodwinds at McNeese State University (Lake Charles, LA), where he teaches applied single-reeds and double reeds, and directs woodwind chamber ensembles including saxophone quartet and clarinet choir. As a passionate advocate of new music, he has been involved in the commissions and premieres of dozens of compositions for solo and chamber saxophone, most of which were dedicated to him. His work has been performed and recorded on Classical Minnesota Public Radio, National Public Radio, and The Skeptics Guide to the Universe. Throughout his professional career, he has held residencies, taught master classes and given guest recitals and performances across the country at many of the Nation's top academic institutions including, but not limited to the University of Minnesota, Bowling Green State University, Kansas State University, North Dakota State University, and the University of North Texas. Most recently, Dr. Cold finished a performance tour in Havana, Cuba as a member of the Cold/Zivanovic Duo.
Dr. Cold completed his D.M.A. in saxophone performance and pedagogy at the University of Minnesota – Twin Cities, where he studied with Eugene Rousseau. There he was a recipient of the prestigious Berneking Fellowship, the Cohen Fellowship and instructed undergraduate and graduate saxophone quartets as a teaching assistant. He received his bachelor's degree from the University of Wisconsin – Eau Claire, and his M.M. from Kansas State University in saxophone performance and pedagogy. During his graduate education, Dr. Cold expanded his studies to include private instruction in conducting, teaching strategies and score study with KSU – Director of Bands, Frank Tracz, and jazz band rehearsal techniques with KSU Director of Graduate Studies, Frederick Burrack. His previous teachers include Eugene Rousseau, Thomas Liley, Fred Hemke, Anna Wytko, Nancy Mcmillan and Greg Keel.

Benjamin Cold is a Conn-Selmer Performing Artist and plays on Selmer Series III saxophones. He is also an E-Rousseau Mouthpieces and Legere Reeds Performing Artist and Clinician.
​