Student Team Headed to Southern Illinois for Solar Eclipse
August 1, 2017 | McNeese Public Relations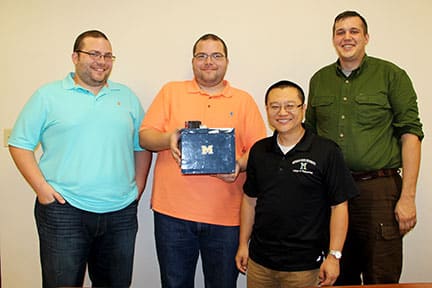 A student team from McNeese State University's College of Engineering and Computer Science is headed to Southern Illinois University in Carbondale, Ill., on Aug. 21 to take part in a NASA-sponsored real-time scientific study of the first total solar eclipse over the mainland United States since 1979. The McNeese team, with its module, Dorothy, will be testing the solar eclipse's effect on the speed of sound. Team members present are from left: brothers, Brett and Brian Schaefer (with Dorothy), Dr. Zhuang Li, associate professor of mechanical engineering, and William Dever.
On Monday, Aug. 21, skies across the country will darken with the first total solar eclipse viewable over the United States since 1979. A team of students from McNeese State University's College of Engineering and Computer Science are headed to Southern Illinois University in Carbondale, Ill., on that date to take part in a NASA-sponsored, real-time scientific study of solar eclipses.
The team – called "Event Horizon"- was one of three winners of the Louisiana Aerospace Catalysts Experiences for Students (LaACES) balloon project competition funded at Louisiana State University by NASA's National Space Grant College and Fellowship program. McNeese team members include engineering majors William Dever, Sulphur, and brothers Brian and Brett Schaefer, Oakdale, and computer science majors, Tyler Morgan, Lake Charles, and Matthew Foltz, Lake Charles. An original team member, Adam Chase, Moss Bluff, has graduated.
As part of the competition to win a coveted spot at Carbondale, nine teams from Louisiana universities gathered at NASA's Columbia Scientific Balloon Center in Palestine, Texas, with handmade and self-designed research modules in May. The modules were packaged in a payload and attached to helium-filled latex sounding balloons, carried up to 100,000 feet to gather atmospheric data and then returned to the ground by parachute. Teams then analyzed and presented the data they had collected.
While most teams focused on gathering pictures, video or other spectral analysis, team Event Horizon's module, named Dorothy after similar research modules from the movie "Twister," as well as the character from the "The Wizard of Oz," was intended to test the speed of sound at 100,000 feet. Experimental measurements using a sounding balloon have been very rare since 1960, according to Dever.
"There is an empirical formula to calculate the speed of sound as a function of altitude but it has only been tested a few times at this altitude, and as for anything in science, once isn't good enough," says Dever. "It has to be proven multiple times using actual data to determine the accuracy of the formula. Our results helped prove that our current equation determining the speed of sound is the correct one, because we were able to test all of the elements of the equation, plus the actual speed."
Under the guidance of Dr. Zhuang Li, associate professor of mechanical engineering, each team member was responsible for contributing their expertise in different ways: Dever acted as electrical engineer, Brett Schaefer as project manager, Brian Schaefer as mechanical engineer and Chase as software engineer.
"But the end result was collaborative," says Li. "This project gives our students hands-on experience with developing payloads as well as presentation and leadership skills using what they have learned in the classroom."
"We had a lot of late nights," Brian Schaefer says. "But we did come together. We threw out ideas, had a lot of triumphs and a lot of pulling our hair out and then times when we would just scream, 'Yes, we did it!' So it was a really good experience."
Now, the five-member team is preparing to head to SIU in August. Building off the data and analysis from their LaACES launch project, the team will now focus on testing the solar eclipse's effect on the speed of sound.
Li says LSU will launch a balloon from SIU's Saluki Stadium that will include team Event Horizon's module together in a payload with the other winning teams from Louisiana Tech University and Delgado Community College. While NASA will be holding 50 of these balloon launches across the United States, Saluki Stadium is just a few miles from the point of the eclipse's totality, meaning that the eclipse will last longer there than anywhere else in the country – about 2 minutes, 43 seconds.
More than 45,000 people are expected to converge at Carbondale to observe the total eclipse at 1:20 p.m. CST. Li said Louisiana will experience only a partial solar eclipse around this time and he recommends that people do not look into the sun without special glasses or filter.
The team is excited about what data this unique event might reveal.
"We should see some sort of distortion, which is something that could be researched further," says Brett Schaefer. "There should be shifts in magnetism. If I remember correctly, gravity decreases during an eclipse. We'll be expecting a change in our altitude as well as our temperature. So there are a lot of really cool anomalies we expect to see. There might be small changes or might be big changes – we won't know until we launch in August. And our instrumentation is sensitive enough that even with a small change, we should be able to see it and break it down."
Until then, though, team Event Horizon will focus on tweaking and refining Dorothy – whose design currently includes red soft drink straws and blue painter's tape – into a sleeker, lighter and more refined Dorothy II in preparation of the big event.
Want more stories like this one sent straight to your inbox every week? Sign up for our McNeese eNewsletter!
The Office of Marketing and Communications
4205 Ryan Street
Lake Charles, LA 70609
337-475-5640
communications@mcneese.edu