McNeese Professor Selected to Set Sail on the Nautilus Second Year in a Row
August 2, 2017 | McNeese Public Relations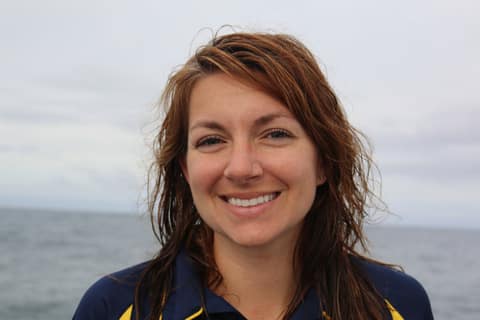 For a second year, McNeese State University assistant professor of biology Dr. Amber Hale will sail aboard the 211-foot Exploration Vessel Nautilus Aug. 4-18 as it scours the coasts of Oregon and California in the name of scientific exploration.
The E/V Nautilus is operated by the Ocean Exploration Trust (OET), a nonprofit founded by Dr. Robert Ballard in 2008, with a mission of oceanic study and exploration. Participants serving aboard the Nautilus conduct expeditions to uncharted parts of the ocean to collect marine data and specimens.
With each expedition, a select group of students and educators are invited to participate. In 2016, Hale was chosen to serve as a communication fellow from a worldwide pool of applicants.
"I applied, not really thinking I was going to be selected because I'm not a marine scientist," she says. "So to be selected, and then to be invited back this year, is just an amazing opportunity."
This year, Hale will join a diverse crew of 31 fellow scientists and educators as they set sail to explore California's Cordell Bank National Marine Sanctuary and Oregon's Heceta Bank. The small quarters, long hours and great minds all coming together in one place leads to an experience that is "incredible and surreal," she says. "And addictive, it turns out."
For her first expedition, Hale was tasked with interacting with audiences from all over the world on the ship's international live video, audio and data feed, as well as posting content to OET's website.
This year, as the lead science communication fellow, Hale will also be charged with training two first-time communicators, as well as acting as a mediator between the Nautilus' expedition leader, the lead scientist and the training communicators to make sure everyone is on the same page.
With OET's joint goal of sharing the knowledge gained from their expeditions with scientists all over the world and bringing the excitement, knowledge and wonder of the ocean to wider audiences, Hale's job onboard is a crucial one. Her experience on the Nautilus and as a teacher has helped her in this role — she already has experience breaking down complicated and abstract concepts for college students so they're easily understood.
"As scientists, when we talk about our work, it can be so esoteric it's lost on the average person," she says. "I found myself in this world where everyone was on the same page, but as soon as they were out of that circle, they couldn't explain why their work was important. If you can't explain why your work is important to your grandmother, then you're not doing it right."
As a first generation college student herself, Hale also stresses the need for children and students to see what the science, technology, engineering, art and mathematics field can offer them professionally.
"I think there's this kind of misconception for kids, and I fell into this, where they think you're either going to be a teacher or a doctor or a lawyer, and those are the choices if you go to school," she says. "But there aren't just marine biologists on the ship, there are geologists, geophysicists, engineers, physical scientists, and even a video engineer. So we try to highlight the diversity of options."
While this may be her final trip on the Nautilus, Hale says her experiences have piqued her interest in continuing with similar work on other research vessels or fellowships as a communicator in the area of marine and oceanic science.
"The ocean is so mysterious," she says. "We have a better map of Pluto than we have of our own ocean. The fact that we can't see it, that it's not tangible to most people, makes it easy to almost forget about, to dismiss. We have all of these pollution problems for instance, but until people see that you're in the middle of the Pacific Ocean and 4,000 meters undersea and there's a red Solo cup, it doesn't really hit home. And that's one of the things in doing this job that I can bring back home and share with our Southwest Louisiana community."
McNeese will screen a live watch of Hale aboard the Nautilus next Thursday, Aug. 10, to children in the McNeese Kids College All-day Program. CITGO is one of the major 2017 OET expedition and education sponsors and this ongoing community support helps the live interaction of Hale with Kids College participants possible.
Want more stories like this one sent straight to your inbox every week? Sign up for our McNeese eNewsletter!
The Office of Marketing and Communications
4205 Ryan Street
Lake Charles, LA 70609
337-475-5640
communications@mcneese.edu