Medical Laboratory Science Graduate Prepared for Success
December 14, 2021 | McNeese Public Relations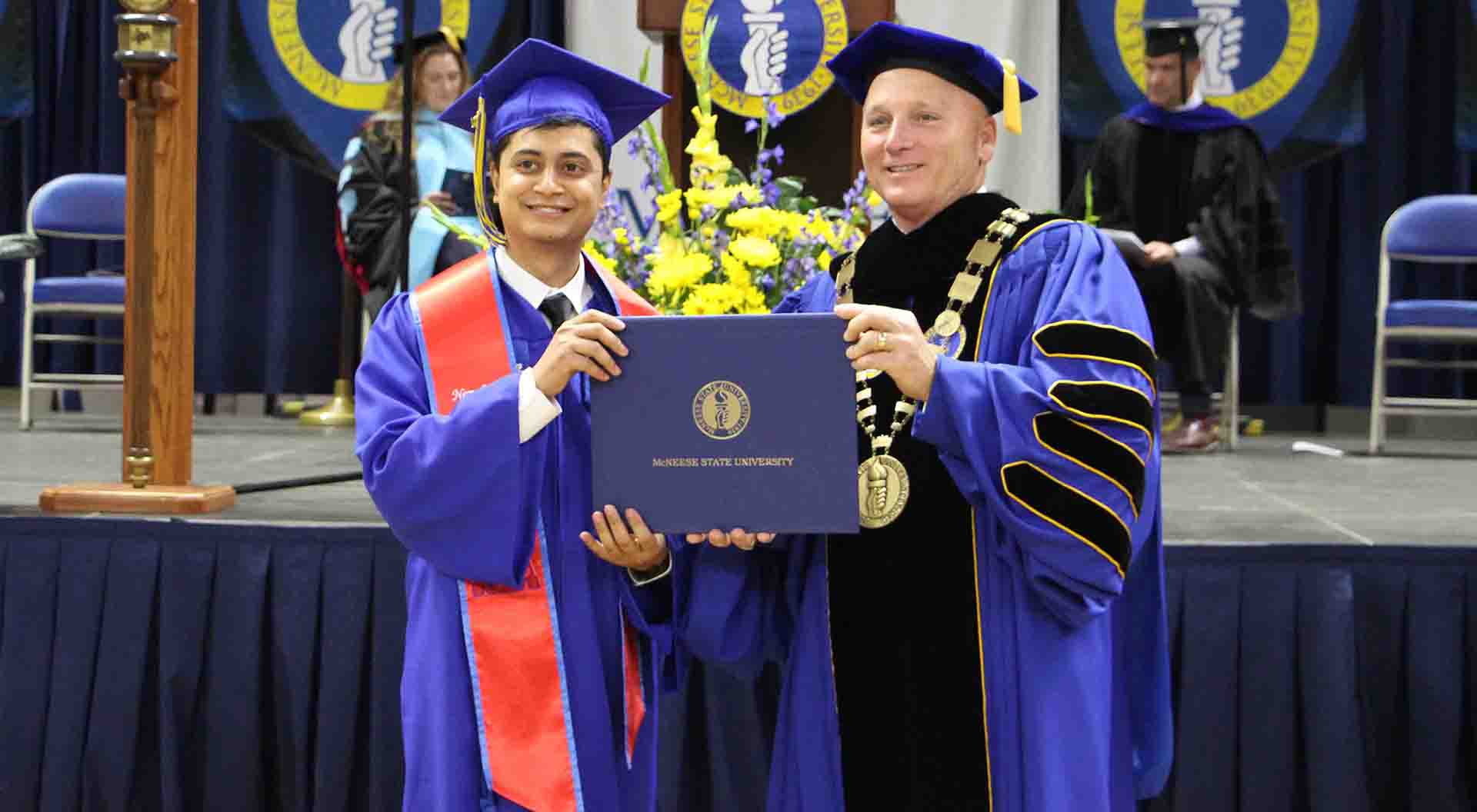 The fall Class of 2021 at McNeese State University's commencement ceremony on Friday included 39 international students representing 12 countries.
One graduate, Supratik Regmi, from Kathmandu, Nepal, received his bachelor's degree in medical laboratory science.
Regmi, who as a child enjoyed learning about space research, says his degree from McNeese is the foundation he needs to begin his quest to become an astrobiologist. Astrobiology is a field of study that seeks to understand the early evolution of life in the universe and the potential to adapt to different environments.
"I have always been interested in the wonders of the sky and what we can learn from outside of Earth," he said. "My medical laboratory science degree provided me with the biology and chemistry background that I will need as I continue graduate studies in this area here in the United States."
Regmi says McNeese was his First Choice because of its affordability and generous scholarships the university offers.
"I was provided with many financial aid options that allowed me to pursue my degree at McNeese," he says. "I am thankful that the university was able to support me throughout my studies in a variety of ways."
Regmi encourages anyone, but especially fellow international students, interested in earning a degree to consider McNeese because of the diversity on campus.
"The cultural representation on campus is outstanding and every student is made to feel welcomed," he says.
Lake Charles was the first city Regmi visited in the United States and he was fascinated by Southwest Louisiana's charm and southern hospitality.
"Every person I have met is incredibly kind and willing to help in any way," he says. "The mentorship of my professors was valuable and my new friends introduced me to the traditions of Louisiana, and of course, the amazing food!"
Want more stories like this one sent straight to your inbox every week? Sign up for our McNeese eNewsletter!
The Office of Marketing and Communications
4205 Ryan Street
Lake Charles, LA 70609
337-475-5640
communications@mcneese.edu