McNeese Student Receives National Award for Research
June 21, 2019 | McNeese Public Relations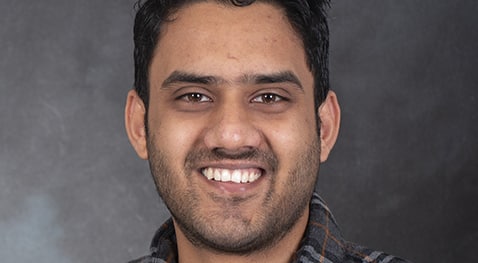 McNeese State University dual mechanical engineering and business graduate student Arun Yadav has been selected as a 2019 Divisional Graduate Student Scholar by the American Society of Mechanical Engineers (ASME).
Yadav, who also received his bachelor's degree in mechanical engineering from McNeese, received this award based on his research paper titled, "Hydraulic Simulation for Calcasieu Lake Area with Small Rivers using an Immersed Boundary Method."
Conducted under professor of mechanical engineering Dr. Ning Zhang, Yadav's research focused on using computer modeling methods to make accurate predictions for water levels and water velocity during expected flooding events in Southwest Louisiana. The Louisiana Board of Regents ITRS grant and a grant from the National Science Foundation funded his research.
Competitively chosen from a group of students that included doctoral candidates from leading research institutions all over the world, Yadav will receive a $1,500 scholarship to attend the 2019 AJKFluids conference in San Francisco from July 28 – Aug 1, where he will present his paper. AJKFluids is a joint conference between ASME, the Japan Society of Mechanical Engineers and the Korean Society of Mechanical Engineers.
"I feel very honored to be selected," says Yadav. "I never thought to submit my research, so I'm grateful for Dr. Zhang's encouragement. I'm very excited to present to an international audience of experienced engineers."
As part of this award, Yadav has also been appointed to the Fluids Engineering Division (FED) Computational Fluid Dynamics Technical Committee for one year. In this role, he will help inform the FED of future trends and emerging areas in the field of fluids engineering, develop materials for FED conferences and events and participate in a graduate mentoring program. Those students who are particularly engaged and active in committee activities can apply to be returning scholars and receive another $1,500 grant to attend a conference the following year.
"I am planning to focus on some other aspects of the project over the next year," says Yadav. "For example, how water salinity changes and moves as flooding increases. So hopefully next year I'll be presenting again on the results from my continued research."
Want more stories like this one sent straight to your inbox every week? Sign up for our McNeese eNewsletter!
The Office of Marketing and Communications
4205 Ryan Street
Lake Charles, LA 70609
337-475-5640
communications@mcneese.edu