McNeese Student Experiences Engineering First Hand through Internship
July 29, 2020 | McNeese Public Relations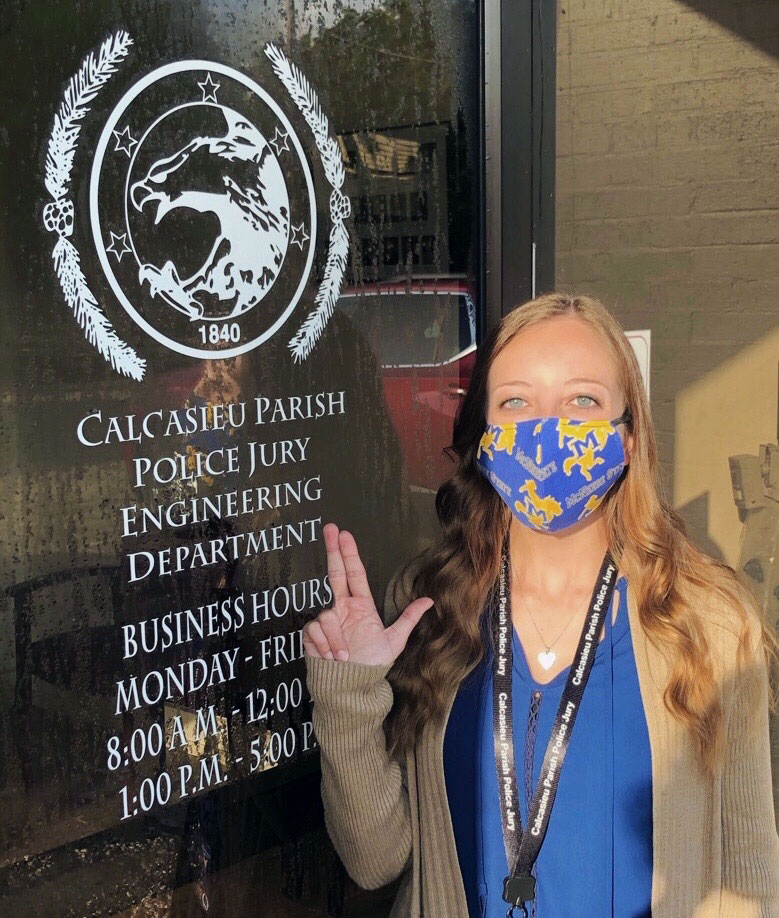 McNeese State University student Jessica Rathjen, an engineering major from Westlake, has had the chance to see what civil engineering looks like in the real world thanks to an internship with the Calcasieu Parish Police Jury.
Rathjen originally started off as a pre-medicine major at McNeese, then she transferred into education. She found that wasn't a good fit, either.
"I didn't know what I wanted, but I liked math, I liked solving problems and I wanted a fulfilling career," she says. "My friend's mom, Jennifer Trene, had graduated from the engineering program at McNeese, and she said I'd find all three of these as an engineering major, so I took a leap of faith and transferred."
As an intern at the Calcasieu Parish Police Jury, Rathjen has had the opportunity to "do a little bit of everything." She's created 3D drafts, worked with a traffic engineer on signage, prepared a hydraulic report on a bridge replacement and observed how road inspectors lay asphalt and how bridges are inspected.
While she says that her classes at McNeese have prepared her with the concepts behind the designs, using new software and working out in the field have been "invaluable experiences."
"I love my internship at the Calcasieu Parish Police Jury. Everyone there is super nice and willing to help and I'm willing to learn, which I think is a winning combination. Any time someone goes out in the field I'm begging to go. I know the content, but I really am learning a lot more through hands-on experience."
This internship, she says, has also helped her narrow her career focus. Out of all the tasks she's been assigned, she now finds herself most drawn to structural engineering.
"While the Calcasieu Parish Police Jury doesn't have structural engineering positions, this experience has really encouraged me to pursue something similar," she says. "Dr. Ahmed Abdel-Mohti, an associate professor of engineering at McNeese, was rooting for me to get this internship and I appreciated his help, This internship has been such a rewarding opportunity."
Want more stories like this one sent straight to your inbox every week? Sign up for our McNeese eNewsletter!
The Office of Marketing and Communications
4205 Ryan Street
Lake Charles, LA 70609
337-475-5640
communications@mcneese.edu