McNeese Graduate Student Investigates Environmental Effects on Concrete
February 8, 2021 | McNeese Public Relations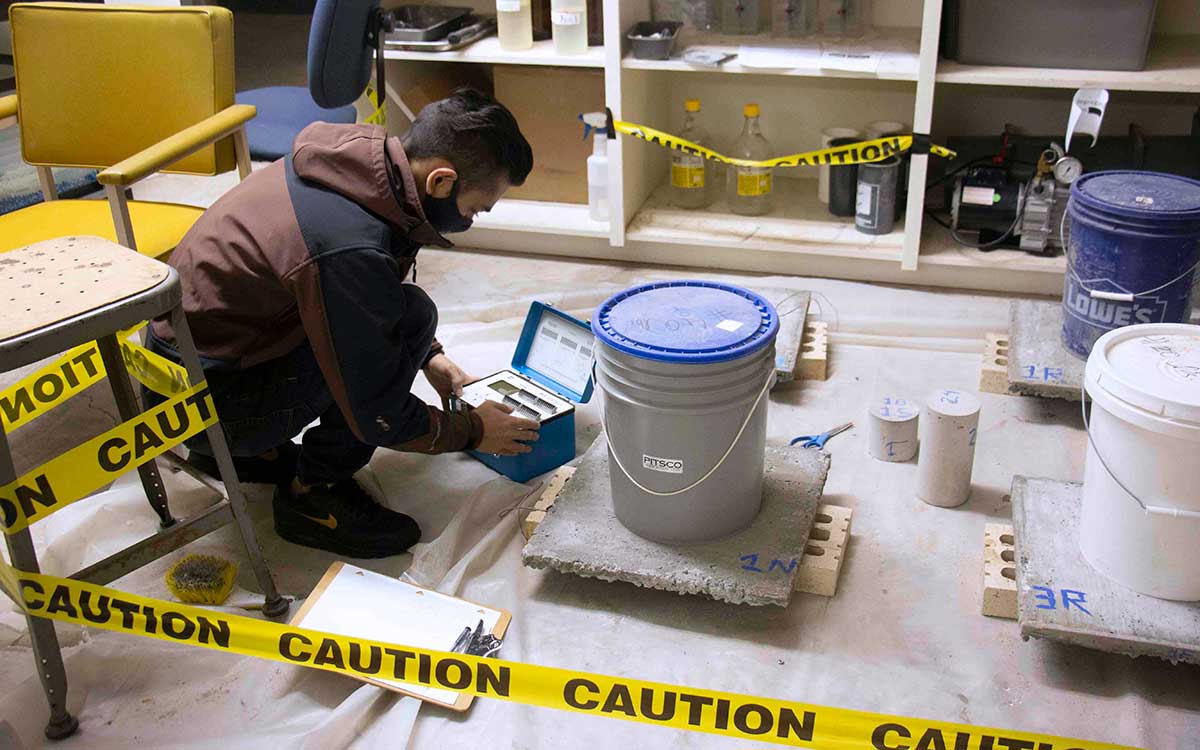 McNeese State University engineering graduate student Shreewan Rupakheti is conducting first-of-its-kind research to explore how weather contributes to concrete deterioration.
"It's widely understood that changes in temperature cause concrete degradation, but the effect has never been quantified," he says. "My research is looking to fill that gap and help predict how the environment might affect concrete structures." The hope is, he says, that his results could lead to improvements that increase the longevity of outdoor concrete design.
Overseen by McNeese Associate Professor of Engineering Dr. Ahmed Abdel-Mohti, Rupakheti began his research in 2019. To start, Rupakheti created a number of concrete slabs and placed 70% in outside environments, with the other 30% located indoors. He placed equal weights on the slabs, and over the course of the project, has been cataloguing resulting changes to the concrete nearly every day since the project's beginning.
Rupakheti presented his project plans and initial results at the 5TH Annual LSUS Regional Student Scholar Forum in March 2020 and published his research at the Capacity Assessment of Corroded Reinforced Concrete Structures (CACRCS) Days 2020 conference in Amsterdam in December, where he also gave a virtual presentation.
"My results are looking very good so far," he says.
Having also received his bachelor's degree in civil engineering from McNeese, Rupakheti says it was serving as a geotechnical engineering intern for the New York Metropolitan Transportation Authority (MTA) as an undergraduate that inspired him to continue his studies.
At his internship, Rupakheti supervised other civil engineers, performed field investigations, took soil samples and conducted tests on federal land and private projects that were funded by MTA. He also prepared proposals for cost estimates and bids for state authorities.
"The hands-on experience I received at my internship got me interested in how things work in the real world, specifically concrete," he says. "I realized I was more interested in structural engineering than the geotechnical field, which is why I'm pursuing structural engineering research with my master's degree. At the same time, Dr. Mohti came to McNeese as a structural engineering professor and we got to know each other. He mentored with me, which is one of the reasons I stayed at McNeese."
Rupakheti adds that Dr. Dimitrios Dermisis, associate professor of engineering and his adviser for his bachelor's degree, also encouraged him to pursue his master's. "He saw something in me, I guess! So that was another motivating factor," he says.
Rupakheti, a recipient of the Gordon and Mary Cain Foundation graduate scholarship, is set to graduate with his Master of Science in engineering in May 2021 and will present the results of his research as his graduate thesis.
"My experience at McNeese has been quite wonderful," he says. "Now, I feel like I have the necessary knowledge to be able to work in the field and potentially to pursue my doctorate one day, which has always been a dream of mine."
Want more stories like this one sent straight to your inbox every week? Sign up for our McNeese eNewsletter!
The Office of Marketing and Communications
4205 Ryan Street
Lake Charles, LA 70609
337-475-5640
communications@mcneese.edu