McNeese arts majors selected to internationally recognized arts school
May 30, 2018 | McNeese Public Relations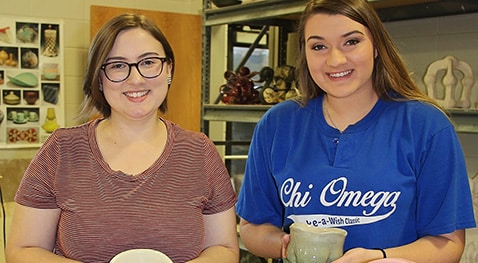 Two McNeese State University senior art majors will be attending the internationally recognized Arrowmont School of Arts and Crafts in Gatlinburg, Tennessee, this summer to learn from some of the best artists in the country.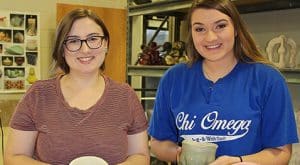 Madison Augustine, of Fenton, and Shelby Roberie, of Welsh, were selected by the visual arts department faculty from among all visual arts applicants to go to Arrowmont. Students had to submit 10 images of their work, their three choices of workshops and a paper on why they wanted to attend Arrowmont.
According to Ken Baskin, associate professor of art at McNeese, Arrowmont is a well-known visual art education center, providing creative experiences year-round with weekend, one- and two-week workshops.
"This is such a great opportunity for our students," says Baskin. "For one week, these students will eat and breath art with other undergraduate and graduate students, professional artists and art enthusiasts from ages 18-80.
"Our students will be immersed in a specialty of their choice with lectures, demonstrations and hands-on training using new techniques from nationally known artists," he continues. "Classes are limited to 10 to 20 participants."
He said this opportunity was made possible in part by scholarships funded by the Debi and Bill Mixon Endowment through the McNeese Foundation and by Arrowmont through a grant program.
"The department and Arrowmont have reached an agreement to continue this matching of funds for the next five years so we're excited for our students," says Baskin.
Augustine will attend the "Altered and Ornamented: No Fear!" workshop June 10-16 with internationally known potter and ceramics instructor Kristen Kieffer.
"This workshop will focus on wheel-thrown or hand-built forms and then embellishing them with an array of decoration techniques, including stamping and slip-trailing," says Augustine. "I'm excited to learn these new techniques and integrate them into my studies here at McNeese."
Roberie will attend the "Decals in Atmosphere" workshop July 22-28 with potter Justin Rothshank.
"Participants will learn how to transfer their own imagery onto ceramic work using a variety of decal, stamping and layering techniques and how to use and fire decals in all kinds of kilns," says Roberie. "I look forward to networking with other ceramics students and enthusiasts from around the country and also working with a professional in my area of study."
Want more stories like this one sent straight to your inbox every week? Sign up for our McNeese eNewsletter!
The Office of Marketing and Communications
4205 Ryan Street
Lake Charles, LA 70609
337-475-5640
communications@mcneese.edu