McNeese student receives prestigious medical research internship
June 4, 2018 | McNeese Public Relations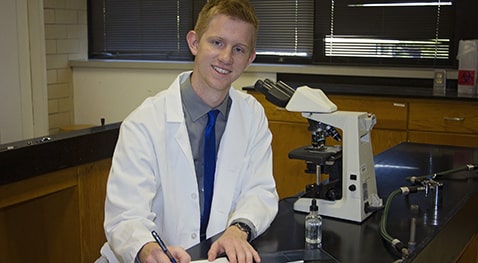 For the 15th straight year, McNeese State University is sending a student to the prestigious Uniformed Services University of the Health Sciences (USUHS) in Bethesda, Maryland, to participate in a 10-week public health-oriented summer research internship program.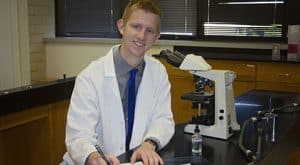 Biological science major Robert Rutz, a senior from Moss Bluff, will work as a lab assistant running experiments and collecting data for an assigned research project. At the end of his internship, he will make a presentation to the lead research team summarizing his research. This internship is funded through the Henry M. Jackson Foundation for the Advancement of Military Medicine.
"I already have experience working with microscopic organisms in a research setting here at McNeese and I see this as an advantage as I will be doing similar work during my internship," says Rutz.
"I look forward to working in a world class research facility and learning the latest research and laboratory procedures and techniques that will better prepare me for the undergraduate research I do here at McNeese, as well my future plans for a career in medicine," he adds.
According to Dr. William Dees, professor and head of the biology department at McNeese, the USUHS faculty and staff have been extremely impressed with McNeese students' work ethics and preparation in biology over the years.
"We've been fortunate for the past 15 years to have the support of the research faculty at USUHS. They mention that the understanding of biology demonstrated by students from McNeese selected for these internships is excellent," says Dees, who has coordinated this internship program since it began in 2004.
"These internships provide our students the opportunity to engage in medical research at a premier medical university. Frankly, this opportunity is an excellent stepping-stone for further health science education and job placement," adds Dees.
Students who have participated in this internship have become health care professionals, research scientists and teachers.
Dees says this national internship opportunity would not have been possible without the generous financial support of the McNeese Foundation from the very beginning. "This commitment from the university allows our students to compete at the national level and succeed."
The Office of Public Relations and University Events
4205 Ryan Street
Lake Charles, LA 70609
337-475-5640
publicrelations@mcneese.edu