2018 Summer Camps at McNeese
May 23, 2018 | McNeese Public Relations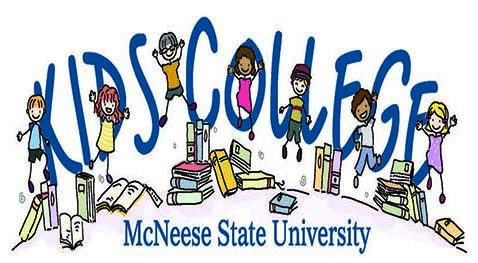 The McNeese State University campus offers numerous summer activities for area youth of all ages.
McNeese Leisure Learning holds numerous classes though its Kids College Program for children of all ages. This year, Kid's College hopes to give children a STEAM adventure, with classes in science, technology, engineering, arts and mathematics. For information about classes call 337-475-5616 or go online to www.mcneese.edu/leisure.
Other summer programs including dates, times, costs, eligible ages and contact numbers are as follows:
Kids College All-Day STEAM Program
Grades 1-8
May 28-Aug. 10
7:30 a.m.-5:30 p.m.
Cost: $189/per week
Contact: Leisure Learning
337-475-5616
www.mcneese.edu/leisure
Summer Reading Clinic
Grades 2-6
June 4-28 (Monday-Thursday)
9:30 a.m.-noon
Cost: $200
Contact: Department of Education Professions
337-475-5423
Summer Band Programs
High School Band Academy
Grades 9-12
June 17-21
Cost: $350, resident; $225, commuter
Middle School Band Academy
Grades 7- 8
June 24-28
Cost: $320, resident; $220, commuter
Contact: Dr. Jay Jacobs
337-475-5004
www.mcneesebands.com
Registration deadline for both programs: June 1
Summer Engineering Academy or Crocodilian Biochemistry Internship or Forensics Chemistry Camp
Grades 10-12 (11 & 12 for Biochemistry Internship)
July 16-Aug. 3
Cost: $1,850 per program (Limited number of $500 scholarships sponsored by CITGO for students attending the Engineering Academy)
Contact: Dr. Nikos Kiritsis
337-475-5875
nikosk@mcneese.edu
Kicker Kuties Dance Camp
Grades K-6
July 16-20
9 a.m.-4p.m.
Cost: $175
Contact: Paige Caldwell
kevin_paigecaldwell@yahoo.com
337-540-6392
Harp Camp
Open to all ages grade 2 and up
July 23-27
Cost: $45
Contact: Barbara Belew
bbelew@mcneese.edu
11th Annual Cowboy Camp
Incoming McNeese Freshmen and Transfer Students
Aug. 17-18
Cost is $55 through May 31; $60 from June 1-July 31; and $ 70 beginning Aug. 1
Contact: Student Union and Activities Office
337-475-5609
www.mcneese.edu/studentlife/cowboycamp
Athletic Camps
Women's Basketball
Team Camp
Grades 9-12
May 31-June 2
Cost: $160 for one day, $275 for two days, $420 for three days
Fundamental Camp
Grades K-8
June 11-13
9 a.m.-noon
Cost: $105
Contact Coach Kacie Cryer
337-475-5476
kcryer@mcneese.edu
Cowboy Baseball
Youth All Skills Baseball Camp
Grades 1-6
June 11-14
9 a.m.-3 p.m.
Cost: $200
Register online at http://collegebaseballcamps.com/msubaseball
Softball
Pitching and Catching Clinics
Grades 7-12
June 18 or July 16
6-8 p.m.
Cost: $75
Elite Camps
Grades 7-12
June 18-20 or July 16-18
9 a.m.-4 p.m.
Cost: $225
Register online at http://www.jameslandreneausoftballcamps.com
Soccer Camps
Cowgirl Soccer Kids Camp
Grades K-8 Boys and Girls
June 11-14
Half Day: 9 a.m.-noon (age 6-grade 5)
Full Day: 9 a.m.- 3:30 p.m. (6-8 grade)
Cost: $150 for half day, $230 for full day
Cowgirl Soccer ID Camps
Girls (grades 9-12)
June 16-17
Cost: resident, $195; commuter, $170
Calcasieu Soccer Club Competitive Camp
Boys and Girls (ages 10-18)
July 16-19
5:30-8:30 p.m.
Cost: $150
Contact Coach Drew Fitzgerald
337-562-4266
dfitzgeraald@mcneese.edu
Register online at http://www.cowgirlsoccercamps.com/index.cfm
Football
Cowboy Up Football Camp
Grades 8-11
July 8-10
Cost: $290 resident; $155 commuter
Rowdy Football Camp
Grades 2-8
8 a.m.-Noon
July 11-13
Cost: $100
Contact: Nancy Borel
337-475-5235
nborel@mcneese.edu
Want more stories like this one sent straight to your inbox every week? Sign up for our McNeese eNewsletter!
The Office of Marketing and Communications
4205 Ryan Street
Lake Charles, LA 70609
337-475-5640
communications@mcneese.edu