McNeese Education Major Follows in Her Mother's Footsteps with Degree
April 25, 2022 | McNeese Public Relations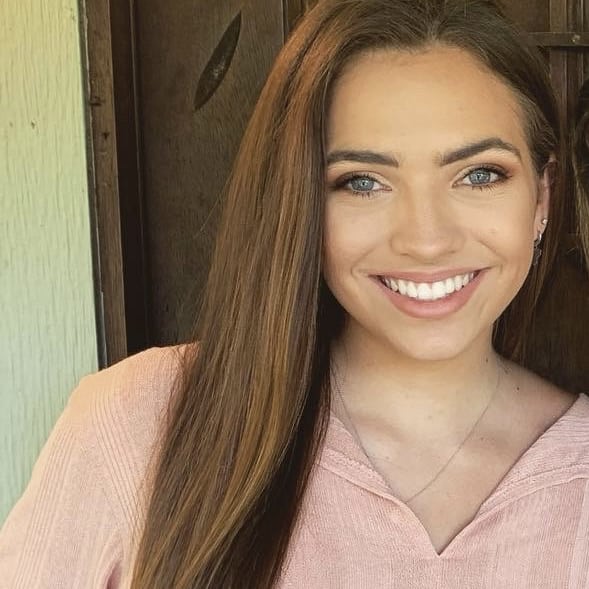 Ashley Patin, from Vinton, is continuing a family tradition this May as she prepares to graduate with her degree in secondary education with a concentration in English education from McNeese State University.
"Ever since I was a little girl, I've wanted to be a teacher," Patin says. "My mom, Vicky Patin, graduated from McNeese with her teaching degree and she said how, even back then, the education program was really great. I wasn't really looking to move away from home straight out of high school, either, so McNeese was a great choice for me."
For her last semester, Patin has experienced a different type of classroom learning thanks to her student teaching experience. Paired with a mentor teacher at a local school, Patin was placed in a sixth-grade English class to learn, observe, practice and eventually take over classroom teaching responsibilities.
"At this point in the semester, I'm teaching all day, every day," Patin says. "I've had an amazing experience. I've gotten to learn a lot about different discussion techniques that the kids use when they work together collaboratively and I see how effective it is. Learning and applying those techniques have been really rewarding – I love watching my students work together and teach each other on their own level and see how they really thrive off it."
Patin says that classes taught by former visiting Assistant Professor of English Dr. Katrina Wilkins and Professor of English Dr. Scott Goins helped inspire some of her lessons, which incorporate more than just reading and listening skills – something that she says is especially important for students after the hardships of the past two years.
"Most of my classes at McNeese have been lecture based, but in Dr. Wilkin's classes, we did skits and partner work and I found it to be really effective and engaging," she says. "I think it's especially important to build those social and emotional skills for my students since many of them haven't had this kind of interaction due to COVID and the hurricanes.
"Dr. Goins has such a positive energy and that's something that I want to bring into my classroom," she adds. "He made the course very fun and I feel like that's important to make your lessons fun and engaging for students."
Patin says that this experience has reinforced for her that's she's on the right track. Though she will graduate certified to teach grades 6-12, she says that middle school feels like the place for her.
"I am loving sixth grade and I know this is what I want to do after I graduate," she says. "This experience is so different from anything I've had before and it's definitely contributed to my success."
Want more stories like this one sent straight to your inbox every week? Sign up for our McNeese eNewsletter!
The Office of Marketing and Communications
4205 Ryan Street
Lake Charles, LA 70609
337-475-5640
communications@mcneese.edu