Internships Provide Experience and Mentorship
February 9, 2021 | McNeese Public Relations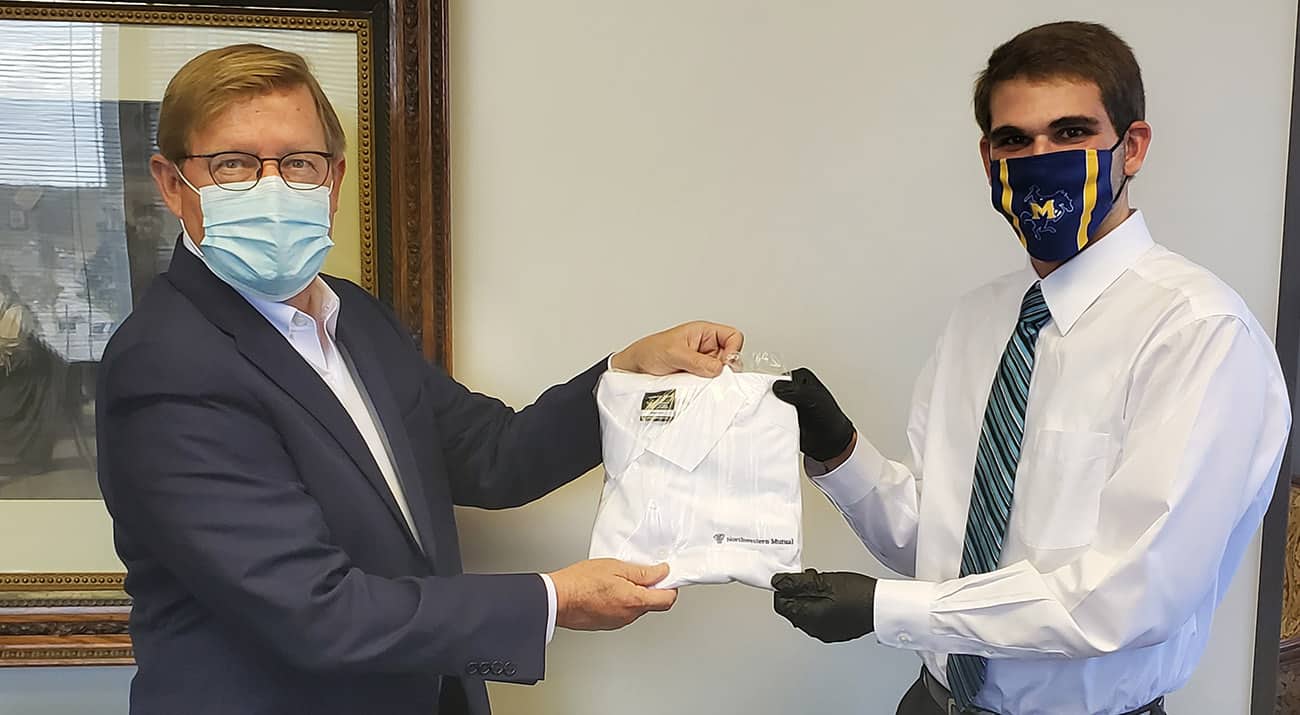 Annually, 15 McNeese State University business students gain real-world experience through an internship with Northwestern Mutual.
"Northwestern Mutual has been a partner with the College of Business for 12 years and offer one of the most extensive training and development programs in the area," says Morgan Turpin, the college's internship director. "Internships are a valuable part of our students' education and prepare them to be career ready after graduation."
Because of McNeese's strong ties to Southwest Louisiana, students often get to learn from fellow McNeese graduates.
"We currently have 16 McNeese alumni at our Lake Charles office," says Ted Harless, Northwestern Mutual managing director. "It's a unique experience for students to get hands-on experience from those who have walked in their shoes in preparing to enter the workforce. I believe our interns not only get a glimpse of life after college but also gain a mentor."
Jonathan Conrad, a 2011 finance graduate, and Todd Blanchard, a 2012 Master of Business Administration graduate, have both held the role of college unit director for the internship program that offers a mentorship component for McNeese interns.
"What sets our internship program apart is how much work our students do," says Blanchard. "This really is a 'test drive' of a career. Our interns are gaining experience in accounting activities now that they will continue to use as full-time financial advisers. It's exciting to watch students mature and develop their career goals."
Conrad adds, "As a former athlete I know how unclear the future can be. Our programs, like Life After Athletics, allow us to mentor student-athletes about their careers off the field. From interviewing skills to reviewing finances, we want to develop the whole student."
Kristian Ojonta, a 2018 health and human performance graduate and a 2020 MBA graduate, met with Northwestern Mutual recruiters at a McNeese Career Fair. After completing her master's degree, Ojonta transferred to the Northwestern Mutual's Houston, Texas, office as a full-time employee with the company.
"My recruiter contacted me right away, and before I knew it, I was ready for my first day," she says. "This internship increased my self-confidence and taught me how to get out of my comfort zone. I'm a better communicator and listener and that allows me to give my clients a customized plan that will help them achieve their financial goals."
Zeb Bellimen, a 2020 finance graduate, also connected with Northwestern Mutual at a student event, McNeese's Internship Soiree. Bellimen also started in the Lake Charles office as an intern and now works full time there.
"I now work with and learn from my mentors every day," he says. "I now have my own client base and get to work with clients one-on-one, but Northwestern Mutual provides an incredible support system and has given me insight to a wide range of career opportunities."
For more information on McNeese's College of Business, visit https://www.mcneese.edu/business/.
Want more stories like this one sent straight to your inbox every week? Sign up for our McNeese eNewsletter!
The Office of Marketing and Communications
4205 Ryan Street
Lake Charles, LA 70609
337-475-5640
communications@mcneese.edu