Food Technology Research Continues for McNeese Grad at LSU
June 13, 2022 | McNeese Public Relations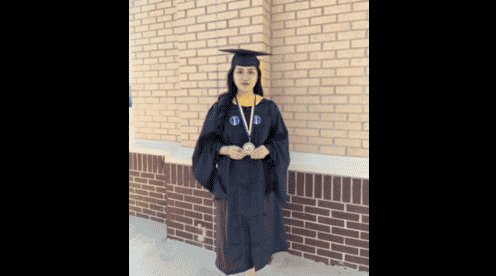 Duyen Bui, a recent graduate from McNeese State University's master of science in environmental and chemical sciences degree program, is looking forward to building on the knowledge she gained and the research she accomplished as she pursues her doctorate at LSU.
Bui, from Vietnam, came to McNeese to pursue her undergraduate degree in agricultural sciences with a concentration in nutrition and dietetics when she met Dr. Wannee Tangkham, associate professor of nutrition and food science. From there, Bui says that she began to become more interested in food technology.
"I love cooking so everything related to food science and technology really fascinated me. After I graduated with my nutrition degree, I approached Dr. Tangkham about pursuing something related to food technology for my master's degree," says Bui.
For her graduate thesis, completed this May, Bui focused her research on creating a healthier and more environmentally friendly version of naem, a popular traditional Thai fermented sausage made of raw meat, cooked rice and seasonings. As a fermented product, it's rich in probiotics, which provide a multitude of health benefits when consumed.
"Meat fermentation has been used by many cultures to improve flavor, aroma and taste, extend shelf-life and enhance nutritional values," says Bui. "Because naem is usually eaten without further cooking by the consumer, strict control of the preparation and fermentation of product is essential, as improper preparation can lead to contamination by microorganisms like e. coli, salmonella or listeria."
Traditionally, Bui says, the preservative added to naem is sodium nitrate, a common food additive which improves color and helps achieve the food's unique taste and flavor. But consumption of sodium nitrate has been linked to negative long-term health effects. As part of her master's thesis, Bui set out to explore if rosella — a flowering plant related to hibiscus and used for flavoring foods and drinks in many cultures – could be used as a healthier alternative.
"Rosella is commonly used in medicines and food because of high levels of vitamins and minerals such as vitamin C, beta-carotene, thiamin, riboflavin, calcium and iron," Bui says. "Because of its red coloring and natural antioxidant and anti-bacterial properties, I thought it would make a good alternative."
Bui also evaluated using edible beeswax to make naem a more eco-friendly food product as well.
"During preparation, naem is stuffed into cylindrical plastic bags, which are a functional food packaging – they exclude air and allow microorganisms such as lactic acid bacteria to grow, facilitating the fermentation process," says Bui. "My intent was to see if using edible beeswax as a sausage film instead of plastic could improve the product's sustainability by reducing plastic waste and minimizing environmental impact."
With raw pork sourced from McNeese's very own Center for Advancement of Meat Production and Processing, Bui prepared four batches of identical naem mixture and added varying amounts of rosella. Samples were then subjected to sensory, quality and physicochemical analyses to determine if the mixture was safe for consumption, as well as if the rosella provided any additional nutritional benefits compared to the traditional mixture. Bui also collected honeycomb from the McNeese farm to create the edible film she would use to pack the sausage in to evaluate its suitability as an alternative for plastic casing.
Using a nine-point scale, 38 students and faculty in the Harold and Pearl Dripps School of Agricultural Sciences evaluated her naem for flavor, texture, taste, sourness, firmness and overall liking. The results showed that a 3% rosella mixture packed into a 3% beeswax film casing was the healthiest, had the longest shelf life and was also tastiest for consumers.
Now, Bui is looking forward to continuing her work in food technology as she pursues her doctoral degree at LSU.
"I appreciate everything I've achieved here at McNeese," Bui says. "I'm looking forward to building on the knowledge that I gained here and I really appreciate all of the mentorship and help from the college of agricultural sciences faculty, especially Dr. Tangkham. When I first arrived, I struggled with English and she really dedicated a lot of time to help me and I appreciate her so much. This has been a life-changing experience."
Want more stories like this one sent straight to your inbox every week? Sign up for our McNeese eNewsletter!
The Office of Marketing and Communications
4205 Ryan Street
Lake Charles, LA 70609
337-475-5640
communications@mcneese.edu