Engineering Major Doesn't Let Appendicitis Derail His Graduation
May 12, 2021 | McNeese Public Relations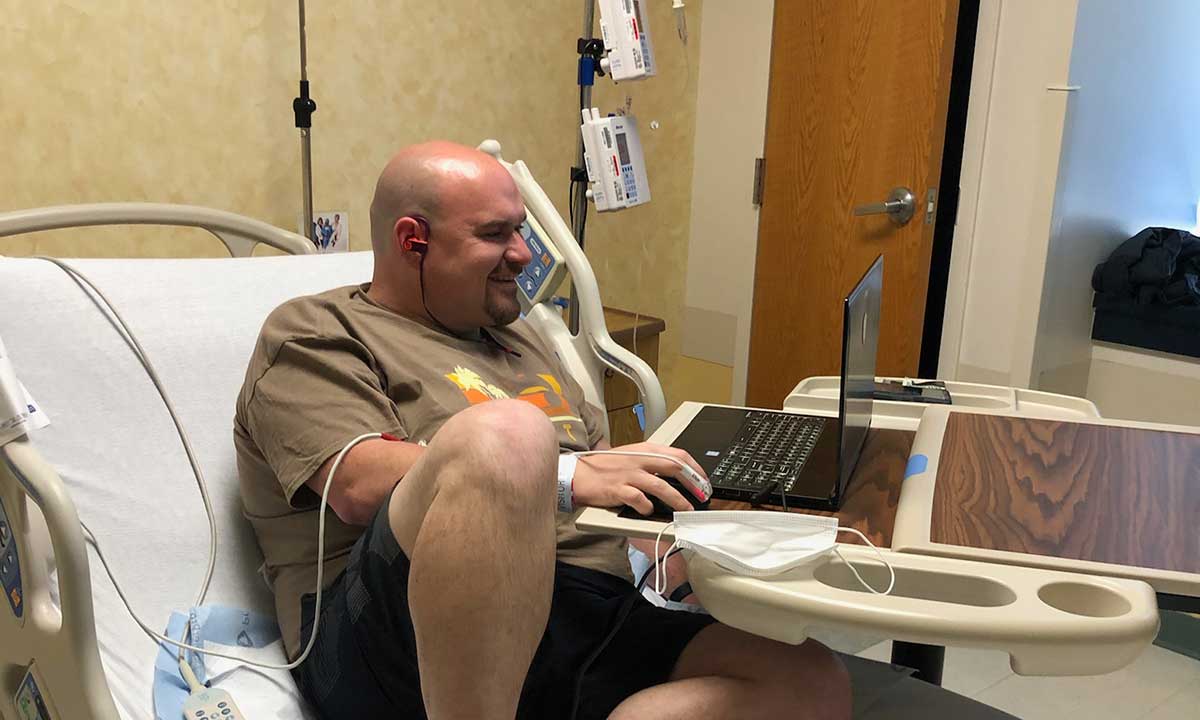 Finals are a difficult time for any student, but McNeese State University mechanical engineering major Steven Meaux faced a unique challenge on the day he was scheduled to make his senior engineering design presentation: appendicitis.
"The day before my presentation I had stomach cramps but I kept hoping it would go away," he says. "I refused to be sick – I had a project due and a test in a few days. I didn't have time to be sick!"
Originally from Lake Arthur, Meaux first attended McNeese in 2003 right after graduating high school to pursue a degree in mathematics. But in 2006, circumstances took him out of the academic tract. When he decided to finish his degree in 2018, he says that McNeese was the natural first choice.
"Of course, I was going to return to McNeese. I love McNeese. Coming back as a non-traditional student, I had a completely different mentality – I never missed class and never turned in assignments late. This semester was the first time I ever had to ask for extensions, because my grandfather passed away, and all of my professors were very understanding and accommodating," he says.
But when his pain only continued to get worse the next day, Meaux found himself reaching out to his professors for a second time while on his way to the hospital. While his appendix hadn't ruptured, he was nevertheless admitted and scheduled for a procedure that would keep him in the hospital overnight.
With Meaux's senior design project presentation scheduled for 1 p.m. that day, Dr. Ning Zhang, professor of engineering and faculty adviser for Meaux's presentation, reassured him that the presentation could be postponed. Meaux, however, refused.
"This was something that my team and I had been working on since last semester," Meaux says. "Plus, I've been waiting 18 years to graduate from college! I was willing to do whatever I had to because I had no idea what my recovery would be like. Before I went to the hospital, I made sure I had packed my books and my laptop. My surgery wasn't scheduled until the evening, so I said, 'Let's just wait until I'm given a private room and then I can present.'"
At 2 p.m., Meaux, along with his team members Arthur Conroy, Daniel Devito, Meagan LaCasse and Elise Velez, gave the presentation, which focused on designing circulation systems for a variety of differently shaped swimming pools to ensure optimal flow to remove debris and impurities and evenly distribute chemicals. The team used computer simulations to test and improve each design.
"During the first part of my presentation, the IV machine started going off and we couldn't stop while the presentation was being filmed. So, when I finished my first set, I muted myself and I called the nurse and asked her if she could get it to stop beeping before I presented again," he says.
Zhang says he was impressed with Meaux's ability to face and overcome these unexpected circumstances. "It's not very often McNeese students conduct their senior presentations in a hospital room," he says. "Steven showed great dedication and resilience, not only during the final presentation, but also during the entire semester when the team conducted the design project."
Meaux adds that while he did have to ask for extensions on a few assignments and postpone a test, by finals week, he was back on schedule.
"In the hospital, I was worried I'd get an incomplete and I wouldn't be able to graduate," he says. "But none of that happened. From the start, all of my professors were very willing to work with me. I'm really grateful for professor Dr. Zhuang Li and assistant professor Mitch Morgan for their compassion because this semester has not been easy."
Now, Meaux says he's looking forward to walking this Friday, May 14, at commencement. "It's taken me 18 years to get here and I'm ready," he says.
Want more stories like this one sent straight to your inbox every week? Sign up for our McNeese eNewsletter!
The Office of Marketing and Communications
4205 Ryan Street
Lake Charles, LA 70609
337-475-5640
communications@mcneese.edu