2017 Pinnacle Awards Announced at McNeese
September 29, 2017 | McNeese Public Relations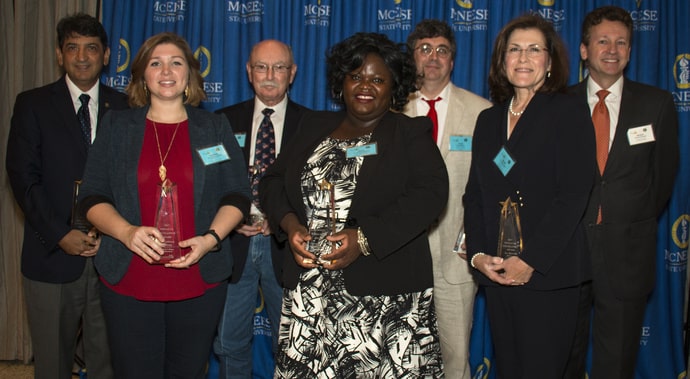 Six McNeese State University faculty members are recipients of the 2017 Pinnacle Excellence Awards established by Pinnacle Entertainment Inc. – the parent company of L'Auberge Casino Resort Lake Charles – to recognize outstanding faculty achievement in each of the McNeese colleges – business, education, engineering and computer science, liberal arts, nursing and health professions and science and agriculture.
McNeese President Dr. Daryl Burckel and L'Auberge Vice President and General Manager Michael K. Pendergast presented the educators with their awards totaling $30,000 during a ceremony held Sept. 28 in McNeese's Stream Alumni Center. Each winner received a $5,000 stipend and a commemorative award statue.
The Pinnacle Excellence Awards were established in 2003 as part of a partnership between Pinnacle and McNeese to recognize outstanding faculty achievement and are granted by the Pinnacle Entertainment Foundation. To date, Pinnacle has given $360,000 in awards to McNeese professors.
"McNeese State University is at the heart of this community and we are proud to continue our longtime partnership in support of innovation in education," said Pendergast. "We congratulate the winners of this year's Pinnacle Excellence Awards for their original ideas, academic contributions and passionate leadership in the classroom."
"We value our long-standing partnership with Pinnacle Entertainment and we sincerely appreciate the generosity of the Pinnacle Foundation that provides these funds used to reward innovative ideas and initiatives generated by our faculty," said Burckel.
The focus of this year's awards is on establishing effective student recruitment initiatives for each college. Recipients and their proposals are:
College of Business – Dr. Mercy Palamuleni, assistant professor of economics
Palamuleni's proposal – "Effective Strategies to Promote Student Recruitment in Southwest Louisiana" – focuses on identifying effective methods that can be used to promote student enrollment in the College of Business. This is within the context of the "Elevate Louisiana" theme, which recommends enrollment increase as one of the goals for Louisiana's higher education. The project includes recommended measurable outcomes for increasing student enrollment emanating from the five-parish area K-12 schools, SOWELA Technical Community College and LSU-Eunice and in the Southwest Louisiana region in general.
Burton College of Education – Dr. Kathleen Williams, assistant professor of education
Williams' proposal – "Implementing Effective Student Recruitment Measures in the Department of Education Professions: Geaux Teach" – will focus on recruiting students who are considering education professions to enroll at McNeese. The education professions department will host a Geaux Teach event and market this through social networking as well as with event materials. During this event, 11th and 12th grade students from the five-parish area K-12 schools will be invited to tour facilities, attend teaching centered sessions, participate in creative contests and attend faculty/student Q&A sessions.
College of Engineering and Computer Science – Dr. Matthew Aghili, professor of electrical engineering, head of the electrical engineering and computer science department and associate dean of the college
Aghili's proposal – "A Comprehensive Recruiting Plan for the College of Engineering and Computer Science" – provides a recruiting framework and identifies tangible implementation steps to grow enrollment levels for the programs in the College of Engineering and Computer Science. Currently, two trending metrics for "University/Program Success" are gainful employment of the college's graduates and the return on investment when seeking a degree. His proposed Comprehensive Recruiting Plan will utilize this data to focus on several target areas for recruiting students for the college.
Dr. Derek Blakeley, assistant professor of history
Blakeley's proposal – "Utilizing Study Abroad as a Means of Attracting and Retaining Students at McNeese State University" – plans to expand student awareness of study abroad opportunities, specifically McNeese's participation in a consortium offering a variety of courses in London during a month-long summer term, as well as four-week language programs in Tours, France, and Granada, Spain. Study abroad can not only enrich a student's personal and educational development, but can also offer opportunities which are not available at many peer institutions and can be used to attract and retain students, especially in the liberal arts.
College of Nursing and Health Professions – Dr. Rhonda Johnson, associate professor of nursing and RN to BSN program coordinator
Johnson's Project – "Recruitment and Retention of Eligible Students for the RN to BSN Program" – will focus on the development of recruitment materials to increase the visibility of the RN to BSN program to prospective students while personalized student advising strategies will be implemented to boost student retention in the program. Increasing both the recruitment and retention efforts of the program can have a significant positive impact on the health of the community.
College of Science and Agriculture – Dwight Bertrand, instructor of agricultural sciences
Bertrand's project – "Recruitment of Students Enrolled in STEM Curriculums to the Teaching Profession" – will address the local, state and national shortages of properly trained middle and high school STEM (science, technology, engineering and mathematics) teachers especially in agriculture, physics, chemistry and computer science. The focus will be to work with faculty leaders in the respective departments within the College of Science and Agriculture to establish base-line data that will help to recruit students into the STEM education profession. This group will survey current students enrolled in the sciences to gage their knowledge and potential interest about the secondary teaching profession. From these results, an initial plan will be devised to inform and educate students on the possibilities of entering the teaching profession.
Want more stories like this one sent straight to your inbox every week? Sign up for our McNeese eNewsletter!
The Office of Marketing and Communications
4205 Ryan Street
Lake Charles, LA 70609
337-475-5640
communications@mcneese.edu