September 29, 2017 | McNeese Public Relations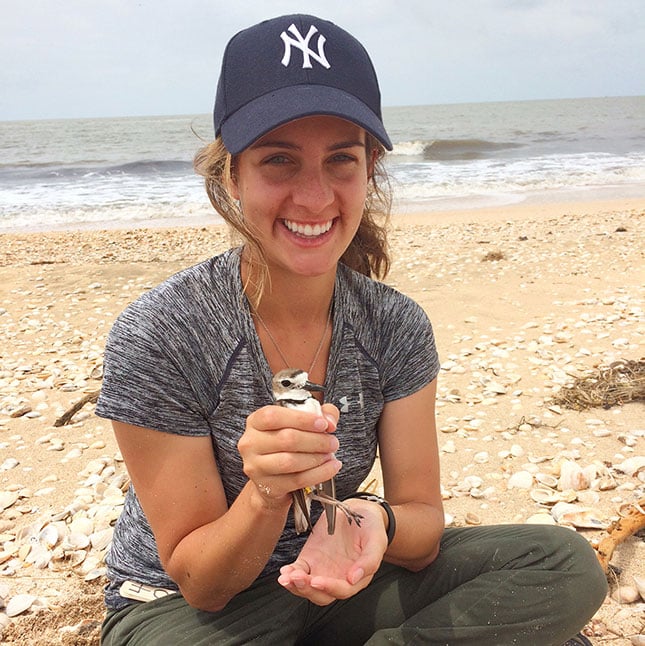 Several McNeese State University students in the Harold and Pearl Dripps School of Agricultural Sciences took advantage of internships this summer that provided real life training outside of the classroom. These internships included tagging wildlife in Cameron Parish and New Mexico, promoting Brahman cattle in Arkansas, Mississippi and Texas, packing eggs in Iowa, vaccinating pigs in North Carolina and working with horses in Ecuador.
"Internships benefit students by providing career-related experience before they graduate," says Dr. Chip LeMieux, school director. "Internships allow our students to connect their classroom knowledge with on-the-job training that prepares them for the workplace upon graduation. We encourage all of our students to complete internships to gain experience and industry contacts. Student internships are potentially the most important part of the students' academic career."
A couple of natural resource conservation management students – Shaye Serice, of Sulphur, and Jonathon Lueck, of DeQuincy, worked as interns for Louisiana Audubon in Cameron Parish. Both students helped in compiling nest counts and colony surveys of the populations of four species of birds – Wilson's Plover, Least Terns, Black Skimmers and Common Nighthawks – from Holly Beach to the Rockefeller Wildlife Refuge.
"To protect these vulnerable populations, we put up fencing around the colonies and assisted in banding the Wilson's Plovers and Least Terns to help monitor their population, migration and mating habits throughout the season," said Serice.
"This experience tied together a lot of the material I learned in my wildlife management classes and made it hands on," she added. "Working with Audubon Louisiana was very inspiring, too, because of how passionate and caring this organization is about birds and wildlife. This internship provided me with the experience I need to land a job after graduation."
Nadja Knox, an animal science student from Chicago, Illinois, traveled to Quito, Ecuador, to work with horses at a veterinary facility and "learn the local language."
"Some days, I worked more than 12 hours doing such routine procedures as equine dentistry, lab exams, podiatry and clinical evaluations as part of animal preventive medicine but it never felt like work," Knox said. "This internship, and working in Ecuador, gave me a real perspective of what my career could be like and the tools that I need to succeed."
Sadie Buller, a natural resource conservation management student from Ville Platte, interned as a biology technician at the Bosque del Apache National Wildlife Refuge in San Antonio, New Mexico, for the U.S. Fish and Wildlife Service.
"My main job included working with two of the endangered species that existed on the refuge – the Southwestern Willow Flycatcher and the Yellow Billed Cuckoo. I walked five separate transects, six different times, conducting absence/presence surveys for both of these birds. The protocol on these surveys was very specific and highly specialized to the natural history of each bird," said Buller.
Other duties included weekly catching and tagging of adult monarch butterflies, catching, banding and transmitting the elusive Mexican duck and removing invasive plant and animal species.
She also had the opportunity to work on the prairie dog reintroduction project at the Sevilleta National Wildlife Refuge and to assist surveying the endangered Mexican Spotted Owl with the Lincoln National Forest Smokey the Bear Ranger District crew in Ruidos.
"This internship has been the most beneficial experience of my life," Buller says. "I learned so many hands-on skills – GPS tracking, data collection, experience handling and banding live birds and southwestern plant and animal identification. I think the connections I made within the U.S. Fish and Wildlife Service was one of the most beneficial aspects of my internship."
Kealy Stelly, an animal science/pre-veterinary student from Opelousas, interned with Tyson Foods Inc. in Carthage, Mississippi. As an operations intern, she had the unique opportunity to experience every part of the food-preparation process from live poultry and processing to shipping and receiving and quality assurance.
"I think this internship was an amazing opportunity for me," Stelly said. "I was exposed to a side of the agricultural industry that I had never seen before. It was a very hands-on experience and I learned just what it takes to feed the world. I was not only exposed to a different part of agriculture but also a potential career path after graduation. I am certainly thankful for the opportunity."
Want more stories like this one sent straight to your inbox every week? Sign up for our McNeese eNewsletter!
The Office of Marketing and Communications
4205 Ryan Street
Lake Charles, LA 70609
337-475-5640
communications@mcneese.edu