2021 Spring Honor Graduates
May 20, 2021 | McNeese Public Relations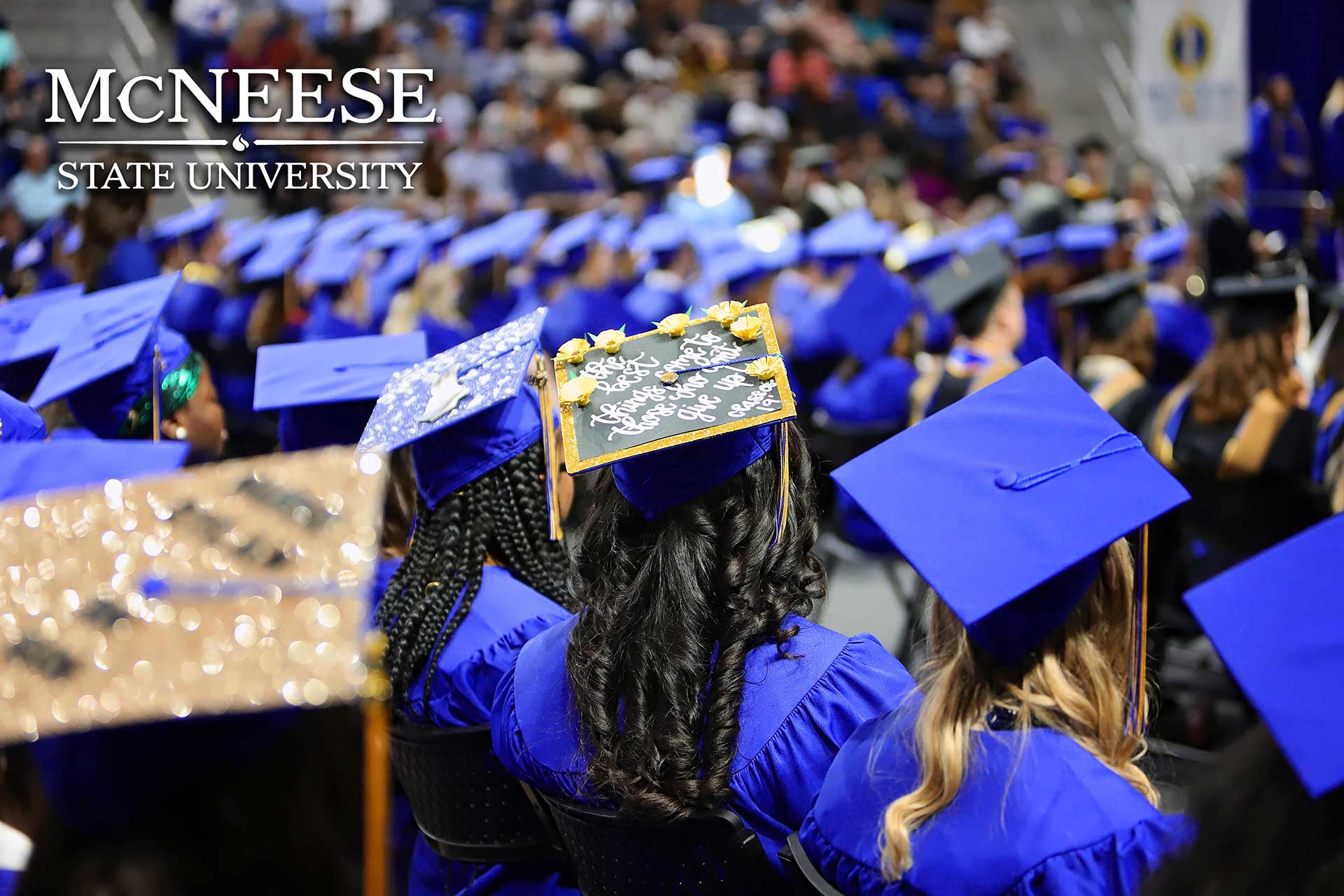 McNeese State University honor students were recognized at spring commencement ceremonies held May 14-15 in Burton Coliseum.
Honor students recognized were:
SUMMA CUM LAUDE (3.90-4.00): Seth A. Aucoin, Lake Charles; Kelsey Aviles, Kinder; Eric A. Bedel, Rayne; Isaac Spencer Bellemin, Ball; Anna C. Bushnell, Lake Charles; Edna Rose Cavenah, Kinder; Sangam Chapagain, Kushma, Nepal; Cassidy S. Conner, Welsh; Christa L. Daigle, Lake Charles; Rebekah Dilavore, Ocala, Florida; Katie M. Duplechin (4.0), Westlake; Elizabeth A. George (4.0), Lake Charles; Doyle Haley (4.0), Vinton; Michael S. Hebert, Lake Charles; Landon S. Hill, Welsh; Dylan Jeffrey Kay, Lake Charles; Shaun Tyler Laurent, Longville; Jace Charles Leblanc (4.0), Sulphur; Tyler J. Leblanc, Lake Charles; Valeria Fabiana Faria Maraver (4.0), Maracaibo, Venezuela; Camrie F. Martin, Brookeland, Texas; Valerie Lynae Mendoza (4.0), Lake Charles; Erin Catherine Moss, Sulphur; Austin M. Nelson, Sulphur; Rebecca C. Pettefer (4.0), Lake Charles; Pratchi A. Roy, Lake Charles; Alayis J. Seneca (4.0), The Woodlands, Texas; Brandi Nicole Simpson, Lake Charles; Jeanne F. Thibodeaux, Crowley; and Amanda H. Williams, Ball.
MAGNA CUM LAUDE (3.70-3.89): Kerven Agajanov, Murgap, Turkmenistan; William George Albrecht, Lutz, Florida; Bryanna R. Allison, Mamou; Abigail Marie Andrus, Westlake; Sydney B. Augustine, Hathaway; Maddison Lynn Aultman, Sulphur; Ryan T. Bartek, Lake Charles; Kira Anna Benkmann, Mahlow, Germany; Sanjay  Bharati, Simara, Nepal; Emmett M. Bobbett, Iota; Sarah Ann Bollich, Eunice; Raylee Marie Burgett, Sulphur; Joseph Daniel Cavolaski, Grand Lake; Davon J. Cole, Guatemala City, Guatemala; Chelsee Nicole McFarland Collins, Sugartown; Mackenzie R. Comeaux, Basile; Adria D. Conley, Lafayette; Darby N. Cook, Lake Charles; Haley Paige Cooley, Lacassine; Taylee Ann Corkern, Zachary; Stephanie Kaye Davis, Lake Charles; Mallory Breann Dupuie, Grand Lake; Caroline M. Fontenot, Mamou; Emily Grace Fontenot, Lake Charles; Seth Michael Frances, Leander, Texas; Ethan D. Franks, Baton Rouge; Jodi Kay Fruge, Iowa; Taylor Ann Fruge, Evangeline; Allie Suzanne Giffin, Lake Charles; Hannah Gayle Gros, Sulphur; Cade Scott Guidry, Jennings; Logan A. Guillory, Lake Charles; Samuel G. Hacker, Lake Charles; Olivia M. Hebert, Lake Charles; Huy Nguyen Minh Huynh, Ho Chi Minh, Vietnam; Shaniqua Monae Jefferson, Lake Charles; Megan T. Jenkins, DeRidder; Jill Johnston, Iowa; Kennedy Claire Jones, Lake Charles; Aleya C. Joseph, Lake Charles; Ameera M. Kattash, Lake Charles; Alexis Holden Lambert, McKinney, Texas; Jordan Elizabeth Latham, Lake Charles; Aaron Joseph LeBlanc, Jennings; Gavin P. Ledet, Sulphur; Tiffany R. Lowery, Lake Charles; Callie Salene Maddox, Grant; Ashley Marie Marcantel, Lake Charles; Alaina Elise Maxfield, Sulphur; Claudia E. Mayo, Lake Charles; Jacob Conner McCaughey, Vinton; Charla D. McInnis, Anacoco; Kennedy A. McNabb, Welsh; Sydney Milbre Meissner, DeRidder; Stephanie Alyse Menou, Lake Charles; Kathryn Elizabeth Murphy, Iowa; Madeline K. Neidig, San Jose, California; Conner J. Nesom, DeRidder; Hunter C. Neumann, Lafayette; Lien Bich Thi Ngo, Ho Chi Minh, Vietnam; Truong Lap Phan, Ho Chi Minh, Vietnam; Sadie Christine Quibodeaux, Jennings; Ryan J. Quinn, Hornbeck; Jessica B. Rathjen, Westlake; Kevin Roliard, Spring, Texas; Reagan C. Saltzman, Lake Charles; Ashlee G. Sebren, Eros; Kaden M. Sharpe, Lake Charles; Biplop  Shrestha, Kathmandu, Nepal; Lucas Roland Sonier, Ragley; Peyton Zane Stanford, Welsh; Audrey Marie Turpin, Lake Charles; Oanh Yen Vuong, Ho Chi Minh, Vietnam; Kathryn Enite Williams, Longville; Kelsey R. Yates, Erath; and Jamie Marie Young, Sulphur.
CUM LAUDE (3.50-3.69): Andrew Michael Barras, Lake Charles; Claire A. Bass, Kaplan; Emily C. Bass, Lake Charles; Madison Michelle Benoit, Merryville; Daniel Jacob Best, Fort Smith, Arkansas; David P. Billodeau, Sulphur; Tyller Paige Blackmon, Lake Charles; Olivia Rose Blanchard, Erath; Lahra Hailey Boitnott, Lake Charles; Brennen S. Bourliea, St. Martinville; Chassity P. Bradford, Lake Charles; Madison Elizabeth Breaux, Lake Charles; Da'vin Jude Broussard, Bell City; Lauren N. Burt, League City, Texas; Isabelle J. Caron, Lake Arthur; Nicholas Chambers Cassidy, Jennings; Alexandra Gayle Castille, Sulphur; Brendan K. Chapman, Lake Charles; Crystar Adra Mahogany Collins, Lake Charles; Hayleigh Paige Constantine, Jennings; Talynn Elizabeth Ellender, Longville; Cameron G. Fontenot, Lake Charles; Logan J. Fontenot, Lake Charles; Madison Marie Fontenot, Lake Charles; Sarah K. Fontenot, Denham Springs; Victoria L. Fontenot, Ville Platte; Austin C. Futrell, Pollock; Lauren P. Gayle, Lake Charles; Corinne D. Grubb, Sulphur; Tsering Dolker Gurung, Manang, Nepal; Caroline Elizabeth Hardy, Lacassine; Abby C. Harmon, Lake Charles; Sidney Brooke Haydel, Jennings; Blaze Tucker Hayes, Sulphur; Juliet Renee Hayes, Lake Charles; Anne-Marie P. Hebert, Jennings; Tate Louis Helms, Lake Charles; Matthew D. Higginbotham, Lake Charles; Anika C. Hovda, Weslaco, Texas; Maria Esther Ibanez Romero, Lafayette; Kaitlyn R. Iguess, Welsh; Benjamin M. Jester, Lake Charles; Lauren  Joubert, Ville Platte; Jessica  Juneau, Hessmer; Patrick Gerard Juneau, Lake Charles; Ashlyn C. Keasler, Martin, Tennessee; Bradley Stephen Kincaid, Lawrence, Kansas; Maggie Grace Lafargue, Lake Charles; John Mark Laneve, Lake Charles; William Ray Lavergne, Sulphur; Andrew John LeBlanc, Jennings; Bethany N. Lejeune, Mermentau; Alexander C. Lester, Lake Charles; Michelle Lignitz, Lake Charles; Taryn E. Louviere, Sulphur; Sydney R. Manuel, Lake Charles; Tyler Ryan Marceaux, Vinton; Alexis Brooke Miller, El Dorado Hills, California; Tess Cecilia Moss, Welsh; Roxane Nataf, Paris, France; Gavin Michael Nettles, Lake Charles; Alyssa A. Norwood, Lake Charles; Blake M. Nunez, Prairieville; McKenlie Nicole Perry, Lake Charles; Madison M. Phillips, Goodrich, Texas; Michelle Lee Phillips, Lake Charles; Dawn Marie Plummer, Vinton; Ali A. Prejean, Abbeville; Kayla Mae Quibodeaux, Grand Lake; Joshua Raphael, North Lauderdale, Florida; Amy E. Reed, Iowa; Bethany C. Reid, Mont Belvieu, Texas; Alana J. Rembert, Lake Charles; Meeyana D. Richard, Lafayette; Dean A. Riviere, Lake Charles; Annabeth G. Robideaux, Lake Charles; Ashley Renee Blocker Rodrigue, Iowa; Caitlin Brooke Sharrock, Plano, Texas; Logan Patrick Shaughnessy, Bell City; Delaney Rachelle Shuff, Longville; Victoria A. Sweat, Dry Prong; Emily D. Tassin, Lake Charles; Kira N. Trahan, Sulphur; Tyler Anthony Trahan, Jennings; Bryce L. Travis, Lake Charles; Phong-Linh Ngoc Truong, Lake Charles; Jason Lee Vanleuven, Leesville; Elise M. Velez, Eunice; Tori N. Viator, Lake Charles; Madison E. Victorian, Mamou; Dawson R. Wallace, Merryville; Brielle M. Webb, Lake Charles; and Brett Whelton, Glen Ellyn, Illinois.
Want more stories like this one sent straight to your inbox every week? Sign up for our McNeese eNewsletter!
The Office of Marketing and Communications
4205 Ryan Street
Lake Charles, LA 70609
337-475-5640
communications@mcneese.edu