June 10, 2020 | McNeese Public Relations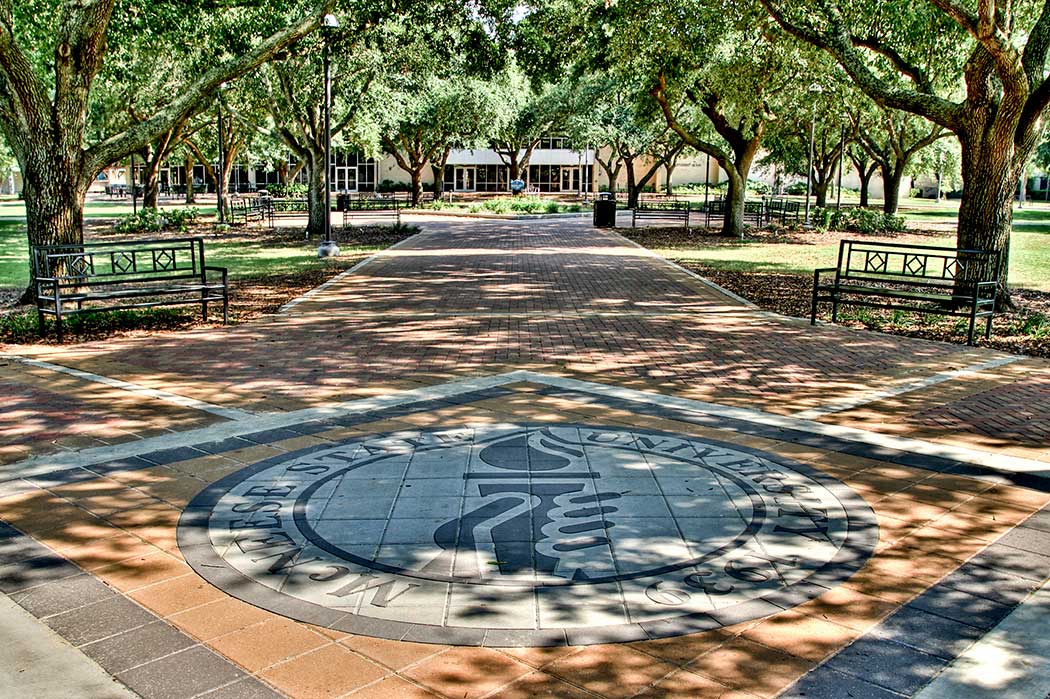 The McNeese State University Honor Roll for the 2020 spring semester has been announced. The honor roll lists undergraduate students earning at least a 3.0 or B average while carrying 12 or more semester hours.
            Honor Roll is as follows:
LAKE CHARLES: Abigail Audra Abraham, Nicholas R. Abshire, Rachel C. Ackman, Katelynn M. Adrian, John Adam Agee, Corey Allen Aguillard, Lane Andrew Alaniz, Ariyan N. Alfred, Brandon P. Amiot, Addie Kaylon Anderson, Amber Ann Andrews, Chantalle N. Anthony, Mia Rochon Anthony, Kendra D'Jon Antoine, Riley Nicole Ardoin, Hayden P. Armentor, Layne C. Armentor, Grace Jean Arnaud, Landon J. Arnold, Kaitlyn R. Arrington, Taha Asif, Bailey N. Aucoin, Macey Briann Aucoin, Emilyn C. Aymond, Laken Taylor Grubbs Baccigalopi, Abby Claire Ballard, Jordyn M. Barrett, Mor-Keith R. Bartie, Kanyn M. Barton, Emily C. Bass, Lauren Ann Baudoin, Alexis A. Bauer, Jillian A. Bech, Mallory P. Bell, Kendall E. Belle, Brennan Cole Bellinger, Daniel Loyd Bennett, Dylan S. Benoit, Gracie B. Benoit, Shelby N. Benson, Luke W. Bentley, David W. Bercier, Kylie Danielle Bergeron, Ismonia Rayvette Bernard, Alexander Ethan Bertram, Darby Rae Bertrand, Emmalee A. Bertrand, Katelyn R. Bertrand, Daniel Jacob Best, Rolando Edra Bigalbal, Callie A. Blackledge, Lahra Hailey Boitnott, Harish Bokati, Emily E. Bono, Brennen J. Bonsall, Kamryn M. Booth, Katherine E. Booth, Raegan M. Borders, Timothy G. Boreing, Taryn M. Bose, Baleigh Elizabeth Bourgeois, Chandler A. Bourque, Reid T. Bourque, Michael N. Bower, Odreonna P. Brankline, Allison Claire Brocato, Collin M. Broussard, Emily L. Broussard, Gabrielle Diane Broussard, Isaac J. Broussard, Lauren A. Broussard, Morgan G. Broussard, Ava R. Brown, Hannah N. Brown, James M. Brown, Strack S. Brown, Lane C. Buckels, Sebald Justinus Rutgers Bulhof, Kyle Stephen Bullard, Nicolas D. Burge, Courtney Marie Burnthorn, Karen Denise Burton, Krystian Ray Burum, Camille E. Bushnell, Austin Jack Buta, Kaylee Marie Butler, Angelica Cabrera Martinez, Mary E. Cagle, Elysia B. Caldarera, Brittany Marie Saxby Campbell, Hailey M. Carpenter, Derek Ryan Carrier, Laura Nicole Carroll, Colby Carter, Jordan A. Carter,  Joshua T. Casteel, Carley A. Castille, Timothy S. Castle, Samantha Brooke Causey, Michaela E. Cavolaski, Kaitlyn M. Chaffin, Jennifer F. Champeau, Kameron D. Chandler, Laibah T. Chaudhry, Julia K. Cheramie, Ilham J. Chloun, Courtney P. Ciesla, Kaiya R. Clark, Katherine Elizabeth Clark, Lauryn D. Clark, Claire M. Coleman, Kadijah Coleman, Ludwig Colimon, Christopher David Colley, Cortney N. Collins, Elijah Moses Collins, Crystar Adra Mahogany Collins-Molitor, Jacob K. Comeaux, Sidney LeighAnn Conley, Kourtney Elizabeth Conner, Maeleigh Beth Conner, Abigale Mari Conrad, Justin N. Cormier, Ryan S. Courmier, Hannah C. Credeur, Abigail Y. Criglow, Isabelle R. Cross, Sledge C. Cryar, Tyler E. Culpepper, William D. Cunningham, Taylor Monique Curley, Chance F. Daigle, Derek L. Daigle, Tyla R. Daigle, Joshua P. Damiata, Kiara Alexis DarDar, Claire R. Darbonne, Mykenzie Noelle Darbonne, Emilea Kate Davis, Danielle Rebecca DeWitt, Callie B. Decareaux, Jaylin C. Delafosse, Thomas Parker Delaney, Deja D. Dellafosse, Brooke N. Denson, Darian Analise Dering, Cooper A. Derouen, Aubrey Rae Dillon, Galaxy T. Do, Amber Elizabeth Donovan, Stacie Elizabeth Driskell, Laikyn S. Dubard, Tristin Nicole Dubois, Matthew C. Dufrene, Alexandra Michelle Duhon, Dylan S. Duhon, Minh-Paul N. Duong, Sydney Alyce Duplechain, Katie M. Duplechin, Johnnie Wayne Dyer, Beverly M. Edwards, Madison B. Edwards, Taylor Marie Edwards, Caden Andrew Eisen, Zachary Eisner, Michel Etienne Elliot, Justin C. Epperson, Christian J. Ertell, William D. Ertell, Courtney Layne Lejeune Evans, Jaqualin T. Evans, Robert Matthew Everage, Brady J. Everett, Alayna Jade Ewing, Elisabeth L. Falgout, Bethanie S. Farber, Kaitlyn E. Ferguson, Marcus T. Ferguson, Maximilian Thomas Henry Ferguson, Lexie R. Feverjean, McKenna L. Fields, Hayden T. Fogleman, Barbara J. Fontenot, Broc A. Fontenot, Cameron G. Fontenot, Darbi Michelle Fontenot, Kennedy N. Fontenot, Madison Marie Fontenot, Morgan Elizabeth Fontenot, Savannah G. Fontenot, Zachary Reid Fontenot, Hayden Michael Foolkes, Alexa M. Fountain, Brett J. Fournet, Marshal R. Fox, Kennedy P. Franklin, Ethan D. Franks, Laiken P. Franks, Hannah M. Frazier, Shea Elisabeth Frensley, Bailey E. Fruge, Cameron D. Fultz, Chayli Joy Funderburk, Jada Rochelle Fuselier, Alec J. Fusilier, Emily Denise Fusilier, Megan D. Gaddy, Heidi Michelle Gambrell, Alexander P. Garrido, Luke H. Gaskin, Brenna Rae Gaspard, Madeline C. Gaspard, Jordan Diane Gautreaux, Emily Jorden Borel Gazzolo, Caimen Blayne George, Dalon C. Getwood, Chloe Noel Gilbert, Amanda Nicole Gilchrist, Logan James Gilmore, Bryce Rene Glapion, Tessa L. Glaude, Gia Marie Gloston, Kyle T. Godeaux, Adreiana Marie Gonzalez-Salinas, Isaiah Jerome Goodly, Hailey E. Goodwin, Alyssa Jade Gott, Eann K. Gover, Lisa Jeanne  Grayson, Anna Marie Guidry, Brittanie A. Guidry, Jacob S. Guidry, Kyle P. Guidry, Paul A. Guidry, Paul George Guidry, Brendan E. Guillory, Claire Brittany Leon Guillory, Jada D. Guillory, Logan A. Guillory, Peggy Elizabeth Guillory, Sydnee R. Guillory,  Caroline Jeanne Habetz, Sophie C. Hacker, Julianna Kalyn Hair, Samuel Hall, Jenny C. Hamilton, Sydnee K. Hammond, Hailey N. Hanson, Allison Nicole Hardy, Jacqueline P. Hardy, Haley M. Harless, Abby C. Harmon, Juliet Renee Hayes, Austin B. Hebert, Jackie Katelynn Hebert, Jenna Hebert, Joshua J. Hebert, Kylie E. Hebert, Thomas C. Hebert, Emily Louise Hedlesky, Kaylee Claire Herpin, Baylee M. Herr, Tyler Kristopher Hickingbottom, Christopher Joseph Higginbotham, Matthew D. Higginbotham, Aya Fouad Hijazi, Mustapha Fouad Hijazi, Kristopher C. Hill, Benjamin J. Hilliard, Travis A. Hinton, Jordyn Brooke Holcomb, Savannah Alene Hollen, Elviney R. Holmes, Grace Arlowe Holt, John-David G. Houssiere, Matthew K. Houston, Alexis N. Huber, Lauren D. Jackson, Madison Blake Jagneaux, Austin R. James, Seth W. James, Brennan S. January, Erika E. Jarrell, Jade Taylor Jean, Courtney R. John, Andie J. Johnson, Austin D. Johnson, Corey  Cordell Johnson, Cullen Jude Johnson, Jillian D. Johnson, Peyton Bowen Johnson, Tyler J. Johnson, Rayne C. Johnson-Chiasson, Elijah Ray Jones, Justin L. Jones, Alyssa B. Jordan, Bronson P. Jordan, Aleya C. Joseph, Jordan Keyera Joseph, Patrick Gerard Juneau, Ameera M. Kattash, Aniese M. Kattash, Jillian Keesee, Cody L. Keller, Solasse D. Kennison, Iqra Noor Khan, Meredith Gail Maples Khan, Shahrukh T. Khan, Kevin Thomas Kinder, Sarah Elizabeth Kohrs, Zachary Charles Koppenhagen, Samuel J. Kuhne, Kerrigan Noel LaPointe, Meagan E. Lacasse, Madison K. Lafargue, Maggie Grace Lafargue, Niki Lam, Kayla Nicole Lambert, Breanna Nichole Landry, John Mark Laneve, Kaitlyn R. Langley, Hayden Michael Lantz, Kaley L. Larocca, Jordan Elizabeth Latham, Christopher H. Latil, Trenton Latiolais, Brock M. Lavergne, Kylie Rose Lavergne, Sarah B. Lavergne, Trevor P. Lavergne, Annamarie Lawson, Mia M. Lazard, Lorraine Adele LeBleu, Cameron David LeClercq, Brandon Joseph LeCompte, Halle Marie LeDay, Emily A. Leblanc, Tyler J. Leblanc, Ricky J. Leday, Stephanie Jolynn Brown Ledet, Clarissa Kinley Leger, Taylor Alexander Leggett, Lila D. Legros, Mallorie J. Leidig, Ashlyn N. Lejeune, Bethany N. Lejeune, Hannah Grace Lejeune, Cheyenne Leigh Leleaux, Grace N. Leleaux, Kaylee N. Lemons, Victoria P. Lester, Jonathan J. Leveque, Madison Frances Leveque, Austin T. Lewis, Haley Ann Lightsey, Hunter A. Little, Madelyn E. Loftin, Noah Jabe Loftin, Mea C. Lopez, Hailey Elizabeth Louviere, Karlynn P. Louviere, Katie Gail Lovett, Baylee J. Lovmo, Chloe M. Lovmo, Kelly Jin Lum, Michael T. Mack, Riley C. Maggio, Sarah A. Maggio, Jeevin Jay Maharaj, Angel Mai, Ashanta Raynae Malbroux, Crystal Elnetha Malbroux, Isaiah J. Manuel, Joseph Tritico Manuel, Sydney R. Manuel, Zachary N. Manuel, Ashley Marie Marcantel, Mary K. Marcantel, Maria A. Marceaux, Melissa Charlene Maricle, Ashley Janae Martin, Paige Marie Martin, Erik D. Martzahn, Jazmin N. Mason,  Adriana Louise Matte, Caleb W. Mayo, Senee V. Mays, Harrison L. McBride, Maggie Joy McBride, Alec Cade McGee, Trent A. McGuire, McKenzie Taylor McManus, Caleb C. McNabb, Paige K. McNeely, Macie J. Mcgee, Kassidy N. Meacham, Essence Ariella Means, Allison Guillory Meche, Olivia N. Meche, Tyler C. Meche, Cameron D. Meeks, Hayden Michael Melanson, Jonathan B. Melton, Aubrey Grace Mercer, Brent E. Miller, Derrica E. Moncrieffe, Ryan C. Monk, Morgan O. Monlezun, Madeline Glynese Moore, Sydney G. Morales, Randi Paige Morgan, Savannah Grace Morgan, Katelyn F. Morrell, Brianne Marie Morris, Karli Elizabeth Moss, Kristian Blake Moss, McKenzie Tate Moss, Madalyn Louise Mudd, Brandon P. Naquin, Joshua Daniel Nelsen, Austin M. Nelson, Bailey A. Nelson, William C. Netherland, Gavin Michael Nettles, Kobe Matthew Nevills, Jonathan Blake Newman, Jared K. Ney, Alyssa J. Nezat, Tia T. Nguyen, Emalee Morgan Nichols, Hannah Claire Nordan, Chloe B. Norris, Alyssa A. Norwood, Cameren M. Novak, Landen K. O'Quinn, Peyton Breann O'Quinn, Peyton Claire O'Quinn, Cailin O'Reilly Oliver, Lauren Alexandra Oliver, Scott L. Oliver, Alec Blake Ortego, Cameron Noelle Ortego, Mariel R. Ortego, Caden C. Owens, Kiran E. Owens, Christopher D. Pace, Audrey Tahala Painter, Emily P. Palombo, Kathryn V. Parmentier, Vrunda J. Patel, Jacob Paul Bishop Percle, Chloe Lee Perkins, Alexys Karlyssa Peron, Bayli Perrodin, McKenlie Nicole Perry, Makayla Ann Pete, Emily E. Phenice, Deondre T. Pierite, Fernando J. Pimentel, Madeleine E. Plauche, Douglas E. Poole, Randy Lee Poole, Jilyen B. Poullard, Kennedy L. Pousson, Savon W. Price, Sophie Anne Qui, Cody D. Quinn, Khurrum Qureshi, Caleb A. Ramsey, Chadwick Randow, Emily Ann Rather, Tyler Douglas Rather, Hanson B. Raymond, Kallie A. Reed, Santana Mone Reese, Rebecca L. Reeves, Alana J. Rembert, Destiny Nichole Reynolds, Jacob A. Rhodes, Gabriel A. Richard, Ophelia Danielle Richard, Sara J. Richard, William Richard, Jordan Ashley Rideau, Lauryn Marie Rider, Lisa M. Rious, Caroline Margaret Ritter, Dean A. Riviere, Lucia Alexandra Riviere, Alexander J. Roach, Jessica R. Roberts, Joshua M. Robinson, Michael H. Robinson, Katelin D. Rogers, Jarreth A. Rougeau, Jacob N. Rowland, Karrigan M. Rowse, Hope Julia Runyon, Sydney M. Saltzman, John Bernard Sanchez, Devin Nicole Sanders, Troy Jarell Sanders, Heather Michelle Mitchell Saucier, Zoe E. Schenimann, Patricia Antoinette Schlesinger, Sydney Jewel Seamons, Daija M. Senegal, Dhruv Sharma, Erik D. Shaw, Landyn L. Shillow, Damaris Perez Simmons, Efron L. Simon, Amy C. Singer, Alyna M. Smith, Alysia Paige Smith, Brandon I. Smith, Duncan David Smith, James N. Smith, Libby M. Snead, Emily A. Snider, Asef Sobhan, Joseph C. Soileau, Katlin B. Soileau, Sadie Gwen Soileau, Ally Nicole Sonnier, Emily Katherine Sonnier, Jaune-Marie Sonnier, Tabitha D. Sonnier, Brandon James Speer, Haleigh Jade Spell, Mariah Kaitlynn Danielle Mouton Spencer, Jenna Margaret Spivey, Ian R. St. Dizier, Caleb A. Stanley, Spencer Allen Stawecki, Carson A. Stephens, Alexis Leann Stevison, Andrea Danielle Stevison,  Devin Steward, Lane Thomas Stine, Brayden T. Stockman, Garrett D. Strahan, Felicia Ann Navarre Strauss, Tayler L. Strother, Raven Alicia Stubblefield, Christian J. Sutterfield, Ryan Matthew Sweeney, Nabila Hannah Syed, Joseph Evan Tallman, Divine D. Tanks, Aaron O. Tanner, Abby Tarver, Zachary Paul Tassin, Elijah P. Taylor, Trey A. Taylor, Tyus DaShayne Terry, Garrett Austin Thibodeaux, Prudence Jacqueline Thibodeaux, Malia F. Thigpen, Abigail Grace Thomas, Jennifer Marie Thomas, Kaila Gail Thomas, Karlee Elizabeth Thomas, Tyler Paul Thomas, Amberly M. Thompson, Madison Kathyleen Thompson, Mykenzie R. Thornton, Hallie N. Thurston, Ashby Roland Todd, Tyler G. Tolbert, Alexandria Jo Tolleson, Alison Elizabeth Toney, Kiah Elizabeth Toney, Jose E. Torres Cordero, Grace E. Trahan, Joseph Seth Trahan, Taylor-Therese Alcantara Tran, Bryce L. Travis, Phong-Linh Ngoc Truong, Dean B. Turner, Grifin C. Turner, Sophia B. Valentine, Claire Veade, Addysen Paige Veron, Alec J. Verrett, Dani Renee Vest, Sadie Jo Vest, Hannah Marie Vice, Karisma E. Vidal, Heather Denise Moore Vincent, Clay D. Vines, Jimmy Ky-Luan Vo, Dianna Marie Waldroup,  Delaney M. Webb, Ke'Aura L. Webb, Benjamin Gauge Welch, Keagan L. Wells, Amorahh D. Wesley, Ashlyn R. Wesley, Brian J. Wesley, Briana Nicole Westmoreland, Stephen Ryan White, Taryn Louise White, Brandon K. Whittington, Omri R. Wilcox, Baylor Sean Willett, Alexandra Michelle Williams, Charlene Denise Williams, Ethan B. Williams, Harmony C. Williams, Hayden P. Williams, Jo'Nae C. Williams, Padyn B. Williams, Jeffrey K. Williamson, Kori Ellen Williamson, Alyssa Lane Willis, Calleigh M. Willis, Ta'Jah Janell Wilson, McKaughly Saige Wing, Kayleb D. Winn, Chanda Vanessa Withers, Kaylee Claire Wix, Erin Kynne Woodard, Amy C. Yokubaitis, Katie F. Yokubaitis, Hannah Nicole Young, Samantha D. Young, Tyler Young
Other Louisiana Cities
ABBEVILLE: Olivia Rose Blanchard, Demi L. Boudreaux, Ronnie D. Cormier, Lindsey A. Detraz, Victoria Claire Frederick, Ali A. Prejean, Heidi Layne Romero, Victoria E. Roussel, England Tallmore, Tate Joseph Terrebonne
ALEXANDRIA: Jalissa D. Chew, Dailyn J. Williams
AMITE: Adrianna P. Terrebonne
ANACOCO: Joseph K. Harris, Suzette N. Kuhlow, Jessica Lynn Mayo, Cory Beauchea McCoy, Charla D. McInnis, Karlie McKenna Robison
ARNAUDVILLE: Bailey Michael Fontenot, Lorre M. Periou
BALDWIN: Treneice F. Butler           
BALL: Zebulun J. Bellemin, Savannah J. Garner 
BASILE: Katie Linette Monk Christ, Mackenzie R. Comeaux, Caitlynn Isabel Deshotels, Lincoln S. Fontenot, Brenan S. Langley, Mackenzie C. Leonards                                                                                     
BASTROP: Bailey J. Willis
BATON ROUGE: Sheena Johnson, Rachiel ShaRay Torrence
BELL CITY: Savanna M. Fruge, Bailey Marie Hanks, Justin Michael Howerton, Kaden M. Sharpe, Mattie Jean Sonnier, Allison Jolie Woodcock
BELLE CHASSE: Brandon L. Smith
BENTON: Kaitlyn Jeter Palombo
BOGALUSA: Ethan C. Pittman
BREAUX BRIDGE: Mallory Leann Breath, Taylor Broussard, Nia M. Fontenette, Courtney LeBlanc, Reggi P. Noel, Taylor J. Syrie, Bethany Michelle Thibodeaux
BUNKIE: Grace Danielle LeJeune, Gabe M. Soileau
CAMERON: Michael J. Boudreaux, Abby S. Leboeuf, Marley A. Thibodeaux, Kortni M. Trahan, Alesha N. Widcamp
CARENCRO: Shakayla Tyshia Jones, Nayamaka E. Simon, Arlana T. Wiltz
CHALMETTE: Erica J. Hernandez
CHURCH POINT: Heather Bellard, Sydney M. Boudreaux, Hanna Daigle, Todd K. Lejeune, Katlyn Marie Richard
COUSHATTA: Ashley Shanice Evans
COVINGTON: Abigail J. Mclain
CROWLEY: Alexis R. Bernard, Madelyn R. Danna, Markel Jerome Domino, Aimee C. Dupre, Brittany D. Lacroix, Sydney F. Leblanc, Madeline Claire Lejeune, Madelyn B. Lejeune, Cheyenne M. Menard, Jessica N. Morrow, Zur'Najah S. Poullard, Julia R. Schmid, Sydney Jean Spallino, Bailey Nicole Thevis, Matthew Venable, Jason Matthew Werth, A'Nijah P. Williams, Emily A. Zaunbrecher
CUT OFF: Victoria P. Barron
DEQUINCY: Eli Alexander Aultman, Savannah M. Bailey, Gage Michael Benton, Lindsay E. Blanks, Zane David Cooley, Jacob S. Cupstid, Daniel S. Devito, Kyra Brooke Dickerson, Jacob Wayne Goodman, Sarah E. Kellogg, Marshall Garret Larocque, Charley LeAnn Lewis, Matthew J. McHan, Claire C. Musgrove, Charlie Lane O`Bannon, Yash K. Patel, Kaitlyn Leanne Perkins, Austin T. Royer, Thad W. Segura, Leslie Paige Smith, Jessyca R. Steward
DERIDDER: Gessica L. Arrington, Mary Elizabeth Bergen, Walker J. Bihm, Marcel Renee Bilbo, Kailee R. Bishop, Cameron Alexander Boddie, Kaylee Rochelle Booth, Stephen T. Boyd, Jakob Michael Broocks, Kalob M. Broocks, Robert E. Byrd, Dorothy Lee Clendening, Jessie M. Cooley, Kelsey N. Cooley, Kennedy Leigh Cooley, Alyesia Shelby Davis, Megan Kira Nerys Davis, Kevin M. Erpelding, Kristopher Paul Evans, Aleah J. Ford, Kristin E. Gardner, Ulysses Gaynor-Gibbings, Joshua Hunter Harper, Alexia-Paige Hebert, Kimberly Ann Henley, Autumn Alexis Henson, Holden G. Hoerner, Austin Luke Kibler, Ashley Lauren Kyle, Morghan P. Latour, Chance Allen Leonard, Serena Michelle Loftin, Stephanie A. Maddox, Maygen E. Mcmahon, Kyla A. Montou, Victoria Ashleigh Moore, Madison McCall Moses, Sarah Beth Mullican, Kealeigh S. Myers, Megan Nicole Owens-Jordan, Harold Joseph Plaisance, Shelby L. Powell, Christian M. Reynolds, Narissa Rivera, Carlos Alberto Rodriguez, Natalie N. Rush, Hannah Jayde Smith, Katie Ann Teegardin, Monica Leigh Treme, Cierra E. Vidrine, Ariel P. Wade, Marla G. Weeks, NaThya DyVeun White, Brianna D. Wright
DENHAM SPRINGS: Kamryn L. Duncan, Ellis E. Johnson, Austin Reese Rea, Blake A. Robinson
DESTREHAN: Sharon Welch
DOYLINE: Noelle Elizabeth King
DRY CREEK: Tristan W. Mahaffey
DUSON: Sheila M. Bolfa, Riley K. Gautreaux
EGAN: Lani A. Hanks, Cameron J. May, Jacob T. Regan, Kirsten E. Regan
ELIZABETH: Tori L. Brown, Jaslynn Rose Chamberlain, Grace Katherine Gunder, Madison M. Pippen, Audie E. Soileau, Natalie N. Welch
ELTON: Andrew Blake Bertrand, Amber Jade Estes, Sarah C. Estes, Maycie Brooke Fuselier, Gabrielle Lynn Gobert, Brendan O. Laughlin, Halle D. Simien
ESTHERWOOD: Elizabeth P. Broussard, Lillian C. Gaspard, Jassmine P. Sims
ETHEL: Brittany Shay Hall Saxton
EUNICE: Brooke A. Aguillard, Sarah Ann Bollich, Ryan Ashley Citizen, Hunter C. Daigle, Kelby D. Duplechain, Colton B. Dupre, Kaycee Marie Everett, Abbigail R. Fontenot, Isabel M. Fontenot, Tara L. Fontenot, Allison C. Lafleur, Sean P. Manuel, Benjamin J. Pierrotti, Mia Kathryn Rougeau, Hallie M. Smith, Jacob E. Thibodeaux, Grace A. Toepfer, Jazmyne M. Triola, Gabriella P. Vidrine, James-Patrick Thomas Ward
FENTON: Victoria G. Wykoff
FORT POLK: Ineshka N. Mercadoramos
FRANKLIN: Ashton C. Landry, Kimberly L. Phillips
GLENMORA: Kelsey M. Coker, Alexandra Elizabeth Rollins, Lauren E. White
GONZALES: Andre W. Husers, Ciara E. Young
GRAND LAKE: Tyler C. Lavergne
GRANT: Madeline N. Stark, Nathan C. Stout
GUEYDAN: Emily Claire Gaspard, Hunter S. Lepretre, Madison P. Lepretre, Olivia A. Richard
HACKBERRY: Tristan J. Ancelet, Kory L. Kyle, Courtney Renae Lester
HAYES: Joshua Scott Nelands
HICKS: Haleigh Johnna Newnham
HORNBECK: Emily G. Volpe
HOUMA: Dylanda C. Bolden, Kyla A. Kyle
INDEPENDENCE: Kimberly Paige Ordeneaux
IOTA: Bailey Jayne Bergeron, Steven Nelson Bertrand, Kobe R. Dardar, Kali Gatte, Celeste M. Guidry, Cole J. LeJeune, Kendrick M. LeJeune, Taylor P. Lejeune, Levi G. Manuel, Kevin P. Pousson, Brittany J. Roy, Madison C. Sittig, Madilyne C. Trahan
IOWA: Andre J. Ange, Creed I. Arabie, Jennah Grace Baguex, Caleb Allen Beaudeaux, Da'vin Jude Broussard, Paige Corinne Buller, Jacob S. Caldwell, Victoria G. Canter, Jessica A. Castillo, Kayla L. Chenier, Nicholas Ryan Daigle, Gabrielle Elise Davidson, Kalyn Brea Delahoussaye, Ryan R. Denison, Alyssa Sheridan Derouen, Brady Joseph Fontenot, Christopher B. Fontenot, Logan J. Fontenot, Hilary J. Fuselier, Kylee F. Granger, Quinn Dawson Granger, Gavin Jeffery Grantham, Hannah N. Guillory, D'Andre Scott Hadnot, Emily Claire Hardy, Candice Lee Johnson, Claire Elizabeth Johnson, Jill Johnston, Hannah L. Jolivette, Zachary M. Jongbloed, Andrew C. Kay, Dylan Jeffrey Kay, Brailee Nichole LaBove, Marshall T. Langley, Courtney D. Leblanc, Hannah E. Mallett, Cheryl Jean Parsons Manuel, Mia B. Miller, Tommy Monroe, Kathryn Elizabeth Murphy, Jade Alyson Neel, Alysiah Cole Petross, Sadie Marie Prejean, Corynn Aliyan Primeaux, Kelsi Elizabeth Rea, Ashley Renee Blocker Rodrigue, Jadah F. Sargent, Morgan L. Smart, Temeka S. Taylor, Kelcie C. Thomassee, Cameron D. Willis, Hanna Michelle Willis, Kylie Marie Wilson
JEANERETTE: Jalon Jarae Charles
JENNINGS: Lexie D. Abshire, Kamryn M. Andrus, Gavin Heath Benoit, Jordan Lynn Breaux, Alexis M. Broussard, Cameron B. Broussard, Jenna C. Broussard, Zachary J. Broussard, Trinity Faith Capdeville, Christian Paige Clement, Hayleigh Paige Constantine, Nicholas John Daigle, Shakimma E. Dartest, Virginia Lane Edmondson, Conner James Fontenot, Devin B. Fontenot, Robert John Gates, Juliana Marie Guinn, Trey P. Hargrave, Logan M. Haydel, Anne-Marie P. Hebert, Taylor J. Hibbitts, Alyssa Marie Hoag, Sarah Elizabeth Hollier, Noah P. Johnston, Alexandra S. Kratzer, Catherine Alaine Landry, Zackery T. Langley, Joshua Cade Lessigne, Camryn Chaise Lopez, Nicholas S. Lopez, Stevie R. Lopez, Kasey Layne Marceaux, Ryan M. Millet, Kali Nicole Morvant, Thmyra Gregglyn Pattum, Cade Paul Person, Matthew Charles Precht, Kathryn A. Ramsey, Halie G. Reeves, Caileb J. Richard, Kamran K. Richard, Richard James Robicheaux, Travis D. Sarver, Benjamin P. Sonnier, Kevin Douglas Stracener, Naomi R. Walden
JOHNSON'S BAYOU: Alexander Reese Boudreaux
KAPLAN: Claire A. Bass, Jade B. Herpin, Bailey R. Roy, Logan A. Roy
KENTWOOD: Bre'Ashlee V. Jones
KINDER: Emma Caroline Bertrand, McKenzie Beth Bourgeois, Jake W. Cavenah, Andrew W. Cooley, Emmelia J. Fontenot, Madison Blair LaCour, Amelia Grace LaFargue, Sara Catherine LaFargue, Kaleb D'Antre LeDay, John Bryson Moore, Amanda Leeann Porche, Hannah Jade Potter, Bailey C. Rice, Allie Elizabeth Richard, Thomas J. Roberts, Makenna Brookelle Sanders, Sydni Nycole Savant, Catherine L. Trahan, Katelyn Michelle Trahan, Jess P. Weatherford, John Andrew Weatherford, Austin B. Wilbanks
LACASSINE: Blake J. Herron, Treyc Logan Kibodeaux, Hannah N. Kozelski, Cutter William Tonn
LAFAYETTE: Skylar Adams, Kashonda Alex, Javia Jasiah Archelle, Jaylin Nicole Babineaux, Esprit Broussard, Taylor Monique Curley, Lydia I. Delcambre, Faith D. Dorsey, Amaya J. Duffy, Jasonya Allen Dugas, Matthew Allen Gardner, Sametria Sakia Gary, Katherine Giraud, Sherri L. Green, Morgan E. Guidroz, Lindsey Michelle Habetz, Jalaya M. Hackworth, Michael J. Heintz, Meagan Hill, Natalie Claire Markle Jones, David Milliken, Katherine D. Montano Martinez, Alexus N. Narcisse, Logan Michael Nelson, Elizabeth A. Ratcliff, Meeyana D. Richard, Takara R. Sias, Alexia Renee Benjamin Sigue, Monica Smith, Alayah Arlene Soileau, Cydney B. Trahan, Kevin M. Trosper, Mary Nicole Verzwyvelt, Jaelan Mishelle Willis, Jakaela Patrice Willis
LAKE ARTHUR: Jacey M. Broussard, Isabelle J. Caron, Paige L. Daboval, Taya M. Hebert, Hannah Cecile Hensgens, Madison Marie Higginbotham, Taylor M. Lejeune, Jacob John Martin, Steven P. Meaux, Allie R. Monceaux, Davis R. Yates
LAKE PROVIDENCE: Audrey M. Batton
LAKE ROAD: Quintin Armstead
LEBLANC: Miranda Rae Brick
LEESVILLE: Gordon B. Boone, Thomas Brian Craig, Bailey L. Hagan, Hannah M. Mora, Amy A. Roos, Katelyn N. Shapkoff, Jason Lee Vanleuven
LOGANSPORT: Yasmine S. Bogan
LONGVILLE: Trinity Paige Anderson, Ariel Diana Bennett, Mattison Michaels Benoit, Tabitha Rose Buford, Montana James Faulk, Savannah Victoria Faulk, Trudy Lynn James, Nicolas Paige Lee, Kelly Darlene Marshall, Callie Shea Tims
LULING: Samantha Medina
MAMOU: Kendralyn B. Lavergne, Tyra S. Lavigne, Samuel L. McDaniel, Claudia M. Miller, Dulcie J. Miller, Remey Jude Parrott, Kirstyn E. Rider, Madison E. Victorian
MANDEVILLE: Elizabeth F. Kenley, Kaley I. Wintz
MANSFIELD: Australia E. Williams
MANSURA: Jessica Juneau, Martin D. Vanderlick
MANY: Brayden W. McMillian, Caroline E. Settle
MARKSVILLE: Allison C. Dauzat
MARRERO: Matthew Steven Keller
MELVILLE: Madison E. Woodard
MERMENTAU: Megan R. Martin, Erica B. Roy
MERRYVILLE: Brett Patrick Bell, Aspen N. Jones, Matthew Charles Taylor, Jania M. Williams
MITTIE: Natalie R. Stracener
MONROE: E'karia L. Hollis
MORGAN CITY: Carlee M. Landry
MORSE: Katelyn D. Leblanc, Heidi R. Marceaux, Alexis C. Vincent
NATCHEZ: Jackson A. Carroll
NEW IBERIA: Destinee Rae Boutte, Tiffany Janae Broussard, Scotty Wayne Comeaux, Chloe K. Hernandez, Tranae LaChelle Marks, Benedict Frank Olivier, Emily A. Petry, Branden C. Pondrom, Destinie Yancy
NEW LLANO: Jan Veintidos
NEW ORLEANS: Courtney N. Darby, Damien C. Degruy, Kristine Wilson New, Colby Richardson, Julian D. Summers, Cyron E. Sutton
NOBLE: Tyler L. Rivers
OAKDALE: Hailey Nicole Arnold, Jacob T. Black, Joel Alexander Brabham, Jude Nicholas Brabham, Darion D. Dunn, Tori Lynn Eaves, Hunter T. Faulks-Zabower, Joseph Scott Linder, Brooklyn A. Noblitt, Morgan Alicia Smith, Benjamin F. Thornhill, Kelsi G. Zimmerman
OBERLIN: Alanna Dane Arvie, Drew Antonio Beaubouef, Kristina G. Fontenot, Jared Dewayne Joubert, Anna Marie Reeves Manuel, Madison Grace Meaux, Amber Nichole Soileau, Jordan L. Warren
OPELOUSAS: Jennifer Michelle Cravins, Sydni M. Doucet, Haley L. Hidalgo, Makayla Celene Savoie, Brittany Christine Thomas
PATTERSON: Joe V. Carmody, Sheresha M. Washington
PEARL RIVER: Alayah D. Andrew
PIERRE PART: Erin N. Vidrine
PINE PRAIRIE: Malerie A. Guillory, Kaitlyn E. Roddy
PINEVILLE: Amanda O. Blankenship, Fonda Grace Colson, Chesney L. Laprarie, Cassie N. Parpart, Haley Cheyenne Sermon, Logan N. Vallee
PITKIN: Jordyn Cross, Hannah Theresa Leonards, Griffan E. Paul, Kaitlyn E. Savage
PLAQUEMINE: Jordyn Alexis Babin, Elyasia Gabrielle Williams
PONCHATOULA: Jodi M. Lewis
PORT ALLEN: Xavier Davis
PRAIRIEVILLE: Elizabeth Nicole Sam
RAGLEY: Jake Austin Bruce, Matthew V. Cooley, Alexander Heath Cormier, Allison Faith Dowden, Alexander P. Dupuy, Paige Alexxus Felice, Tristan Alan Fontenot, Paryella P. Hardy, Hayden J. Harrington, Ashley B. Hossain, Autumn M. Johnson, Pierce A. LaFleur, Hunter Jay LeBlanc, Dylan C. Manuel, Abigail Louise Marcantel, Rae D'Laine McManus, Karleigh Rae Midkiff, Emily Nicole Ramsey, Zachary P. Schwartzenburg, Cameron Scott Single, Khrystin Denise Weldon, Isaiah M. Windsor
RAYNE: Clare Alleman, Ethan P. Comeaux, Leeann B. Gray, John E. Hains, Samuel K. Hoffpauir, Kaylee R. Lopez, Meghan R. Matlock, Janie C. Morrison, Gabrielle M. Peltier, Susan T. Quibodeaux, Lindsey Ann Richard, Caylee M. Royer, Layla R. Simon, Caroline M. Zimmerman
REEVES: Kelly Shyan Cutting, Hannah E. Walker
RIVER RIDGE: Frankie R. Tabary
ROANOKE: Denitra Rachalle Constantine, Taylor D. Duplichan, Corey Jay Leger
ROSEPINE: Megan S. Cates, Michael D. Johnson, Erin Danielle Peavy, Brianna K. Sinegal, Kalyn B. Willis
SCOTT: Abigail M. Brinkman, Daleah D. Kelly, Allie M. RICHARD
SHREVEPORT: Antionne R. Alexander, Oakland K. Deutsch
SINGER: Wasey Duncan Crain, Neal R. Jordan
SLIDELL: Austin B. Bonnaffons, James Kade Dixon, Callie Ann Faciane, Hallie Nicole Faciane, Jonathan T. Lott, Alexis M. Pipkin
ST. FRANCISVILLE: Jolee E. Beauchamp, Presley Elizabeth Johnson, Jerome Marquis Washington 
ST. GABRIEL: Lester Lee Joseph                    
ST. MARTINVILLE: Lucah A. Broussard, Candace N. Guilbeau, Bethany Lynell Knatt-Broussard, Madison Alaina Pillaro, Raeosha Renea Valsin
STARKS: Kallen N. Borel, Madisyn Demi Swain                                   
SULPHUR: Jodi Allison Adams, Karey E. Alexander, Zachary R. Allain, Alexandra Shaver Ancelet, Cameron Patrick Ancelet, Lacey D. Andrus, Tylee Blair Arabie, Hadley A. Armer, Angelica E. Arroyo, Chandler L. Ashworth, Tristan Gage Baggett, Madison Rose Becktold, Adrian Felipe Beltran, Mikailah J. Biggs, Madelyne Michelle Billedeaux, David P. Billodeau, Blythe Marie Bolton, Lexi E. Bourgeois, Pierce M. Breaux, Benjamin Edward Broussard, Benjamin L. Broussard, Brandon D. Broussard, Cameron E. Broussard, Victoria Nicole Bukaty, Brock A. Bult, Courtney Alyce Burch, Matthew M. Carlson, Karlie R. Carriere, Ethan Charles Carter, Sophia C. Cesarini, Andrew Michael Chapman, Carmen Ann Chapman, Amber Lynn Chustz, Alexis Brown Comeaux, Lily Katherine Cradeur, Alyssa Faith Darbonne, Jacob David Darbonne, Kaitlyn Elizabeth Darby, Layklyn Elizabeth Davis, Abbie Nicole DeCoursey, Gracie R. Devall, William Chad Dion, Anna Celeste Mathews Dominque, Danielle Carice Donovan, Camron D. Doty, Adele E. Doucet, Anna Claire Elise Dowers, Jacob Roland Dudley, Dillon Thomas Duplechan, Alisha D. Dupree, Brittany Elaine East, Mark A. Ebersole, Abigail E. Ellender, Garrett E.  Erbelding, Bethany Grace Ervin, Colin Andrew Ezernack, Matthew Q. Ezernack, Samuel B. Farr, Logan J. Fontenot, Lodge Thompson Fortenberry, Claire L. Foster, Jonathon M. Freeman, Varvara G. Fritzinger, Madison Rose Garner, Blake Evan Garrison, Trevor E. Gaskin, Kallie Ann Gatte, Bailey Elizabeth Gotz, John Batt Gregory, Jesse Cade Guidry, Laura Leigh Lindgren Guidry, Nicole M. Guidry, Celia Anne Guilbeaux, Amy M. Guillory, Karra L. Guillory, Mykeia Darai Guillory, Alexandra Claire Gunnels, Alexis Clare Gunter, Nancy Carol Hales, Daulton A. Hatten, Sydnee Patricia Hawkins, Baileigh Gay Hayden, Brandie Carlton Hayden, Breanna Ann Hayden, Julia Kate Hays, Kaitlyn Alexis Hebert, Kennedy R. Hebert, Shanna Rae Hebert, Hollis Gabrielle Hernandez, Emily Claire Higginbotham, Cydney Rae Hillard, Kailee Quinn Johnston, Baylee Elizabeth Jordan, Lydia Kathryn Kellar, Jacob David LaFleur, Cole Spencer Labruyere, Madison N. Landry, Jessica M. Langford, Robi Marie LeJune, Marlee Marie LeMaire, Jace Charles Leblanc, Gavin P. Ledet, Keighly P. Leger, Taylor Joelle Lobue, Katherine Elizabeth Marker, Bailyn Nikole Martin, Victoria Elizabeth McBride, Jada Nicole McCoy, Blake A. McRight, Erin N. Meek, Shelby Corina Mendibles, Abigail Anne Miller, Alix Michelle Hudson Miller, Anne Marie Miller, Trey P. Misse, Elizabeth Payline Mitchell, Payton Nicole Moreaux, Emily Claire Moss, Erin Catherine Moss, Lane A. Murrell, Coraliegh Estelle Myers, Zackary D. Myers, Cole Dwayne Nassar, Sarah E. Palermo, Raynee Dante Penn, Anna Catherine Perry, Whitney Paige Perry, Christopher T. Phelps, Abbagail Grace Portie, Shayna Alexis Prince, Jonathan Andrew Qualls, Madison D. Qualls, Kelseigh Brooke Ramirez, Gage L. Rapp, Reid Patrick Rapp, Baylor Brice Richard, Faith E. Richard, Gavin Michael Richard, Carlee J. Richmond, Chelsea G. Richmond, Leah Tatyana Roach, Jeremy Eli Rodriguez, Presleigh Faith Ruiz, Ryder L. Sanford, Jaycie M. Savoie, Alden A. Schindler, Jade Mychel Lewis Schultz, Matthew J. Sellers, Alisah Grace Sexton, Dennis Shriver, Tammy Richard Shriver, J'cobi Skinner, Deborah Paige Smith, Harleigh Elizabeth Smith, Mikaela Marie Spell, Hailey E. Stanley, Olivia Kay Stark, Amanda R. Stephens, Brody James Strahan, Marion K. Suarez, Hayden Chance Swanner, Lauren L. Sylvest, Ashely Renee Taylor, Nicole L. Taylor, Ashley Marie Thorne, Hannah Brooke Toups, Trinity Faith Trahan, Von D. Turner, Eulema Faye Baker Veillon, Halley Marie Vincent, Hallie Lynn Vincent, Kylie E. Vizier, Jason H. Waite, Leann Marie Ward, Lanie K. Warner, Mallory R. Weeks, Vynessie L. Wilburn, Anna C. Williams, Mandi Lynn Winkelman, Lora Alane Wyatt, Allen M. Wyninger, Jamie Marie Young, Justine Elizabeth Young, Keylee Shea Young
SUNSET: Dylan Barlow, Peter T. Sheppard
THIBODAUX: Shelby A. Phelps, Brennan P. Uzee
VIDALIA: Zachary A. Nelson
VILLE PLATTE: Dawson L. Buller, Regan L. Carraway, Jonathan K. Deshotels, Bethany S. Fontenot, Jacques C. Fontenot, Laura B. Fontenot, Madison L. Fontenot, Morgan E. Fontenot, Margaret R. Foret, Emma M. Hollier, Lane J. Hudspeth, Antoinette R. Joseph, Morgan D. McDaniel, Grant I. Morein, Bailey A. Odom, Kaitlyn E. Roddy, Christopher S. Shipp, Lauren F. Shipp, Logan Je'ne' Shipp, Brook L. Soileau, Sarah K. Soileau, Tristan P. Soileau, Emilie Ann Taylor, Jakiah O. Thomas, Lacey A. Thomas, Anna G. Tuminaro, Wesley P. Vidrine, Alex M. West
VINTON: Haley Elizabeth Bunting, Hunter J. Cormier, Ali Kay Davis, Judson K. Derouen, Kyle Christopher Dupre, Brittany Dianne Gilbert, Taylor Morgan Glass, Harley R. Haley, Claire M. Heinen, Faith E. Hoffpauir, Bryce Anthony Hubert, Kaitlyn Christine Hubert, Jordan K. Jerman, Tyler Ryan Marceaux, Abigail Marie Nunally, Dawn Marie Plummer, Dylan Clay Randle, Cale Norman Stine, Cassi Ann Vincent, Sabrina F. West, Nathaniel William Willett                                            
WALKER: Jamie R. Leblanc
WASHINGTON: Andrew J. Doucet, Alec J. Gotro, Drew M. Latour
WELSH: Rayann Lea Benoit, Makaela B. Bertrand, Jason K. Chretien, Samuel T. Cormier, Elanea Annette Golmaryami, Ranna R. Hebert, Landon S. Hill, Ragan A. Hill, Kansas K. Hoffpauir, Hailey N. Holden, Skyler Lane Johnson, Kirsten Renee Kerbow, Sean Leleaux, Victoria L. Matte, Kennedy A. McNabb, Sherry C. Richard, Dominic Marcus Alexander Slover-Prudhomme, Rachel M. Thevis, Kennon DeMarco Thompson
WESTLAKE: Shelby Grantham Abbott, Zachary J. Abshire, Abigail Marie Andrus, Zane J. Andrus, Brittany Alicia Baines, Bethany E. Bergeron, Kaitlyn M. Borel, Calie Crystine Browne, Marcus Bryce Carnes, Woodrow Alexander Clendennen, Chelsea N. Cole, Marykate F. Core, Leah G. Ellender, Carlee R. Fast, Arease D. Fontenot, Evan K. Goss, Maggie M. Gotreaux, Carli Nicole Guillory, Kalley Marie Habetz, Robin D. Hawes, Julia C. Istre, Imani T. Jasmine, Shannon P. Johnston, Merritt Gloria Jones, Madeline Ann Lacombe, Alexa Jade McCaskill, Esther G. McKinney, Joseph Gabriel McKinney, Peyton Michael McMahon, Brennan C. Meyer, Brooke E. Meyer, Connor W. Moyer, Alexander Bryce Ortiz, Carley L. Parker, Kyara Jayd-Marie Prater, Reagan L. Richard, Elaine N. Robertson, Graham J. Rougeou, Haley N. Sacksteder, Jordan M. Southern, Camryn L. Tagge, Nathaniel C. Watts, Martha Ann Sheppard Wilrye
WHITE CASTLE: Ronnisha J. Jackson
YOUNGSVILLE: Madelyn J. Comeaux, Hayley R. Hughes
ZACHARY: Hunter B. Bell
ZWOLLE: Mackenize J. Martinez
Texas
ALVIN: Nathan L. Collins, Justin David Wiley
ARLINGTON: Bianca L. Jackson
BAYTOWN: Priscilla Janelle Ibarra
BEAUMONT: Lauren Janae Cox, Terren Jeron Gills, Zachary Nathaniel Newby, Shelby Kathleen Sonnier
BELTON: Madison Leigh Thoreson
BOYD: Keylee A. Winters
BRIDGE CITY: Schuyler Patrick Thibodaux
BROOKSHIRE: Summer Lynn Looper
BROWNSVILLE: Jaymee Krystelle Lopez
BULVERDE: Zachary D. May
BUNA: Morgan Elizabeth Clark
CIBOLO: Nicholas A. Holiday
COLLEGE STATION: Jordan J. Yeatts
CONROE: Madison Lynne Doise, Elizabeth M. Golden, Dallorie Morea Miller
COVE: Morgan Lee Frederick
CYPRESS: Caleb Frank, Hayley E. Halliday
EL LAGO: Daniel Hecker
EL PASO: Aaron Warren Gilliam
FARMERSVILLE: Alexandria Morgan Saldivar
FRESNO: Kiara D. Mitchell
FRIENDSWOOD: Larissa Perez
GARWOOD: Macee A. Krpec
GRAND PRAIRIE: Carli S. McDonald       
GROVES: Robert William Hebert
HAMSHIRE: Madison E. Novak
HARLINGEN: Alejandro Jesus Leal
HEMPHILL: Andrew Wood
HITCHCOCK: Skyler Nycole Thorne-Chambers
HOUSTON: Terrill T. Banks, Colby G. Burton, Paigelyn A. Carter, Avery Elizabeth Kelly, Liliana Landaverde, Camron T. Peterson, Cody J. Roscoe, Jonathan Jeremiah Williams
HUMBLE: Shania Rasha Anthony, Grace E. Smith         
HUNTSVILLE: Isabel L. Huntsman
JASPER: Cameron A. Bootie
KATY: William C. Devany, Arturo David Flores, Madison Danielle LeBlanc, Cristian Exequiel Olivares, Jeremy D. Smith
KEMAH: Tanner Edwin Pugh
KILLEEN: David Jonathan Smothers
KINGWOOD: Kaylee E. Walling
KIRBYVILLE: James H. Burchett
KOUNTZE: Ariel M. Denmon, Sarah M. Robins
LEAGUE CITY: Lauren N. Burt
LIVINGSTON: Gabriel Cody Gonzales, Branden James Lensing, Brent Malcolm Lensing
LUMBERTON: Katelyn C. Bihm, Shauna N. Bowers, Kambrie B. Mcfarland, Brett Edward Payne
MAGNOLIA: Brooke A. Mallory
MANVEL: Amanda Nicole Johnson
MAURICEVILLE: Savannah Sheppard
MCKINNEY: Blake D. Grace
MISSOURI CITY: Carlos Jerel Scott, Collin J. Warren
MONT BELVIEU: Bethany C. Reid
MONTGOMERY: Katelyn Nicole Elliott, Kyle Herridge, Cameron Grace Newhouse
NEDERLAND: Emma Kathryn Roccaforte
ORANGE: Jordan Avery Alexander, Katie L. Arabie, Jodi L. Cabiness, Skyler E. Ferguson, Leah M. Lagrange, Jacquelyn Caileen Perry, Skylar Kade Petroski, Loni M. Prouse, Lovejot Singh
ORANGEFIELD: Bryan J. Miller
PARIS: Hunter Reeves
PASADENA: Keegan Reeve Crawford, Haley Nichole Schneider
PEARLAND: Sara Bailie Cox
PLANO: Mariah Skylyn Ruelas, Caitlin Brooke Sharrock
PRINCETON: Alexandria Morgan Saldivar
RED OAK: Taniece R. Tyson
RICHMOND: Kendall M. Kilchrist, Camryn A. Pletka
RICHWOOD: Kevin D. Brown
ROSENBERG: Jeremy Martin Deleon
SAN ANTONIO: Abigail E. Hunt, Chase Erickson White
SANTA FE: Keegan Nelms, Haylie Michelle Ruhl
SILSBEE: Daniella Renee-Glenn Nash, Spencer B. Uribe
SPRING: Tia L. Andrews, Auston Layne Barnes, Rachel Marie Hebert
STAFFORD: Shaterroca Chanaye Williams
TOMBALL: Anna L. Watson
VIDOR: Zachary Joseph Robin
WALLER: Cade Steven Bartlett
WILLIS: Nicholas Pavelka
 States
Arkansas
BENTONVILLE: Carolyn Elizabeth Kotoucek
California
COVINA: Adriana Isabel Ramirez
VALENCIA: Kiana L. Kukaua
 Colorado
ARVADA: Megan E. Mally
Florida
GREEN COVE SPRINGS: Tiffany Steczo
MELBOURNE: Justin Anthony Carpenter
MIRAMAR: Enos L. Lewis
PORT CHARLOTTE: Dandre Tyrece Hicks
Georgia
ROSWELL: Monica Maria Estep
Guam
SINAJANA: Rylan G. Bawar
Hawaii
KANEOHE: Dawn Nicole Nabua
Idaho
COEUR D' ALENE: Alexis Webster
Illinois
GLEN ELLYN: Brett Whelton
Kansas
HAYS: Regan Stiawalt
OVERLAND PARK: Kolbi Savannah Gonzales
WAMEGO: Tylar Patrick
Maryland              
PERRY HALL: Gabrielle Ann Christy
Mississippi
LONG BEACH: Sarah Lorraine Johnson
MCCARLEY: Cori Lane McCrary
NATCHEZ: Chandler C. Mccann 
Missouri
LAQUEY: Amanda Lynn Snyder
New Jersey
BUENA VISA TOWNSHIP: Emani Norflett
North Carolina
APEX: Alexis Brooke Miller
HOPE MILLS: Mondrekia Monae Riley
Ohio
AKRON: Jessica Heard
Oklahoma
MOORE: Brenique T. Wright
Utah
SPANISH FORK: Averi Marshall
Virginia
ASHBURN: Alexis Nicole Bourg
Countries
ANGOLA: Nerivaldo Teodoro Eurico Jamba
AUSTRALIA: Lewis William Cain
BANGLADESH: Kazi Tanisha Angshu
BRAZIL: Kiyodi Dec Sakano
CAMEROON: Danielle Fabiola Jingue Yimga
CHINA: Yinhao Chen
COLOMBIA: Laura Juliana Gomez, Maria Juliana Medina, Juan Sebastian Fierro Trujillo, Daniela Solano Mendoza
COTE D' IVOIRE: Jean Samuel Donald Boue, Abdramane Bechir Diabate
CUBA: Yoanett Hernandez
EGYPT: Dalia Sherif Ahmed Abdelaziz, Omar Mahmoud Zayed
GERMANY: Kira Anna Benkmann
GREECE: Georgios Anastasiou
INDIA: Kairavi D. Chokshi, Anureet Kaur, Isha Sharma
INDONESIA: Virsya Adonia Vardhani
IRELAND: Jack Hearn, Luke Horgan
JAMAICA: Anecia J. Ramsay
KENYA: Brannon Cheplak, Daniel Kibiwot Saina, Henry K. Kiplagat
KOREA, REPUBLIC OF: Na Young Kim
MADAGASCAR: Costel Faniaha Vakiandro
MEXICO: Luis Carlos Rivas Partida, Andres Regino De La Cruz
MONTENEGRO: Stefan Mirkovic
NEPAL: Anushka Acharya, Dev Shankar Acharya, Aayusha Adhikari, Upendra Adhikari, Sanjay Bharati, Abinav Bhattarai, Santosh Bhusal, Sanam Bohara, Saugat Budathoki, Sangam Chapagain, Sajina Dhakal, Shrijan Dhakal, Ankit Goel Ghimire, Krishna Gurung, Laxman Gyawali, Altaf Hussain, Sujal Joshi, Dhiraj Kapali, Srija Karanjit, Nischal Khadka, Rakyush Khadka, Aman Khan, Milan Khanal, Suraj Khanal, Nishant Khanal Upadhyaya, Raunak Raj Khatiwada, Anil Khatri, Abhiyan Koirala, Nischal Koirala, Pragya Kunwar, Pratish Maharjan, Rabina Maharjan, Bipin Kumar Mahato, Hemant Mahato, Samrat Marasini, Bijaya Nepal, Apurba Neupane, Samir Neupane, Pratikshya Pangeni, Binod Pant, Aayam Paudel, Sajjan Paudel, Sudarshan Poudel, Sambridhi Poudyal, Anish Prasai, Sonu Prasai, Pallavi Rajbanshi, Supratik Regmi, Rajib Rijal, Prashant Risal, Raunack Sharma, Shikha Sharma, Simon Sharma, Kandu Sherpa, Pasang Jangbu Sherpa, Divesh Shrestha, Ronish Shrestha, Shradesh Shrestha, Aditya Singh, Aman Singh, Aashma Subedi, Rojina Sunuwar, Ajit Thapa, Diwash Singh Thapa, Suraj Thapa, Gopal Thapa Chhetri, Nhujaa Ratna Tuladhar, Bikash Yadav, Binayak Singh Yadav, Himshree Neupane, Rajib Rijal, Jesika Mainali, Kiran Adhikari, Suraj Lamsal, Pratik Kumar Poudel, Gaurab Rai, Saurav Sharma, Shriya Shrestha, Radheshyam Adhikari
NIGERIA: Aikenzua Samson Alenkhe, Oluwasemilore Fredrick Adefila, Damilare Johnson Awodele, Oluwaseyi Ayo-Anjorin, Cheta Vanessa Ezenduka, Obumnaeke Gabriel Odinamkpa, Oghenemarho Tiara Ogboru, Enoch Oluwadunmininu Ogunnowo, Jeffrey Okwuokei, Zainab Adeola Sanusi, Eniola Kofoworola Olapade, Damilola Sidiqat Balogun
PAKISTAN: Abdul Wahab Javed
PERU: Francisco Javier Cordova-Segura
POLAND: Marta Lukijaniuk
RWANDA: Aimee Victoire Ingabire, Sandrine Mutezinka
SAUDI ARABIA: Fahad Abdulrazaq, Abdulrahman Mallah Alanazi, Fahad Mamdouh M Alanazi, Waleed Khalid M Aldossary, Jaydaa Areef K Alghamdi, Jehad Aref K Alghamdi, Nawaf Waheeb H Alharbi, Jamal Nassir Alhudhairy, Ali Fahad S Alkhaldi, Abdulmalik Almibrad, Ahmad Eid Alnakhly, Faisal Sulaiman Alsugair
SERBIA: Dusan Jurosevic
SLOVAKIA: Monika Holmes
SOUTH AFRICA: Michael J. Terblanche
SPAIN: Miguel Barrera Lopez, Ane Torres Arruabarrena
TRINIDAD AND TOBAGO: Javeann Tenassa Roberts
TURKMENISTAN: Kerven Agajanov
UNITED KINGDOM: Matthew James Harding, Greg Alexander Holmes, Holly Louise Roberts
VENEZUELA: Yileynis Melisa Jimenez Rodriguez, Jose Alfredo Betancourt
VIETNAM: Quyen Hoang, Nam M. Lai, Thien Thuan Le, Lien Bich Thi Ngo, Bao Ngoc L. Tran, Phung Kim Vo, Hoang Nam Nguyen 
ZIMBABWE: Simbarashe Herbert Mambiri
Want more stories like this one sent straight to your inbox every week? Sign up for our McNeese eNewsletter!
The Office of Marketing and Communications
4205 Ryan Street
Lake Charles, LA 70609
337-475-5640
communications@mcneese.edu