Accounting Major Keeps Zydeco Thriving with McNeese's Own Zyde-Pokes
May 6, 2022 | McNeese Public Relations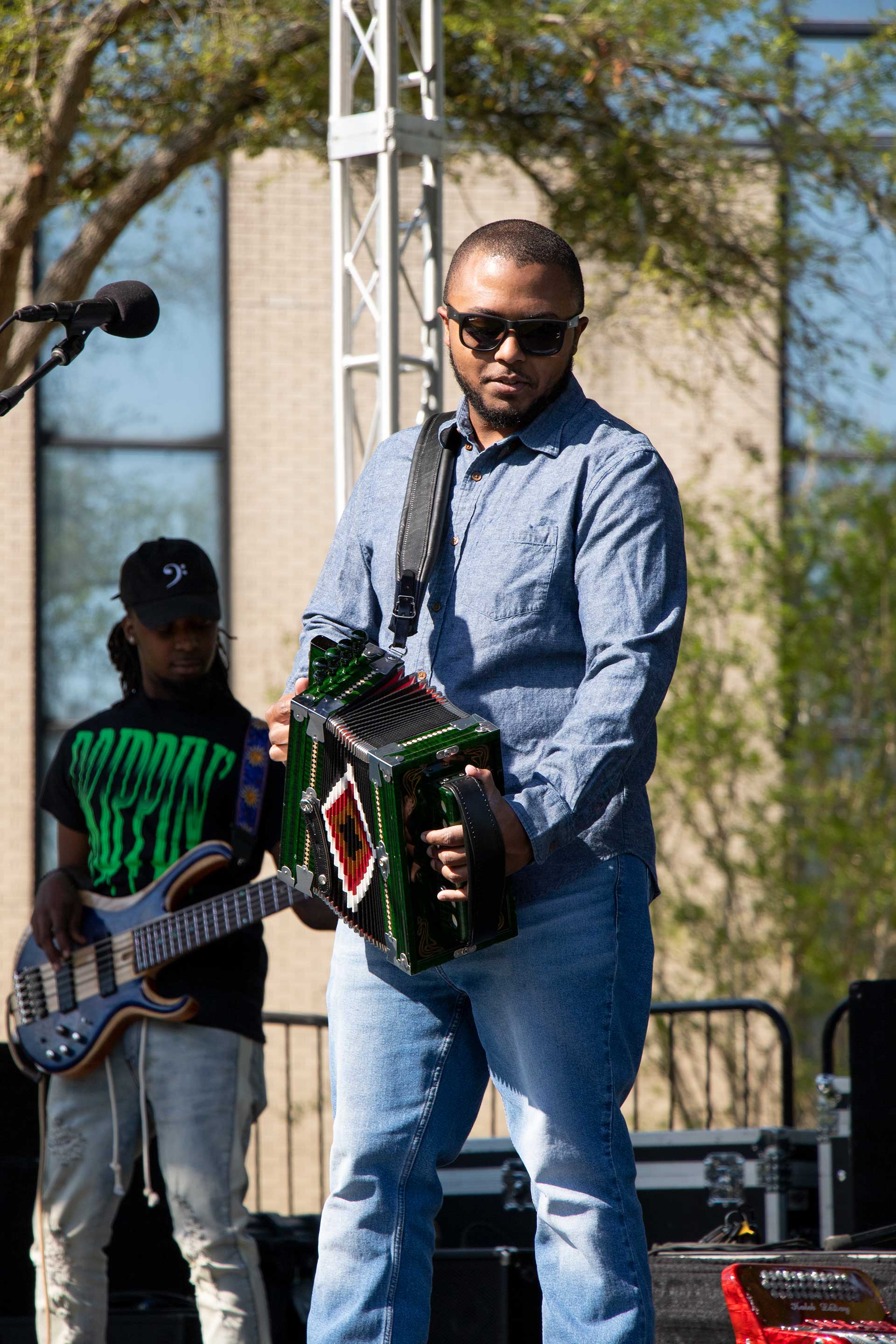 At McNeese State University, Kinder senior Kaleb LeDay continues to explore and develop his musical passions while working on his accounting degree, thanks to McNeese's very own zydeco band, the Zyde-Pokes.
This performing group was created through the W.A. and Dorothy Hanna Department of Performing Arts to preserve the rich Creole culture and keep zydeco music traditions going strong.
LeDay says that he was first drawn to the musical field through family tradition – specifically his great-grandfather, who played guitar and performed with legendary zydeco musicians Beau Jocque and the Zydeco Hi-Rollers, Boozoo Chavis and the Ardoin Brothers.
"When my great-grandfather was a teenager, he bought a guitar and started playing blues and that led him to playing with zydeco bands," LeDay says. "When I was growing up, I would hear him play and watch him perform and that's how I became interested in music."
Specifically, LeDay became passionate about zydeco music. Traditional to southern Louisiana, this regional music blends French Creole, Cajun, R&B, Afro-Caribbean and Blues influences. Though LeDay started learning how to play the guitar, he eventually found his way to the accordion, the most prominent instrument in zydeco.
"I said, 'This looks easier and more fun than the guitar,' so I begged my mom to get me one for Christmas," he says. "She got it and I've been playing the accordion ever since."
Despite being active in band in middle and high schools, and teaching accordion lessons to others during summers, LeDay says that he didn't see himself pursuing music at the collegiate level.
"I always figured that if I ever broke my hand, I would be in trouble with a music career. A business degree seemed like a safe choice that I could always fall back on if something like that were to happen," he says. "The COVID-19 pandemic really taught me that I made a good decision because people went over a year without playing any music."
But, he says, associate professor of music Dr. Lonny Benoit wasn't going to let his talent go to waste.
"I always wanted to go to McNeese, and throughout high school, Dr. Benoit kept telling me, 'I'm going to take care of you when you get to McNeese,'" LeDay says. "In my senior year in high school, he created the Zyde-Pokes, and I thought, 'I don't really want to be in band, but I'll do this.'"
With the Zyde-Pokes, LeDay has had the opportunity to perform at a number of events, including McNeese basketball games, Pokes in the Oaks and the 2019 Homecoming parade and pep rally. The Zyde-Pokes have also performed at the 2019 Festival International de Louisiane in Lafayette, one of the largest festivals in Louisiana with over 300,000 attendees from nearly all the U.S. states and over 25 countries.
In 2021, LeDay was named the Zydeco Grand Prize Winner at the Texas Folklife Annual Big Squeeze Statewide Accordion Contest and he also led the Zydeco Capital Jam in Opelousas, where musicians from across the state gathered to make collaborative music.
"I also led the Capital Jam in 2019," he says. "We had guitar players and a fiddle player and we were following each other musically while people from all over came out and watched and listened and danced. Last summer I did it again and it was very similar except we had mostly accordion players and two of the players were actually people I have taught."
Set to graduate in December 2022, LeDay plans to pursue his music after graduation. Until then, he will teach accordion this summer and continue playing with the Zyde-Pokes and another local zydeco band, Rusty Metoyer and The Zydeco Krush.
"I'm learning a lot about music and the business side but eventually I want to do my own thing and have my own band," he says. "In the meantime, it's been amazing to help a Louisiana tradition reach the national and international stage.
"Zydeco has always been big in Louisiana, but Texas is starting to be a very popular place for zydeco too and a lot of people like it in California," he continues. "I've been invited to play in festivals up north and there are always big festivals in the spring in Louisiana. People come from all over the world to listen. I have a student in Sweden and he wants to come once COVID-19 restrictions are lifted and listen to different bands down here and go to the accordion shops in Lafayette. I know people who have their own little band in Ireland. Zydeco isn't just local anymore and I'm excited to share this music with people around the world and keep the tradition alive."
Want more stories like this one sent straight to your inbox every week? Sign up for our McNeese eNewsletter!
The Office of Marketing and Communications
4205 Ryan Street
Lake Charles, LA 70609
337-475-5640
communications@mcneese.edu