McNeese Trailblazers Recognized
April 29, 2019 | McNeese Public Relations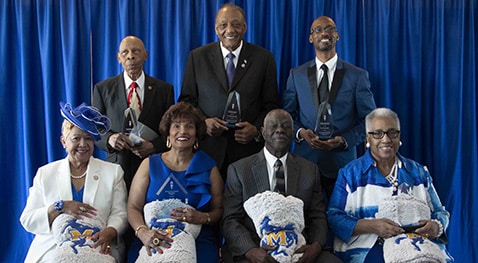 Five McNeese State University alumni, a fraternity and a sorority were recognized at the 3rd Annual Trailblazer Awards program sponsored by the McNeese Black Alumni Chapter.
This program – which raises money to support the BAC Scholarship Fund established with the McNeese Foundation – identifies community leaders who have had a significant impact on McNeese and the black community. Established in the spring of 2011, the BAC has awarded almost $18,000 in scholarships to 19 McNeese students.       
The program's keynote speaker was retired chemist and educator
This year's recipients are: educator and former Calcasieu Parish Police Juror Elizabeth Conway Griffin (1983, 2011); retired chemist and educator Norma Guillory (1972, 1985 and 1990); retired Col. Anthony "Tony" Polk (1967); retired mathematics educator William Proctor Sr. (1959); music educator Mickey Smith Jr. (2004, 2008); Bernard Beaco, representing the Epsilon Phi Chapter of Kappa Alpha Psi Fraternity; and Christiana M. White, representing Lambda Gamma Chapter of Zeta Phi Beta Sorority.
Griffin, of Lake Charles, received a Bachelor of Arts degree in special education and a Master of Education degree in educational technology from McNeese. She was the first African-American woman to serve on the Calcasieu Parish Police Jury and also serve as its president, was the first African-American woman to serve as president of the Louisiana Police Jury Association's Black Caucus and was the first African-American woman to serve as chair of the Imperial Calcasieu Regional Planning and Development Commission. She is a member of the Beta Kappa Zeta chapter of Zeta Phi Beta.
Guillory, of Lake Charles, received her Bachelor of Science degree in 1972, her Master of Education in biology education in 1985 and her Master's plus 30 in education in 1990 from McNeese. Guillory was the first African-American elected to the McNeese LaBelle Court and is a charter member of the Lambda Gamma Chapter of Zeta Phi Beta. She has worked in the local petrochemical industry and as an educator for over 25 years in Calcasieu Parish, teaching at St. Louis Catholic High School and LaGrange High School. She was also a high school science consultant for the Calcasieu Parish School Board. Guillory is past president of the Louisiana Science Teachers Association, former member of the Honors and Awards Committee of the National Science Teachers Association and committee member that developed the State of Louisiana High School Science Graduation Exam.
Polk, of Manassas, Virginia, received his Bachelor of Science degree in medical technology from McNeese. He was the first black medical technology graduate and the first black student to be commissioned a military officer from McNeese. He served for 30 years in the military and was often the first black officer in his field on multiple assignments. He commanded thousands of military and civilian personnel throughout the Pacific, Europe, including NATO, and the United States. In his final assignment in the Pentagon, he was in charge of blood research and the provision of blood products to all U.S. military medical facilities worldwide, in peace or war. Following his military retirement, Polk served 15 years as the first black executive for the American Red Cross National Headquarters Blood Services in Washington, D.C. He is a recipient of several honors and was inducted into the Army Medical Department Order of Military Medical Merit Hall of Fame.
Proctor, of Lake Charles, received his Bachelor of Arts degree in elementary education at McNeese and his Master of Education degree from the University of Louisiana at Lafayette. He worked 40 years as a mathematics teacher at five schools in the Calcasieu Parish School System. In the community, he served as a Boy Scout and Cub Scout Master and as a Little League basketball coach. 
Smith, of Sulphur, received his Bachelor of Music and Master of Music degrees from McNeese. A teacher, saxophonist, speaker and author, Smith is a three-time Teacher of the Year nominee and a four-time nominee and two-time Top 10 finalist for The GRAMMY Foundation's Music Education Award. He serves as president of MusicMakers2U, a local non-profit that provides donated instruments to deserving youth in the Lake Area, and is a board member with Jazz in the Arts and Christian Youth Theater. As a Louisiana Ambassador, he travels with members of the Louisiana Tourism Department to promote the state around the country.
Two black student Greek organizations – Kappa Alpha Psi and Zeta Phi Beta – have a rich history and are integral parts of Greek life on the McNeese campus.
Kappa Alpha Psi was founded in 1911 on the campus of Indiana University Bloomington. The McNeese Epsilon Phi Chapter of Kappa Alpha Psi was chartered on Nov. 2, 1969, by Albert Bellanger, Jerry Golden, Joseph Guillory, Willie Johnson and Donald Pitre. The chapter was the first black Greek-lettered fraternity on campus and the first Louisiana chapter of the fraternity to break color barriers at a predominantly white institution.
Zeta Phi Beta was founded in 1920 in Washington, D.C., and the Lambda Gamma City Chapter became the first African-American sorority in Lake Charles, which was established in 1966 by Thelma Y. Thomas. Thomas was also instrumental in establishing the McNeese Lambda Gamma Chapter in 1969, which was the first African-American sorority on campus and the first African-American undergraduate chapter on a predominantly white campus west of the Mississippi.
Want more stories like this one sent straight to your inbox every week? Sign up for our McNeese eNewsletter!
The Office of Marketing and Communications
4205 Ryan Street
Lake Charles, LA 70609
337-475-5640
communications@mcneese.edu