McNeese Student Works at Port Wonder
September 6, 2023 | McNeese Public Relations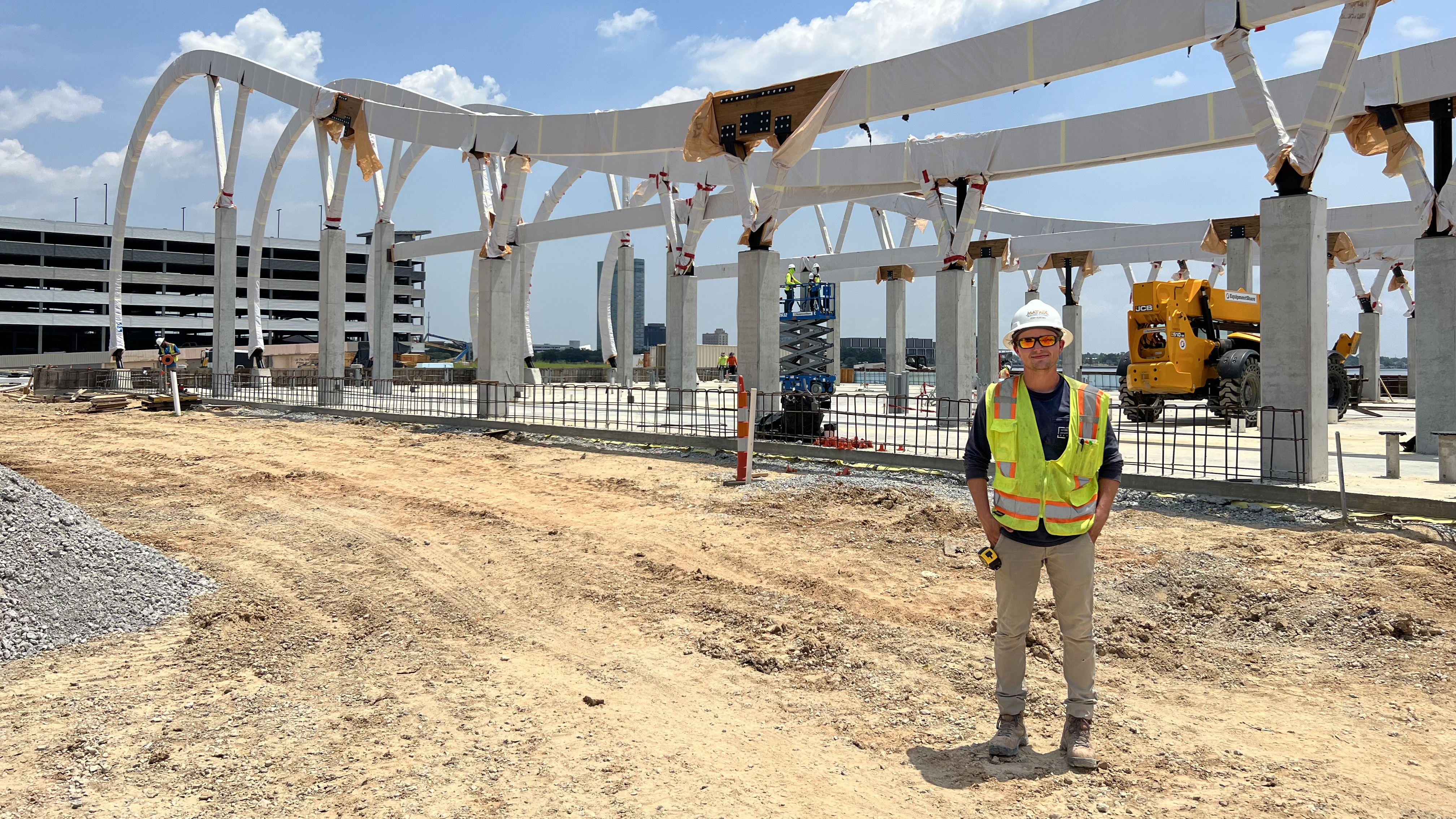 McNeese State University senior Joshua Susong spent his summer at the Port Wonder construction site in Lake Charles getting his hands dirty.
Susong, of Lake Charles, is a business administration major with a concentration in construction management. Susong interned for the Lemoine Co. at the construction site of Port Wonder, The Children's Museum of Southwest Louisiana.
Bachelor of Science in business administration degree program through McNeese College of Business prepares students to graduate career-ready with practical skills and professional connections. The construction management concentration focuses on skills relating to the construction industry, including project planning, civil engineering principles and operations management.
Susong knew from an early age that he wanted to work in the construction field. This is why he chose to pursue McNeese's business administration degree plan.
"The best part of my summer internship was having the opportunity to learn. I was able to soak in information and ask questions when I didn't fully understand," Susong said. "This allowed me to learn quickly and earn more responsibility on the job site."
During his internship, Susong applied information he learned at McNeese to his tasks.
"One of my many responsibilities this summer was to help calculate the amount of concrete that was needed to order for our pour dates," Susong explained. "I used geometric formulas and calculations to find surface area, volume and circumference to get a rough estimate on how much material to order."
Susong learned first-hand that great attention to detail is required to build commercial grade buildings.
"Double and even triple checking measurements will save a lot of time and money," Susong said.
The information Susong learned from his internship will benefit him even after he graduates from McNeese.
"It has allowed me to have hands-on experience that will give me a competitive edge in the field," Susong explained. "I believe that the construction terminology I learned this summer will also allow me to have an easier transition into a commercial construction company once out of school."
Susong plans to work in the construction field after he graduates from McNeese.
"Once I'm out of school, I plan to work for a commercial construction company and become a superintendent, running my own job sites and learning as much as possible along the way," said Susong. He then plans to start his own residential construction company.
To students looking for an internship, Susong encourages researching opportunities in your area. "There are many companies looking for bright, young students with the willingness to learn," he said.
Become a McNeese State University Cowboy! The application is open at www.mcneese.edu. 
Want more stories like this one sent straight to your inbox every week? Sign up for our McNeese eNewsletter!
The Office of Marketing and Communications
4205 Ryan Street
Lake Charles, LA 70609
337-475-5640
communications@mcneese.edu