McNeese Student and RFL Scholar Visits Paris
June 13, 2023 | McNeese Public Relations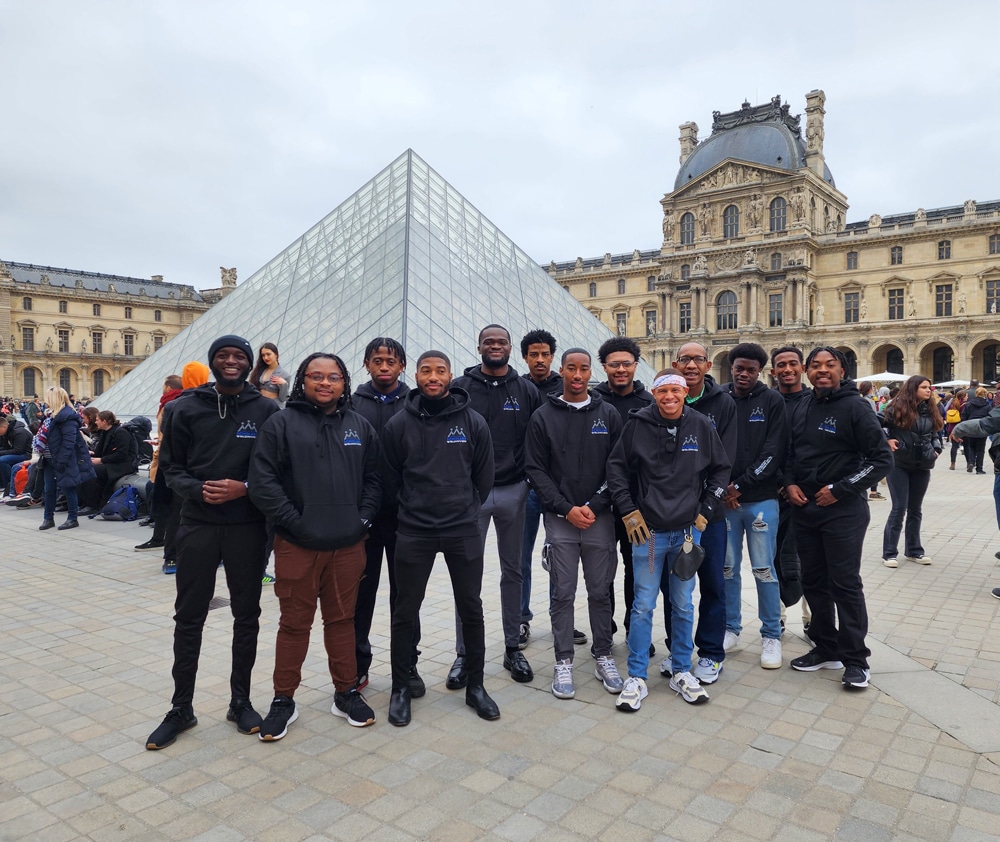 For Isaiah Johnson, being a Reginald F. Lewis Scholar gave him the opportunity to take his first flight on a trip to Paris this spring!
Johnson, from Opelousas, is part of the first group of 13 University of Louisiana System's Reginald F. Lewis Scholars. The Scholars program, which is designed to enhance the collegiate experience of Black males, provides a three-year curated educational experience focused on three key areas—academics, social advancement and community service. Recipients, who receive a full tuition scholarship, are chosen based on academic merit, financial need and proven leadership skills. The program also includes an opportunity to study abroad.
"The Scholars program has allowed me to focus more on school, take advantage of internships and study abroad," Johnson explained. "It is great program that encourages me to graduate and achieve my goals."
Johnson plans to be a physical therapist and he chose McNeese because 90% of pre-physical therapy students are accepted into physical therapy school.
"Before our trip to Paris we researched how accessibility of secondary education, food and criminal justice differs among France, China, and the United States," Johnson said. "This was a process of about three months where all the scholars participated."
Students learned that different methods of government allow various levels of access to food and secondary education. The scholars presented their research to program leaders at a local university in Paris. Johnson said the presentation generated interesting conversations and feedback.
The learning did not stop there. Johnson had to navigate obtaining a passport and other things needed to travel abroad. The group also experienced airline issues with delayed and rescheduled flights and racing through an airport to reach a connecting flight.
While in Paris, the scholars visited the Louvre Museum, the Eiffel Tower and the Palace of Versailles. They enjoyed lunch at the Eiffel Tower and a dinner boat cruise on the Siene River.
"My favorite part of the trip was the Louvre," Johnson said. "There's so much history there—it's like time traveling. My favorite part of the Louvre was seeing the Mona Lisa and the African Museum."
Krisshunn Youngblood, McNeese's director of office of inclusive excellence and chief diversity officer, also went on the trip to Paris.
"All in all, it was an unforgettable experience that allowed students to experience and learn from a different culture to enhance their overall wellbeing as students," Youngblood said.
Johnson said that what he will remember the most is the culture of Paris and how different it is from the United States. "There is a fruit stand on every corner, you walk everywhere and everything is smaller. There were beautiful buildings and statues all over the city," Johnson said. 
Want more stories like this one sent straight to your inbox every week? Sign up for our McNeese eNewsletter!
The Office of Marketing and Communications
4205 Ryan Street
Lake Charles, LA 70609
337-475-5640
communications@mcneese.edu