McNeese Robotics Team Wins Design Award in Houston Competition
March 4, 2020 | McNeese Public Relations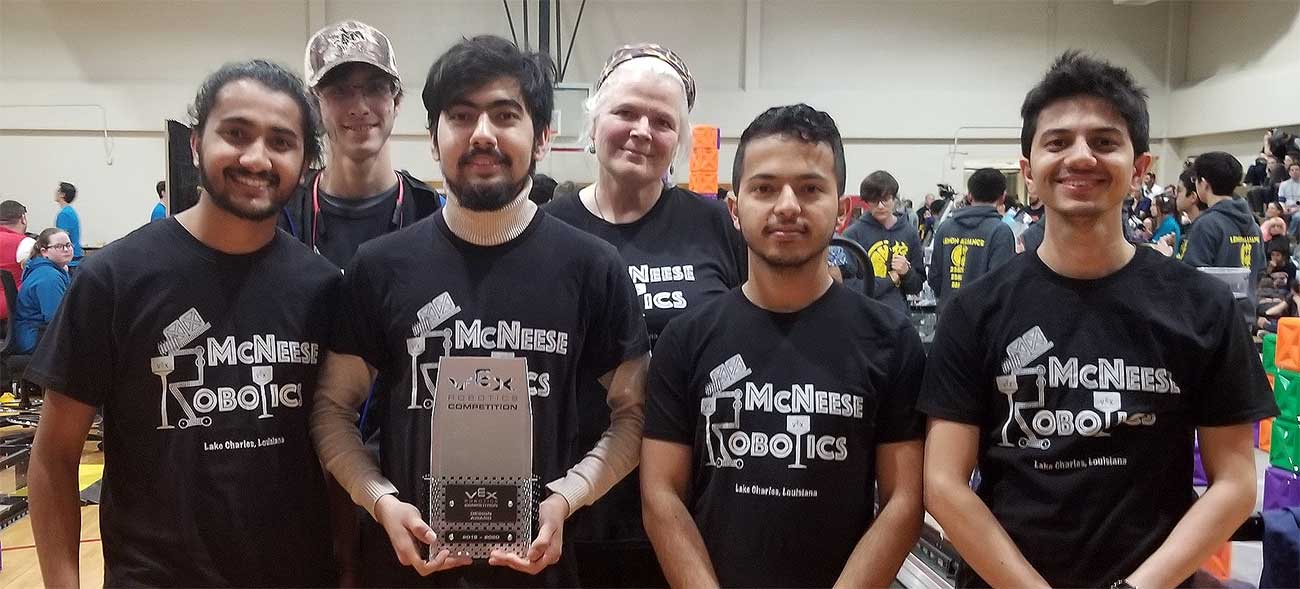 McNeese State University's robotics team took home the Design Award in the recent VEX U Robotics Competition held in Houston, Texas.
The "Gladiators" team is composed of team captain and mechanical engineering junior Sangam Chapagain, mechanical engineering junior Abiral Mainali and electrical engineering senior Shiva Acharya, all from Kathmandu, Nepal; mechanical engineer senior Dinesh Upadhyay, Kalikot, Nepal; and electrical engineering sophomore Hunter Guidry, Vinton. The team is coached by assistant professor of computer science Dr. Catherine Anderson.
The Design Award is given to the team that best explains their design and strategy, demonstrates excellent personnel, time and resource management and shows exceptional teamwork and professionalism.
During the competition, McNeese's robotics team beat out LSU, Texas A&M and four other colleges and universities, scoring 5 wins, 2 losses and 1 tie.
Anderson says that preparing and participating in the competition was a helpful learning experience for the team, which is the first of its kind at McNeese. "Those members not graduating this year plan to participate in next year's contest and apply all they learned to improve their performance. Plus, they can pass on critical knowledge of the actual competition process to newer team members," she adds.
Chapagain says he has been involved in robotics since middle school and has learned a lot from the engineering program at McNeese. "At McNeese, I have worked on drones, an earthquake rescue robot and many other projects. McNeese has encouraged me to apply my knowledge and learn to code, to work with gears and metals and to work as a team."
"This competition was one of the most memorable life experiences of mine," Archaya adds. "I feel like all our hard work and dedication have paid off and we are excited and looking forward to achieving more in the upcoming days. I am very happy for the hands-on opportunities that McNeese has provided for students interested in robotics and for Dr. Anderson's help and support."
The Office of Public Relations and University Events
4205 Ryan Street
Lake Charles, LA 70609
337-475-5640
publicrelations@mcneese.edu