Banners at McNeese Presents "Wit & Wrath: The Life & Times of Dorothy Parker"
March 3, 2020 | McNeese Public Relations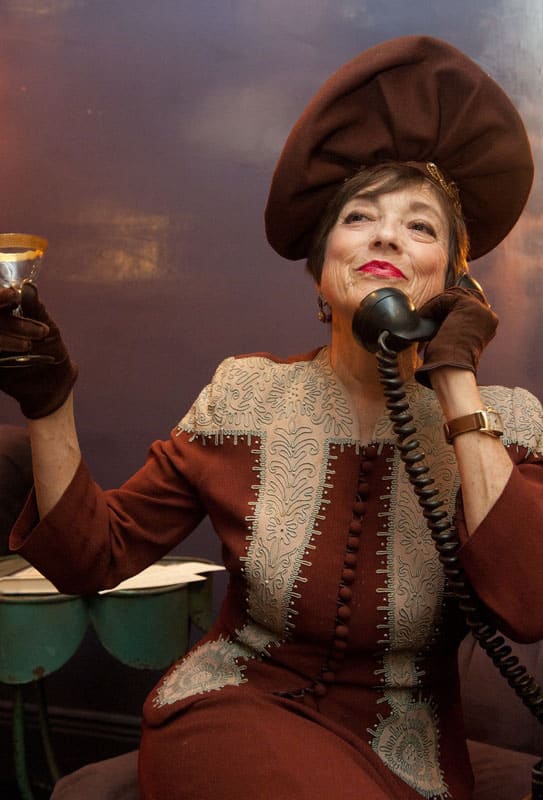 Banners at McNeese State University presents Claudia Baumgarten's acclaimed one-woman show, "Wit & Wrath: The Life & Times of Dorothy Parker," as part of the 2020 Banners Cultural Season at 7 p.m. Thursday, March 12, at Tritico Theatre in the Shearman Fine Arts building.
"Wit & Wrath" is an edgy literary homage to Dorothy Parker, the most widely read and quoted woman of the 1920s. Parker was a wit, a social observer with an acid tongue, a biting critic of the rich and complacent, a compassionate advocate for the less fortunate and a brilliant writer in many genres, including poetry, short stories, book and drama reviews and film scripts.
In "Wit & Wrath" Baumgarten, as Parker, skewers her fellow writers at the Round Table, the Jazz Age, her tumultuous love life and the cultural desert of Hollywood.
The centerpiece of the performance is "The Waltz," a theatrical adaptation of Parker's hilarious yet telling first person narrative in which she mutters to herself, confides in the audience and politely declines but finally acquiesces to dance with the man who is the bane of her evening while accompanied by a waltz-playing violinist.
"Wit & Wrath" offers audiences the opportunity to enjoy and appreciate the truly phenomenal, witty and outrageous Parker and her writings, which have stood the test of time.
Baumgarten has spent the past three decades performing on and creating original works for the stages of New Orleans. She has a number of film and national commercial credits and has studied with some of the world's most prestigious theater, movement and voice teachers. She also enjoys entertaining and engaging children at schools and libraries in New Orleans and throughout Louisiana.
Tickets are $20 for adults, $5 for students under 18 and free for McNeese and Sowela students with current IDs.
Banners is supported by ticket sales, memberships, corporate sponsors and grants. For more information about the program or to get your tickets, visit the Banners website at www.banners.org or call the Banners office at 337-475-5123.
Persons needing accommodations as provided by the Americans with Disabilities Act should contact the ADA Coordinator at 337-475-5428, voice; 337-456-5960, fax; 337-562-4227, TDD/TTY, hearing impaired or by email at cdo@mcneese.edu.
Want more stories like this one sent straight to your inbox every week? Sign up for our McNeese eNewsletter!
The Office of Marketing and Communications
4205 Ryan Street
Lake Charles, LA 70609
337-475-5640
communications@mcneese.edu