McNeese Key Transfer Ceremony
December 11, 2020 | McNeese Public Relations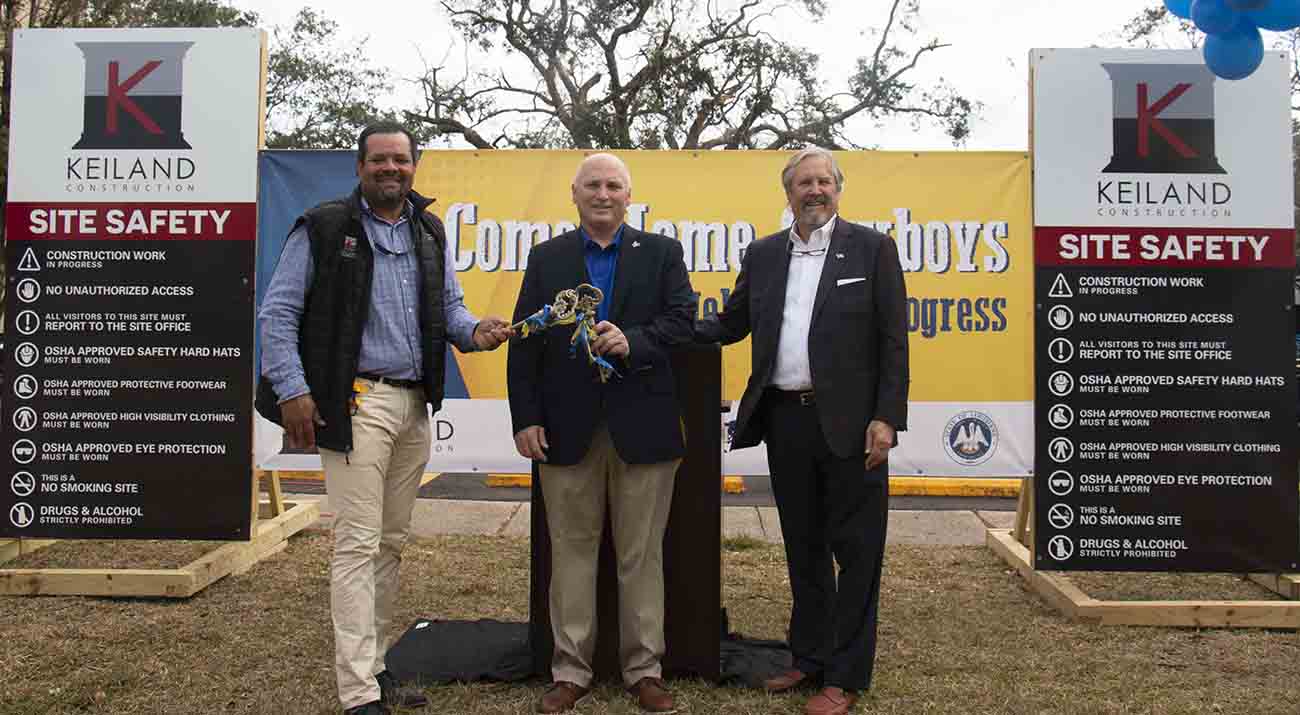 McNeese State University is roaring back after direct blows from Hurricanes Laura and Delta.
Three buildings – Frasch Hall, Frasch Hall Annex and Frazar Memorial Library – were released by the contractor, Keiland Construction, back to the university on Dec. 11, nearly one month before the target date of Jan. 8. Frasch Hall and the annex house science classrooms and labs.
McNeese President Dr. Daryl Burckel said that McNeese staff will immediately begin the process of testing all technology, removing damaged furnishings and preparing the buildings for faculty and staff to return and classes and labs to resume in January.
The campus sustained nearly $200 million in damages from both hurricanes.
"We established a very aggressive and ambitious schedule to restore the campus and we made it clear that we would be ready for the spring semester," Burckel said. "Our students need to be back on our campus, back in our classrooms and back in our residence halls for the spring semester."
With the support of Gov. John Bel Edwards, Commissioner of Administration Jay Dardenne and the Office of Facility Planning and Control and the Southwest Louisiana Legislative Delegation, the McNeese campus was divided into seven quadrants including four academic, two athletic and the farm. Quadrants containing academic buildings and residence halls were given the highest priority.
To expedite the recovery work and have contractors working simultaneously on each quadrant, Burckel said FP&C moved quickly to assign seven architectural and engineering groups to get bid documents ready for each quadrant. "Within 60 days assessments were completed, bids were let and received and four different contractors were awarded bids for quadrants A, B, C and D."
Baton Rouge-based Coleman Partners Architects and local contractor Keiland Construction were assigned the Quad C Project that encompasses 14 individual structures spanning approximately 350,000 square feet.
Frasch Hall and Frasch Hall Annex and the Frazar Memorial Library sustained extensive damage, according to Keith DuRousseau, president of Keiland Construction.
"These structures encompass approximately 170,000 square feet," he said.  "A complete roofing system, elevators, lab equipment, mechanical and electrical fixtures and gear replacement, along with environmental remediation, were required before interior finishes including walls, floors and ceilings could be repaired or replaced."
DuRousseau said that "FP&C set an unprecedented 71-day construction contract delivery, which is scheduled for Jan. 8, 2021."
Keiland ordered every component required on day one and work teams were assembled in hours. "We assembled a 200-plus man team of the most talented Louisiana craftsmen in 72 hours to conquer the most important task ever, bringing these buildings online for the McNeese spring semester," DuRousseau said.
Over 41,000 man-hours were deployed to facilitate an early delivery of these three buildings today, Dec. 11, 2020.
"I could not be more pleased with the work being done all over the campus," Burckel said. More buildings, including a residence hall, will be released over the coming weeks. "This is proof of the possibilities when public and private sectors unite to deliver a future for the next generation," DuRousseau said.
Want more stories like this one sent straight to your inbox every week? Sign up for our McNeese eNewsletter!
The Office of Marketing and Communications
4205 Ryan Street
Lake Charles, LA 70609
337-475-5640
communications@mcneese.edu