McNeese Engineering Graduate Student Named Winner of the International "Reimagine 2020" Challenge
February 2, 2021 | McNeese Public Relations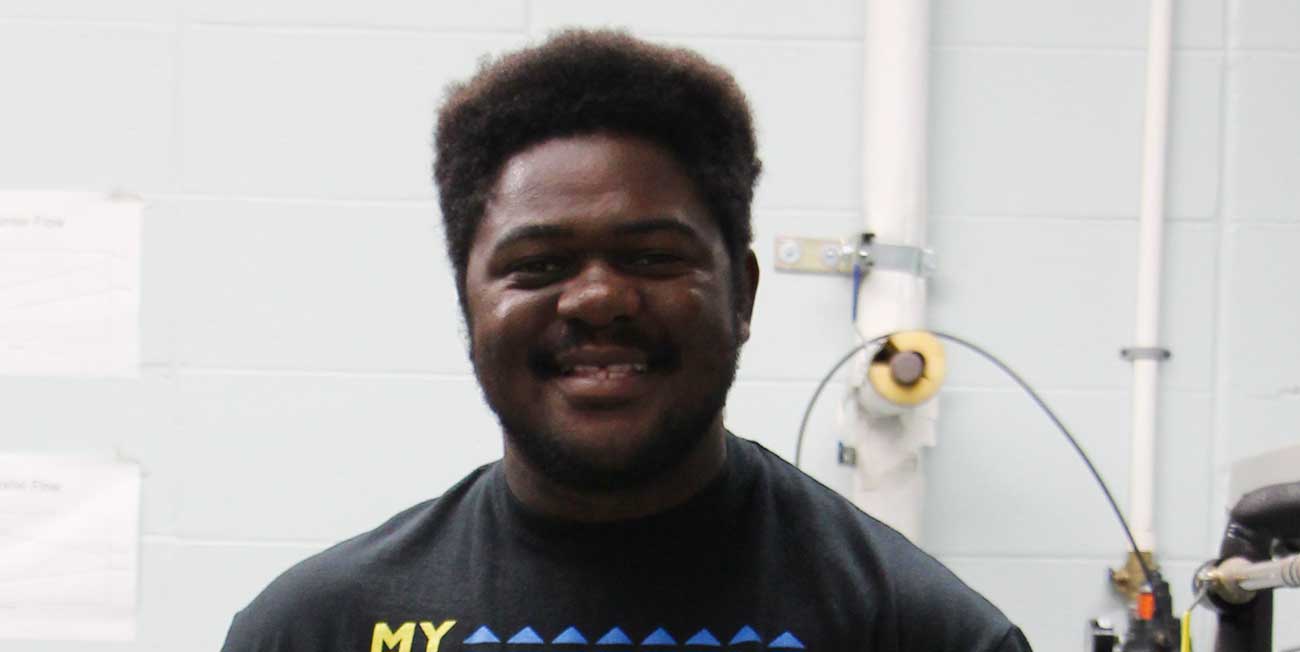 McNeese State University engineering graduate student Simbarashe Mambiri, from Concession, Zimbabwe, is one of 20 winners of the Reimagine Challenge 2020 created by Schmidt Futures, a philanthropic initiative founded by former Google CEO Eric Schmidt and his wife, Wendy.
Part of a $1 billion commitment by Schmidt Futures to identify and support global talent, the Reimagine Challenge was launched in August of 2020. The Challenge called on college and university students to imagine solutions to worldwide challenges, either through "Sparking a Global Movement" – a method to motivate one million people to make the world a better place within the next decade – or through "Community Impact from COVID," which asked students to devise a concrete action they and others might take to address the challenges that COVID-19 has presented to their communities.
The international call received over 800 submissions from undergraduate, graduate and doctoral students from a variety of backgrounds and fields in 264 schools. Of the 20 prize recipients, 11 are from the United States and represent McNeese, Yale University, Wharton School of the University of Pennsylvania, Pomona College, Harvard University, Parsons School of Design at the New School, University of Southern California, Stanford University and Massachusetts Institute of Technology.
As a winner, Mambiri is now eligible to receive up to $25,000 in tuition scholarships and his proposal has been published in an online anthology with the other winners. McNeese, as his attending institution, will also be eligible to receive up to $25,000.
Dr. Kedrick Nicholas, dean of students, says, "I am very proud of Simba's accomplishment. The fact he was able to win such a prestigious competition while being displaced from campus shows his grit, resiliency and commitment to academic success. Simba is a shining example of the quality of students within the McNeese community."
Mambiri's proposal, "DZIDZA FM," focused on expanding access to primary and secondary education during lockdowns due to the COVID-19 pandemic. While countries like the United States have relied on remote, internet-based tools like Zoom and WhatsApp to connect students and teachers, Mambiri says that reliable and affordable internet access is not available to many people worldwide, including many in his home country.
"I knew from discussions with my mom, who is a high school teacher in Zimbabwe and is using her phone to teach her classes and send students materials, that internet-based solutions really aren't solutions," he says. "Millions of students can't afford data, or even a data compatible phone, so the reality of trying to deliver education remotely this way is not realistic."
His solution relies on a much older, more widespread and much more cost-effective technology – radio. In his proposal, Mambiri outlined how existing, standardized curriculum could be transformed into radio broadcast learning material. At the beginning of the semester or term, students would be given specific dates, times and bandwidths to tune into for lesson broadcasts. Students would also be issued workbooks to follow along with the broadcasts' instructions, assignments and exercises. At the end of the month, students would then submit their workbooks to their teachers for grading, comments and to have their progress evaluated.
"Since radio covers the entire country, all that is needed is to license certain radio frequencies for transmission and then incorporate and integrate the existing education curriculum," Mambiri says. He adds that this type of education is not only incredibly cost effective – about $5 per student per year for workbooks and radio station licensing – but also has applications after the COVID-19 lockdowns have ended.
"This type of delivery could really help improve equal access to education," he says. "Radio-based education would make it very easy to reach places where students have traditionally been underserved, such as in remote parts of the world, immigrant and refugee camps or places with conflict or other unrest that make it too dangerous for students or teachers to attend a physical school."
Inspired by his late father, Philbert, Mambiri says that he hopes to use some of the funds to support the education of African and African American students at McNeese to honor his father's memory and legacy.
"My dad greatly supported my efforts to come to the U.S. to receive an education," he says. "As a farmer, he educated and mentored hundreds of people so I want to make sure that his name is remembered."
Dr. Tim Hall, dean of the College of Science, Engineering and Mathematics, says, "Simba really represents the best of McNeese. He is incredibly hardworking and has a very positive outlook. We know that our McNeese graduates can compete with the best in the world and the faculty in the College of SEM believe that Simba has a stellar career ahead of him."
Mambiri says that he's honored to be among the winners selected, who, he says, "represent some of the smartest minds on the planet." He adds that he hopes his project, and the work of the other winners, will inspire others to make a difference in their communities.
"There's a responsibility on each of us to help others whenever we are able. I'm just fulfilling my end of the bargain," he says. "If we can inspire other young people to think a little more about the bigger picture, I'm all for it."
Want more stories like this one sent straight to your inbox every week? Sign up for our McNeese eNewsletter!
The Office of Marketing and Communications
4205 Ryan Street
Lake Charles, LA 70609
337-475-5640
communications@mcneese.edu