McNeese Campus to Expand Through Property Swap with JD Bank
June 20, 2022 | McNeese Public Relations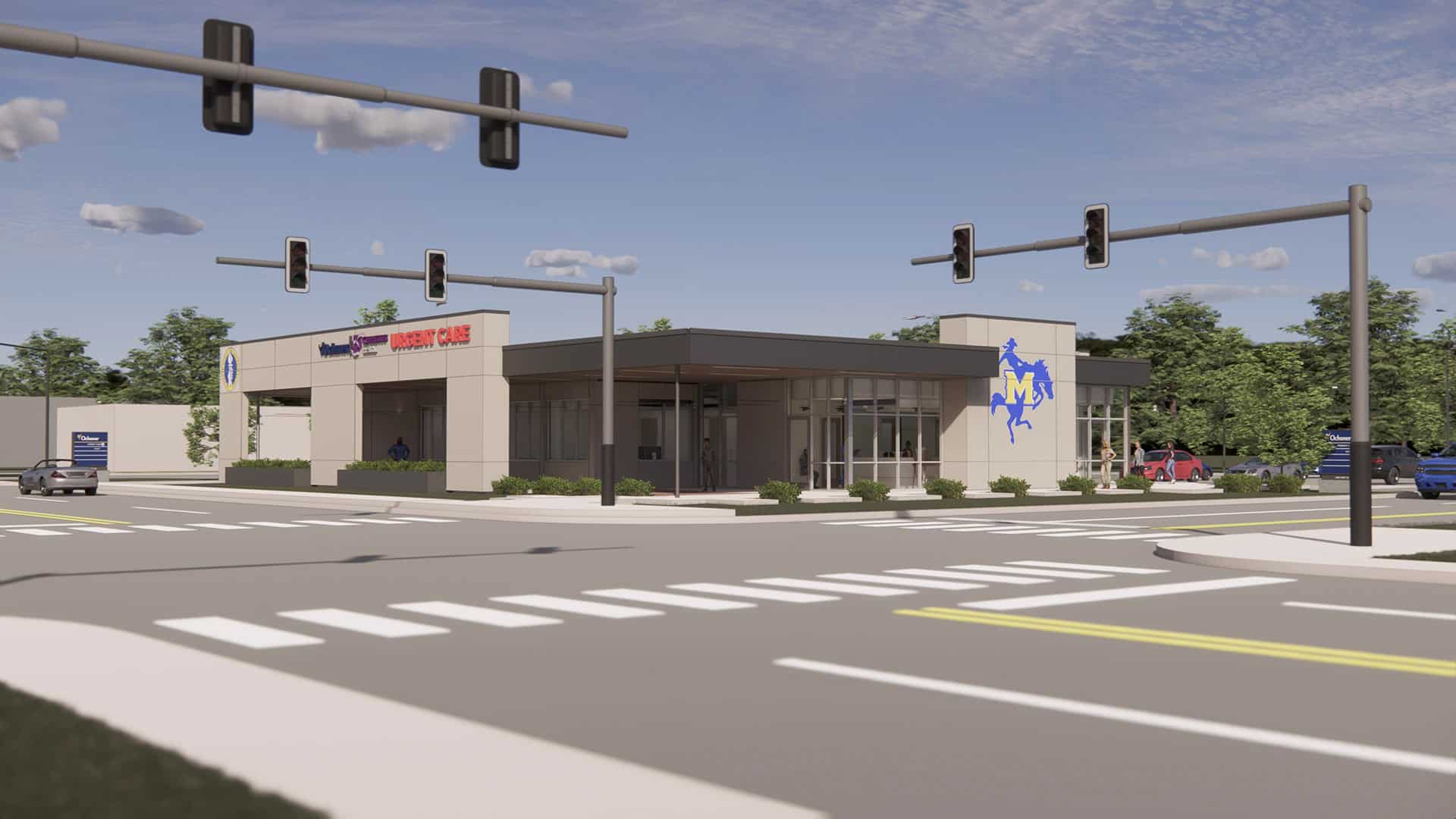 Thanks to a property swap between the McNeese State University Foundation and JD Bank, McNeese will soon have a new Student Health Services facility at the corner of Ryan Street and Sale Road. The property swap comes as a result of the damage to the former JD Bank branch building by Hurricane Laura in 2020.
"After the destruction of our McNeese Branch in August 2020, we made a commitment to our customers and the Lake Charles community to help revitalize the university area that was hit hard by hurricane devastation," says Bruce W. Elder, JD Bank president and CEO. "Our efforts, combined with some exciting redevelopment by McNeese State University, will create a vibrant environment at the Ryan Street and W. Sale Road intersection,"
The facility will house McNeese's Student Health Services and Counseling Center in one accessible space on campus.
Currently, McNeese's Student Health Services is located inside Hardtner Hall, home to the McNeese College of Nursing and Health Professions. All currently enrolled students can receive treatment for a range of acute medical conditions through Student Health Services, from minor cuts, bruises and sprains all the way to treatment for the flu, ear infections and UTIs, as well as a range of testing services for STDs.
"Our mission is to help students get well and stay well," says director of Student Health Services and nurse practitioner Dr. Troy Hidalgo. "We're here to provide the care students need to stay healthy and reach their academic and professional goals, all in a safe and non-judgmental environment."
Student Health Services is funded through a $40 semester fee paid by all students and covers the cost of all appointments and treatment administered on campus. Even for students who are still under their parents' insurance, Hidalgo says, McNeese's Student Health Services can help students avoid charges for co-pays and insurance deductibles.
"For the last school year, Student Health Services had over 1,200 visits," says Hidalgo. "By coming to campus, these students saved a combined $126,000 for outside treatment and $5,000 for labs that we were able to do on site. Plus, because they were able to be seen on campus right away, they were able to get treated more quickly and returned to class faster."
McNeese's Counseling Center, which is currently in Kaufman Hall, assists students with personal, developmental, academic and mental health needs. Licensed professional counselors work to help students learn to navigate, manage and resolve the challenges of college life. 
This new facility will also host expanded services, including an urgent care facility staffed by CHRISTUS Ochsner Health to also serve McNeese faculty and staff.
"We'll have health care providers right on our campus seven days a week, 12 hours a day," says Dr. Wade Rousse, McNeese vice president for university advancement. "It's going to be a lot more convenient and we think provide a lot better care for our McNeese family."
The new Student Health Services facility will also allow McNeese nursing students to gain required preceptor hours through a partnership with CHRISTUS Ochsner Health.
"We are excited about the potential collaboration with CHRISTUS," says Dr. Ann Warner, interim dean of the College of Nursing and Health Professions. "It will be valuable to our nursing students and the entire student body."
Want more stories like this one sent straight to your inbox every week? Sign up for our McNeese eNewsletter!
The Office of Marketing and Communications
4205 Ryan Street
Lake Charles, LA 70609
337-475-5640
communications@mcneese.edu