McNeese BAC Recognizes Community Leaders
April 30, 2018 | McNeese Public Relations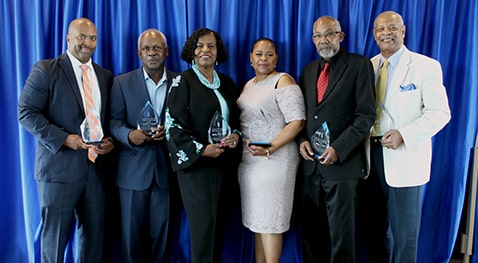 Six McNeese State University alumni were recognized at the annual Trailblazer Awards program sponsored by the McNeese Black Alumni Chapter.
This program – which raises money to support the BAC Scholarship Fund established with the McNeese Foundation – recognizes community leaders who have had a significant impact on McNeese and the black community.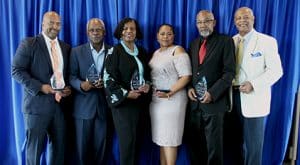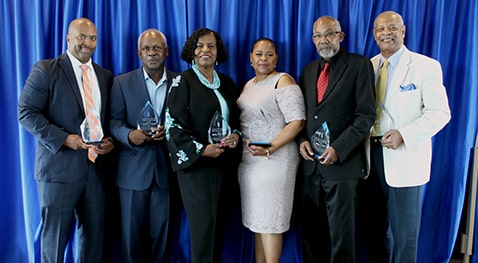 This year's recipients are: attorney James Benton III (2001); retired educator and counselor Shirley Winey Brown (1963, 1970); health care administrator Thomas K. Clemons II (1991, 1995); retired educator and Roman Catholic priest Dr. Whitney G. Harris (1973); advance practice registered nurse and clinical health care CEO Nona M. Leday (1983, 1999); and music educator Don A. McZeal (1975).
Benton, of Baton Rouge, received his Bachelor of Science degree in criminal justice from McNeese and his Juris Doctorate from Southern University Law Center. He is a staff attorney for the Louisiana Senate and also has a private law practice. Benton has served over 20 years as a member of the U.S. Army Reserves and was deployed for both Operation Enduring Freedom and Operation Iraqi Freedom as a part of the 336th Fincom. He is currently a captain in the U.S. Army Reserve Judge Advocate General and a member of the 154th Legal Support Organization.
Brown, of Lake Charles, received her Bachelor of Arts degree in counseling and guidance and her Master of Education degree in elementary education from McNeese. She worked for the Lake Charles City School System in both First and Second Ward Schools, served as the Calcasieu Parish Region 5 Vocational Evaluator, and for 17 years, served as the counselor at Mossville School. She retired from the school system in 1996.
Clemons, of Lake Charles, received both his Bachelor of Science degree in computer science and his Master of Business Administration degree from McNeese. Clemons has over 20 years experience in health care administration in both the public and private sector. He is co-owner and strategic partner of PrideStaff, a local staffing franchise. He has served on the board of directors for the Louisiana Council on Human Relations, Greater Baton Rouge chapter of the NAACP, Louisiana Emergency Management Disability and Aging Coalition and the Louisiana Health Care Commission.
Harris, of Lake Charles, received his Bachelor of Arts degree in special education at McNeese, his master's degree in special education and psychology from Louisiana State University, a doctorate in education from the Union Institute and University and degrees in theology from the University of Ottawa and St. Paul University in Canada. He has served as a secondary educator, university professor and administrator at several institutions including McNeese. Harris has also served in numerous church parishes including Sacred Heart Catholic Church in Lake Charles. His has been a member of the Association for Affirmative Action, American Civil Liberties Union, Amnesty International and Southern Poverty Law Center.
Leday, of Lake Charles, received both her Bachelor of Science and Master of Science degrees in nursing from McNeese. Leday, founder and CEO of Eternity Health Care Clinic and Learning Institute, is currently the clinical coordinator of the nurse's assistance program at Infinity College in Lafayette. She has served 19 of her 35 years in nursing as a cardiovascular advance practice registered nurse with a primary focus on hypertension, diabetes and renal failure. She has served as vice president of the board of directors for the Potter's House.
McZeal, of Lake Charles, received his Bachelor of Music degree from McNeese. He has taught music 33 years with the Calcasieu Parish School System and seven years with Vernon Parish School System. He has also served as choir director for Mt. Pilgrim Baptist Church for the last 50 years and choir director/musician for Reeves CME Temple for the last 39 years. McZeal is a member of Phi Mu Alpha Sinfonia Professional Music Fraternity, Kiwanis Club of North Lake Charles and the McNeese Black Alumni Chapter, as well as several local, state and national professional educators associations.
Want more stories like this one sent straight to your inbox every week? Sign up for our McNeese eNewsletter!
The Office of Marketing and Communications
4205 Ryan Street
Lake Charles, LA 70609
337-475-5640
communications@mcneese.edu