McNeese Announces Proposal for LNG Center of Excellence
March 17, 2021 | McNeese Public Relations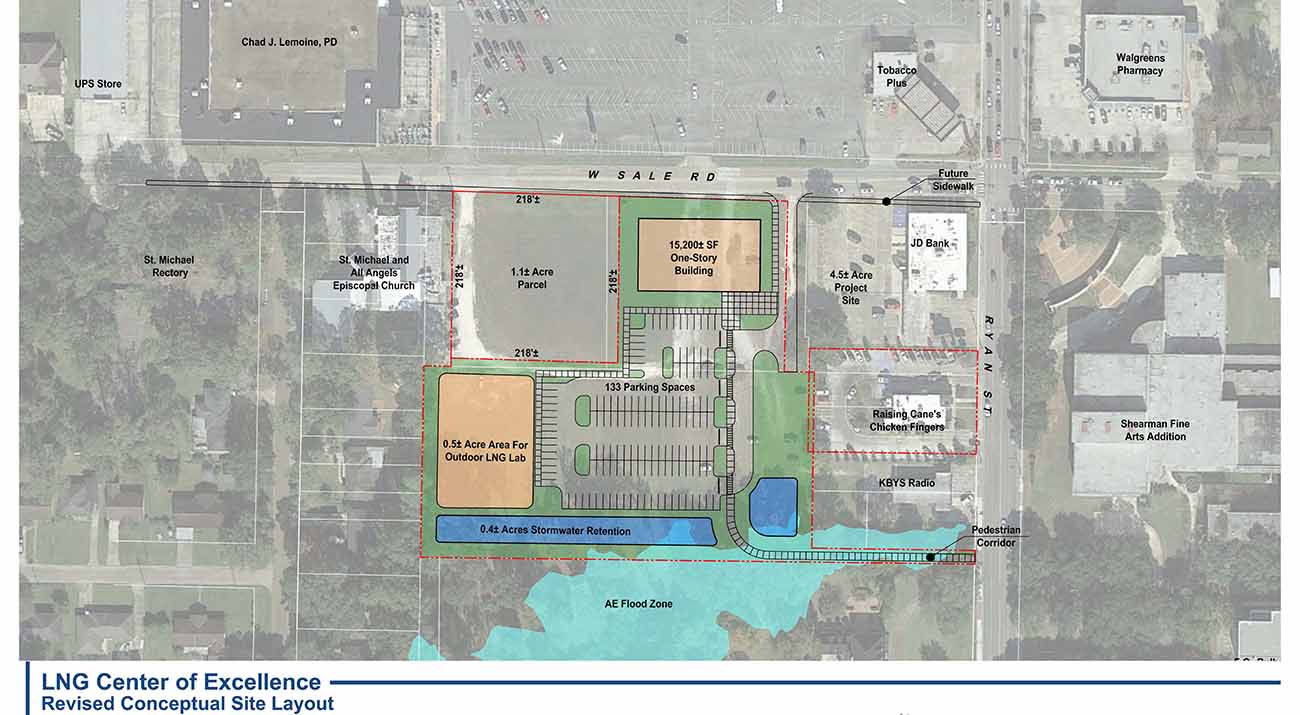 To view the press conference go to: youtube.com/McNeeseStateU
The McNeese State University Foundation and McNeese State University have submitted a proposal to the U.S. Economic Development Administration (EDA) for a $2.75 million grant to create a Center of Excellence to support the local and national liquid natural gas (LNG) industry. If approved, the center will be built on property the McNeese Foundation owns on Sale Road near the Ryan Street intersection.
"Large natural gas discoveries have led to an increase in interest in natural gas by the international oil and gas industry. Three LNG facilities are now operating in Southwest Louisiana, with another six either under construction or in the development proposal process," says Dr. Tim Hall, dean of the McNeese College of Science, Engineering and Mathematics (SEM).
"This significant growth in LNG export facilities creates demand for local operators and experienced engineers as well as the need for applied research and continuing education for LNG facility employees," he says.
If approved, the McNeese LNG Center of Excellence will provide classroom instruction as well as industrial grade facilities where both McNeese students and LNG employees can operate process equipment in a safe, controlled environment. An LNG user group will also be created to partner with McNeese faculty in the College of SEM to conduct research necessary to support the sustainability and resilience of the local LNG industry.
While local LNG facilities will be the primary beneficiaries, the benefits of the McNeese LNG Center of Excellence will extend to the Gulf Coast as well as other parts of the world. "For example, Cheniere has a facility in Southwest Louisiana and in Corpus Christi, Texas. The McNeese center will be able to provide support to all employees of Cheniere regardless of location," Hall says.
Additionally, the center will serve as a sire for industry-related conferences and seminars.
"This project is a natural fit for McNeese and southwest Louisiana," says McNeese President Dr. Daryl Burckel. "McNeese is home to the first college dedicated to science, engineering and mathematics at a public university in Louisiana. Our vision is to be first choice for students seeking a university degree, for employers seeking university graduates and organizations seeking professional advice and expertise. We are committed to providing access to STEM education and degrees that lead to tremendous career opportunities in the STEM fields."
In addition to the planned center, McNeese is also creating and tailoring curriculum to support the local LNG industry. This fall, McNeese will be offering a processing of natural gas course, which provides knowledge of natural gas operations from fracking to the final LNG product.
A new certificate program is also currently being designed for technical professionals looking to elevate their knowledge of LNG industry operations. The program will provide the practical working knowledge in topics such as turbines, cryogenics, marine transportation, logistics, regulatory compliance, liquefaction technologies, operations and maintenance and other topics specific to the LNG industry.
"The growth of Southwest Louisiana's LNG industrial complex has put our region on the map and gained us a seat at the global table in recent years," says Lake Charles Mayor Nic Hunter. "And rightfully so. This diversification of our economy has meant unprecedented growth for not only for the City of Lake Charles, but for all of Southwest Louisiana. The LNG Center of Excellence, right here at McNeese State University, will allow us to train and develop the next generation of our workforce. It will help entice new students to our area, but perhaps more importantly, it will help us retain our local talent by opening up new educational opportunities to keep local high school students here at home for their post-secondary education."
The proposed site for the center is located on Sale Road near the Ryan Street intersection. The property, valued at $1.4 million, is owned by the McNeese Foundation.
"Several years ago, the McNeese Foundation acquired nearly five acres of property adjacent to the campus that was formerly the site of the Charles Cinema," says Dr. Wade Rousse, McNeese vice president for university advancement and dean of the College of Business. "This property was purchased with the intention of expanding the McNeese campus and for economic development. As the proposed McNeese LNG Center of Excellence supports our educational mission and strengthens our collaboration with local industry to enhance economic development in our region, we believe this is the perfect project for developing this property."
The EDA has reviewed the McNeese proposal and announced that the application merits further consideration. The EDA is a bureau within the U.S. Department of Commerce focused on assisting geographical regions in preparing for growth and success in a worldwide economy.
LNG facilities already in operation in southwest Louisiana include:
Lake Charles LNG (import)
Cheniere LNG
Cameron LNG
Venture Global LNG (under construction)
Proposed or in process include:
Commonwealth LNG
Driftwood LNG
Lake Charles LNG (export)
G2LNG
Magnolia LNG
Want more stories like this one sent straight to your inbox every week? Sign up for our McNeese eNewsletter!
The Office of Marketing and Communications
4205 Ryan Street
Lake Charles, LA 70609
337-475-5640
communications@mcneese.edu