McNeese ABA graduate program one of only 20 nationally accredited
May 23, 2018 | McNeese Public Relations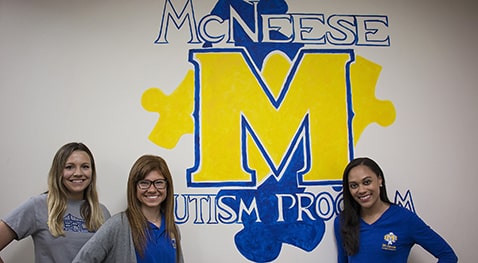 McNeese State University's psychology graduate program in applied behavior analysis is the only one in Louisiana accredited by the Association for Behavior Analysis International and one of only 20 accredited programs in the nation, according to Dr. Cameron Melville, coordinator of the psychology graduate program at McNeese.
"And an article in the ABAI journal, Behavior Analysis in Practice, has ranked our graduate program as one of the top 10 ABA programs for research, training and quality of faculty," says Melville. "Accreditation and being named a top training program in applied behavior analysis just confirms that our program is high quality."
Melville says McNeese's program is considered a verified course sequence that offers both academic training and supervised work experience necessary for graduates to apply for national certification as a Board Certified Behavior Analyst(BCBA).
"The ABA program prepares graduate students to practice in community and educational settings as applied behavior analysts."
Students complete 24 credit hours of core psychology classes and 31 credit hours of ABA concentration classes and internships for a total of 55 credit hours. Currently, there are 66 ABA students enrolled in the program.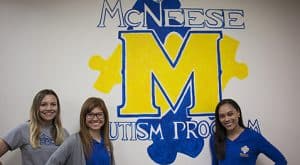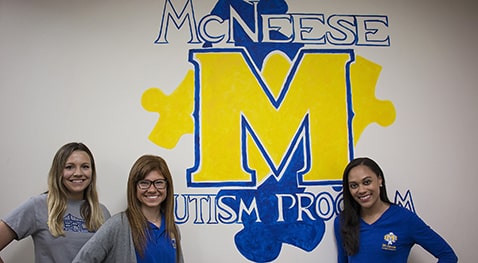 Kylie Hernandez, Linda Johnson and Jasmine Mitchell are all McNeese graduate students working in the autism program.
The ABA program is offered both on campus and online and over 90 percent of the students receive internships and paid graduate assistantships under the supervision of eight analysts to gain the hands-on experience needed to sit for national certification.
"On-campus students with internships work with the McNeese Autism Program," says Dr. Melville. "MAP, which was established 10 years ago on campus, serves as a training site for ABA students."
The autism program currently sees over 50 clients – ages 2 to 18 – and depending on the level of therapy needed, he says an intern may spend 10 to 40 hours per week with a client on campus or at the client's home or school.
Online students are able to complete their internship hours at an approved off-campus site. The first online ABA program students will graduate in December 2018.
"Having such a comprehensive ABA program is one reason McNeese was my first choice for graduate school," said McNeese graduate student Kylie Hernandez. "After graduation, I will have more than the required observation hours to sit for the BCBA exam. Thanks to this program, I don't have to wait to begin my career."
McNeese graduate student Jasmine Mitchell said the graduate assistantship offers hands-on experience working with clients, but the internship provides extra opportunities. "Through the internship, I've been a team lead and a case manager. With my graduate assistantship, I get to shadow one of the behavior analysts, which offers insight into what a behavior analyst does inside and outside a client session."
For more information about the ABA program at McNeese, visit https://www.mcneese.edu/psychology/applied_behavior_analysis. Registration for the 2018 summer session and 2018 fall semester at McNeese are currently underway.
Want more stories like this one sent straight to your inbox every week? Sign up for our McNeese eNewsletter!
The Office of Marketing and Communications
4205 Ryan Street
Lake Charles, LA 70609
337-475-5640
communications@mcneese.edu