Graduate Psychology Student Helping His Family and Country
June 21, 2021 | McNeese Public Relations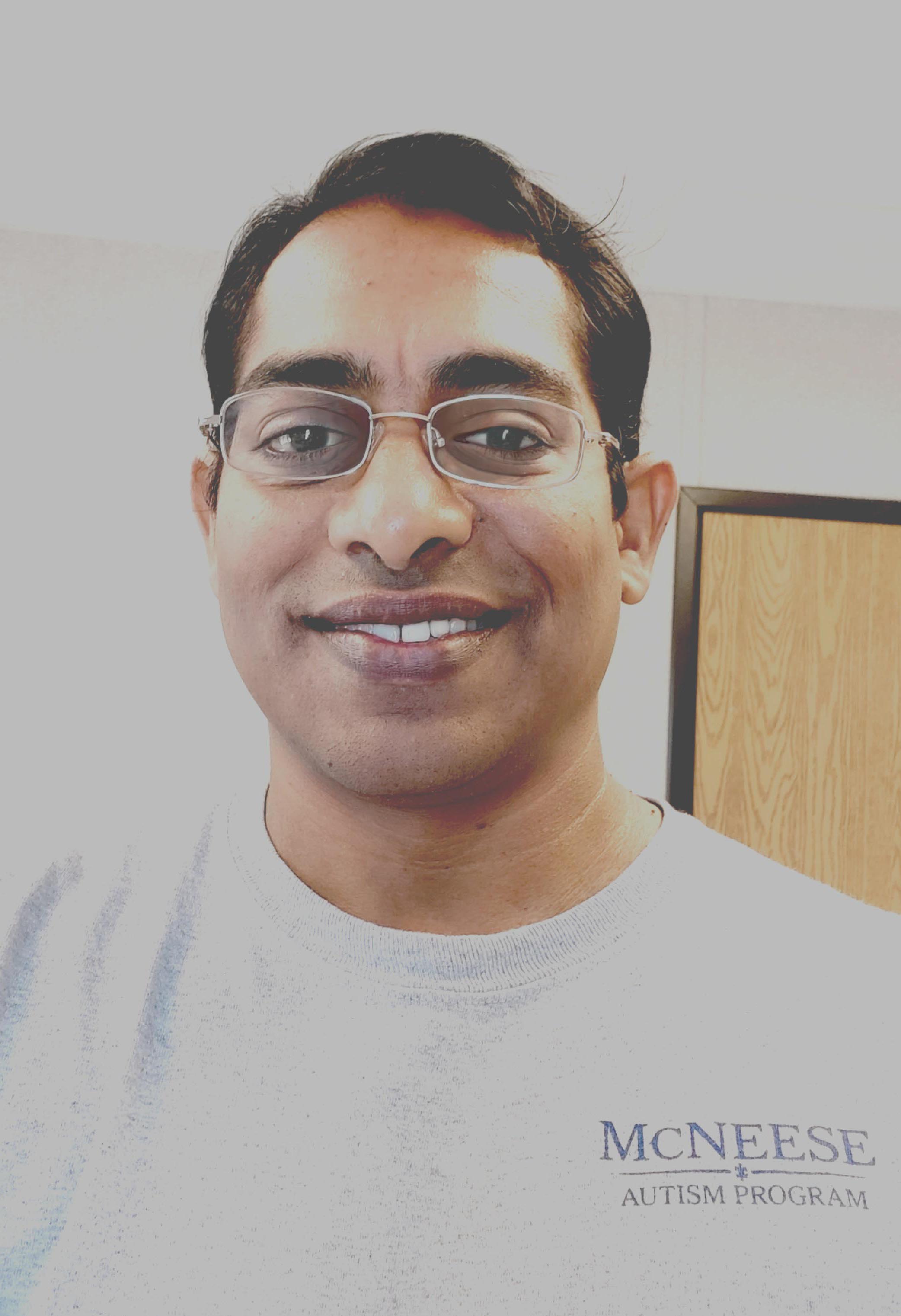 After a successful 16-year career in engineering and marketing, Sam Sebastian decided to pursue a degree in psychology that would answer the questions he had as the parent of a child with autism. He is currently a graduate student in McNeese State University's applied behavior analysis (ABA) program.
"My son, Enrick, was diagnosed with autism in 2016," Sebastian says. "Our family is from India and we now live in the United Arab Emirates. ABA services are not widely practiced in India or the UAE the way they are here in the U.S."
According to the Behavior Analyst Certification Board, the leader in behavior analyst certification, India and the UAE have a combined 131 Board Certified Behavior Analysts  compared to the over 47,000 professionals in the U.S.
Sebastian sought guidance and researched as much as he could online but wanted to gain in-depth knowledge and experience that professional study provides. His son had undergone therapies in both India and the UAE, and while Sebastian could see progress in Enrick, he knew so much more could be done with high quality ABA therapy.
"I wanted to learn more about treating and managing autism not only for my family but also for my home nation as well," he says. "I began the application process for graduate programs and one of my acceptance letters was from McNeese."
Sebastian made the choice to attend graduate school in the U.S. because of the advancements in studying ABA and he ultimately chose McNeese because of the stellar reputation of the university.
McNeese's program is one of 22 accredited by the Association for Behavior Analysis International and is nationally recognized as a top program.
"Being a part of the program and interning with the McNeese Autism Program are invaluable experiences," Sebastian says. "I've been able to further develop the knowledge I gained while researching from a parent's perspective and learning a range of skills that will benefit my family and my future clients."
Sebastian plans to pursue a doctorate degree before returning to India to support the needs of children with autism and their families.
"My dream is to open my own autism clinic in India that will provide services for both clients and their families," explains Sebastian. "Ideally this would be a place for clients to receive the treatment they need to reach independence while also preparing parents to act as therapists at home between sessions. It's a long way off but I know how valuable this treatment is and the life changing differences it can make."
For more information on McNeese's applied behavior analysis program, visit www.mcneese.edu/academics/graduate/applied-behavioral-analysis.
Want more stories like this one sent straight to your inbox every week? Sign up for our McNeese eNewsletter!
The Office of Marketing and Communications
4205 Ryan Street
Lake Charles, LA 70609
337-475-5640
communications@mcneese.edu