Former Soccer Standout Now on Virus Front Lines
May 4, 2020 | McNeese Public Relations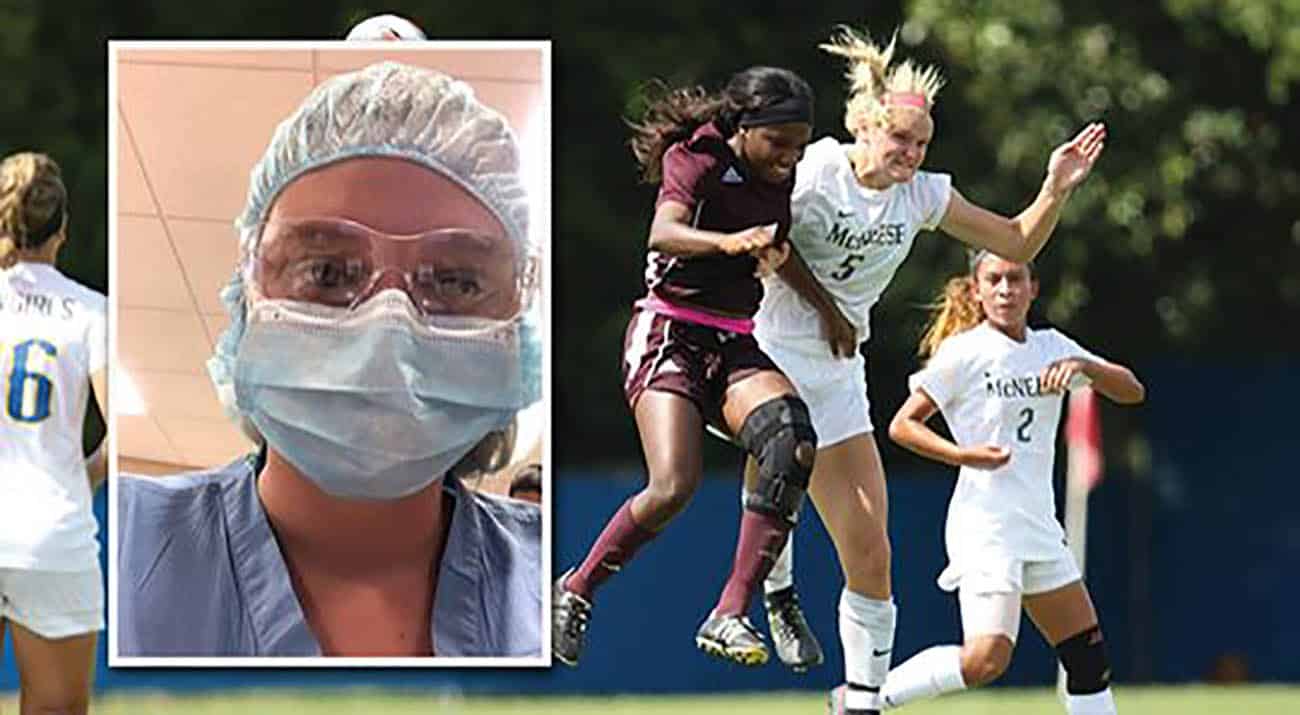 Nikki Schaaf was an All-Southland Conference soccer player for the McNeese State University Cowgirls from 2014-17 and a member of the 2017 squad that tied a school record, at the time, with 12 wins, the most in school history.
 
A native of Cypress, Texas, and a four-year starter for the Cowgirls, the former student-athlete earned SLC All-Academic honors her senior season and was a four-time recipient of the SLC Commissioner's Fall Academic Honor Roll award. She received her Bachelor of Science in Nursing degree in the spring of 2018.
 
Now, a telemetry/surgical registered nurse at St. David's South Austin Medical Center in Texas, Schaaf is one of many All-American heroes around the world working the front lines in caring for those who are battling the COVID-19 virus.
 
The "caring" part has many meanings for Schaaf, who is caring for patients infected with this particular virus.
 
"Having cared for positive COVID-19 patients, I can say the most difficult part to cope with is seeing them (patients) fight the virus alone without family or friends by their side," said Schaaf.
 
Due to the severity of the virus, COVID-19 patients are strictly quarantined and aren't allowed visitors by the hospital.
 
"This means I'm not only their caregiver, but I'm also their friend – the person they talk to and their voice when they no longer have the strength. I help encourage them to fight every second of every day until they're healthy enough to walk out (of the hospital)," she said.
 
A challenging day for Schaaf is anything but normal, even when beginning her 12-hour shift.
 
"Every day, I have to go through a check-in station where my temperature is checked and I am issued my PPE," she said. "We exercise precautionary measures in efforts to prioritize the safety of our patients and staff. I'm fortunate enough to work with an extraordinary interdisciplinary team. Each day brings new challenges and tribulations, but we work together to overcome them."
 
Like so many others, Schaaf attempts to adjust to the "new norm" when returning home after a long day's work by connecting with those who mean the most to her.
 
"There really is no normalcy," she said, "but one way I like to decompress after work is by FaceTiming my family and friends. It's not ideal, but just hearing their voices brings me a sense of peace.
 
"Having to be secluded from others has made me realize all the things we take for granted in life, for example, a simple touch from another person," she explained. "But I've also had time to reflect on my purpose and priorities in life. I have hope that I was created to be right here, right now, doing exactly what I am doing to help others. That is what drives me to wake up every morning and go to work, just like any other day."
 
Schaaf is touched and appreciative of the support she and her co-workers are receiving.
 
"It brings me so much joy to know so many people are keeping us in their thoughts and prayers," she said. "Our health is the most important thing we have and I will continue to do my best to help care for our community.
 
"As a nurse, I am truly humbled by the outreach from all over the country to help fight this outbreak. I want to say thank you to those who sacrifice their lives every day to help those in need. I'm both comforted and inspired by my colleagues who fight alongside me," said Schaaf.
Want more stories like this one sent straight to your inbox every week? Sign up for our McNeese eNewsletter!
The Office of Marketing and Communications
4205 Ryan Street
Lake Charles, LA 70609
337-475-5640
communications@mcneese.edu