Fall 2021 McNeese Honor Graduates
December 16, 2021 | McNeese Public Relations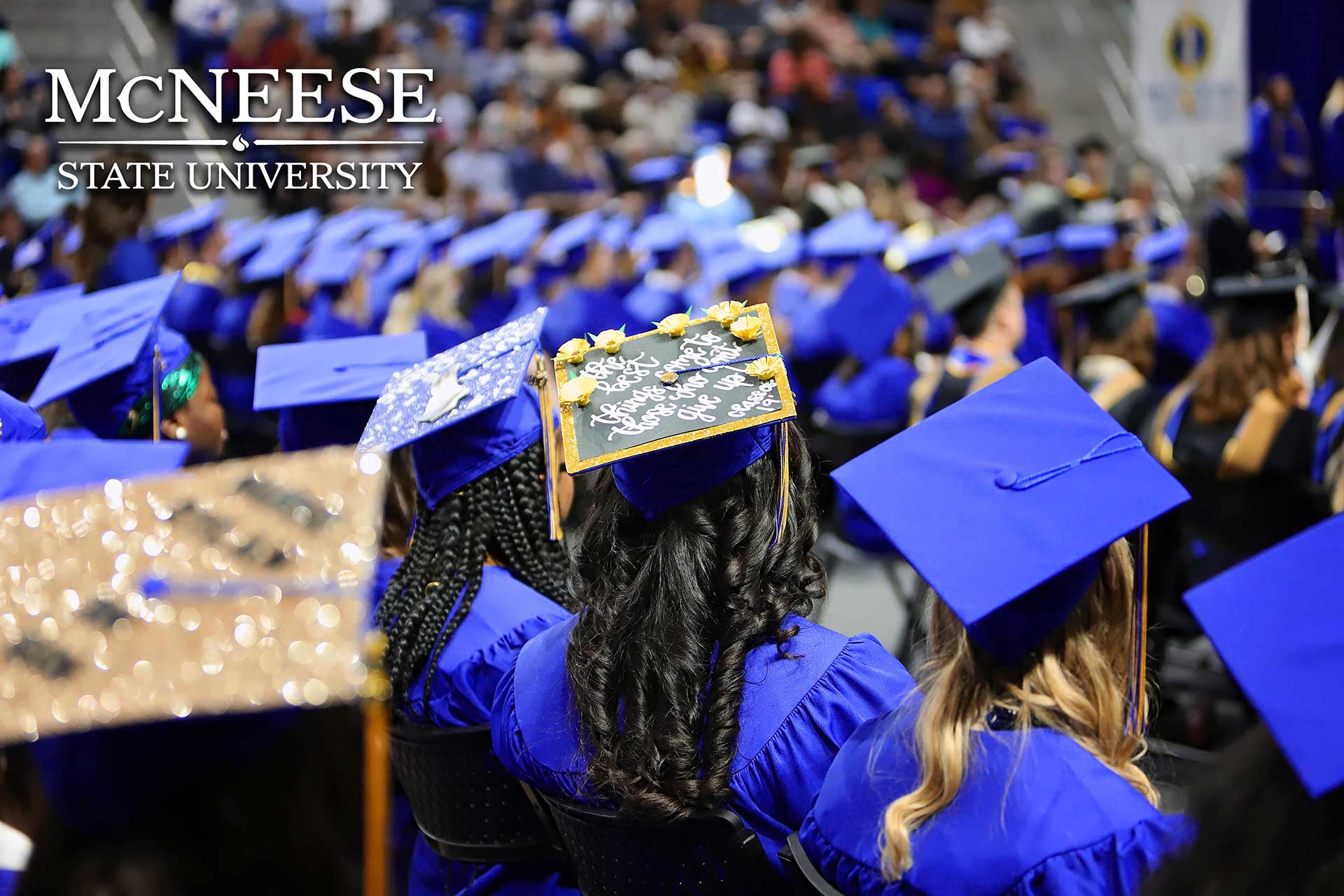 McNeese State University honor students were recognized at fall commencement ceremonies held Dec. 10 in Burton Coliseum. 
Honor students recognized were: 
 SUMMA CUM LAUDE (3.90-4.00): Emma C. Broussard, Kaplan; Kayla M. Cassidy (4.0), Benton; Aubrey Rae Dillon (4.0), Lake Charles; Claire Suesanne Dupuis (4.0), Sulphur; Jonathon Charles Guidry, Orange, Texas;  Markus Kopp (4.0), Breitenbach, Austria; Amelia Edythe Landreneau, Lake Charles; Mariah Elizabeth Lee, Corsicana, Texas; Wendy E. Maggio (4.0), Ville Platte; Courtney McFarlain, Egan; Emily Claire Moss, Sulphur; Cameren M. Novak (4.0), Lake Charles; Paige M. Phillips, Lake Charles; Emma Kathryn Roccaforte, Nederland, Texas; Nickolas T. Sullivan, Lake Charles; and Madison Wyatt, Joplin, Missouri. 
MAGNA CUM LAUDE (3.70-3.89): Emily K. Bordelon, Ville Platte; Gentry J. Borill, Crowley; Christina Marie Cryer, Sulphur; Hannah Elizabeth Dupuis, Jennings; Hayden M. Durant, Westlake; Hallie Nicole Faciane, Slidell; McClain Alexandra Frey, Hackberry; Kyle T. Godeaux, Lake Charles; Kaylee Elizabeth Kaufman, Orange, Texas; Nicole Marie Lanthier, Sulphur; Shelbee Angelle Leger, Kaplan; Brooke A. Mallory, Magnolia, Texas; Nakeia Richmond, Lake Charles; Lucy C. Ryder, Lake Charles; Ashley Alyssa Schenk, Livingston; Macie Rayne Spell, DeRidder; Alexis Webster, Coeur d'Alene, Idaho; and Anastasia Brianne Guidry Williams, Sulphur. 
CUM LAUDE (3.50-3.69): Caleb C. Aguillard, Mamou; Mohamed Liaquath Ali Khan, Vinton; Katie L. Arabie, Orange, Texas; Aaron Jules Bergeron, Jennings; Marlee Michelle Boudreaux, Grand Lake; Macie E. Breaux, Branch; Cameryn Brinson, Vidor, Texas; Anna M. Chavanne, Lake Charles; Abigail R. Crater, Sulphur; Kennedy Marie Darbonne, Lake Charles; Payton Leigh Dodds, Denham Springs; Danielle Carice Donovan, Sulphur; Shelby Rae Dronet, Jennings; Sydney Alyce Duplechain, Lake Charles; Kylee Walker Fontenot, Basile; Brianne M. Gary, Rayne; Maddison Kate Gentry, Lake Charles; Jessica Gotch, Carencro; Jada D. Hanks, Egan; Haileigh Elizabeth Harrington, Ragley; Alexandra L. Hebert, Lake Charles; Autumn Alexis Henson, Parrish, Alabama; Jaseper Dione Hicks Hutto, Lake Charles; Havana Marie Johnson, Coeur d'Alene, Idaho; Aakash Karna, Matihani, Nepal; Sabin Khadka, Kathmandu, Nepal; Kendall M. Kilchrist, Richmond, Texas; Arianna Kiritsis, Lake Charles; Greere K. Koehler, Alexandria; Madeline C. Kraus, Lake Charles; Ashley Lauren Kyle, DeRidder; Hayden Michael Melanson, Lake Charles; Katie E. Mhire, Grand Chenier; Allie R. Monceaux, Lake Arthur; Jaydn Danielle Morvant, Lake Charles; Khue Hoang Mai Nguyen, Ho Chi Minh City, Vietnam; Stephanie P. O'Blanc, Sulphur; Cailin O'Reilly Oliver, Lake Charles; Whitney Paige Perry, Sulphur; Ellyana M. Price, Oberlin; Lanie Ann Richard, Abbeville;  Madison Renee Theriot, Grand Lake; Morgan Trahan, Leonville; Allison Jolie Woodcock, Bell City; Ethan S. Zaunbrecher, Gueydan.  
Want more stories like this one sent straight to your inbox every week? Sign up for our McNeese eNewsletter!
The Office of Marketing and Communications
4205 Ryan Street
Lake Charles, LA 70609
337-475-5640
communications@mcneese.edu