December 10, 2018 | McNeese Public Relations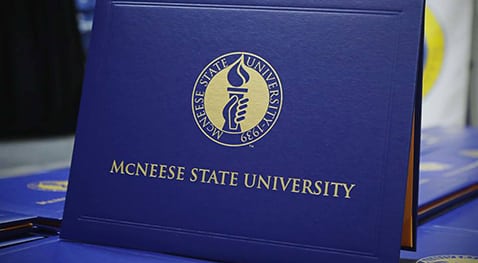 McNeese State University awarded 580 diplomas to 562 candidates at the university's fall commencement ceremony Saturday, Dec. 8, at Burton Coliseum.
Fall 2018 graduates were:
Master of Fine Arts
CREATIVE WRITING: Sarah E. Matalone, Great Falls, Va.
Education Specialist
EDUCATIONAL LEADERSHIP: Ashley De Shon Brooks, Loreauville.
Master of Arts
ENGLISH: Michelle L. Romero, Lake Charles; Tonya Marie Kopecky, Sulphur; Jessica Lynn Williams, Bridge City, Texas; Sarah E. Matalone, Great Falls, Va.
PSYCHOLOGY: Holly Faucheux Boudreaux, Baton Rouge; Marion Davis, Columbia; Alexis Wiley, Gonzales; Skyla Nicole Herpin, Kaplan; Cheyne Lynne Galan, Amber Lynn Goforth, Rachel Elizabeth Harvey, Lafayette; Paul D. Gonsoulin, Linda R. Johnson, Jonathon B. Moreau, Kiranika TeAndra Williams, Lake Charles; Kristen Renee McDaniel, Merryville; Kirsten B. Kidder, New Iberia; Tamara Marie Eloi, Sulphur; Katie Elizabeth Gressaffa, Slidell; Eric Paul Baquet, Ville Platte; Shelbi R. Stoker, Westlake.
Master of Arts in Teaching
ELEMENTARY EDUCATION GRADES 1-5: Summer M. Culpepper Rion, Lake Charles.
SECONDARY EDUCATION GRADES 6-12 [BIOLOGY]: Holly Abner Thompson, Lake Charles.
SECONDARY EDUCATION GRADES 6-12 [SOCIAL STUDIES]: Janet Denise Penfield, Lake Charles.
Master of Business Administration
BUSINESS ADMINISTRATION: Jamey Alvarez-Braxton, Laquinta, Calif.; Destin Brett Clement, Evangeline; Wesley Ryan Hayes, Karissa G. Quinn, Kinder; Wesley D. Drawl, Andrew M. Jordan, Callie Nicole Anderson, Matthew J. Gallier, John C. Lemke, Nathanael Wade Soileau, Lake Charles; Olesea Cerevcenco Baker, Muskegon, Mich..; Curtis Mitchell Rogers, Monroe; Kaitlyn A. Gallegos, Victoria Leigh Sedano, Sulphur; Adison D. Giambrone, Richmond, Texas.
Master of Education
CURRICULUM AND INSTRUCTION: Shelby Kay Wolfe Fountain, Grand Chenier; Sunni Lynnette Ciulla Wilbur, Ragley.
EDUCATIONAL LEADERSHIP: McKenzie Ryan Cooper, DeQuincy; Kimberly Kennedy Holleman, Lake Charles; Nathan J. Clophus, Kallie A. Guidry, Sulphur; Maeghan Elizabeth Sartin, Westlake.
SCHOOL COUSELING: Adrienne Granger Gatte, Iota; Oluseyi O. Adeosun, Amy Elizabeth Dietz, Lake Charles; Hannah D. Labbie, Rayne.
Master of Engineering
ENGINEERING: Xiang Li, Dalian, China; Suparna Mukherjee, Kolkata, India; Rodolfo Antonino Falconi Uscamayta, Lima, Peru; Christy Elizabeth Mathew, Flower Mound, Texas.
Master of Science
CRIMINAL JUSTICE: Delanzo Markel Veal, Eunice; LaToya D. Tunwar, Kinder; Shawn Paul Hebert, Lafayette; Marina J. Ardoin, Tiffany N. Moore, Lake Charles; Eriana Carter, Marksville; Melinda Harrington, Oakdale; Brittany Jackson, Zachary.
ENVIRONMENTAL AND CHEMICAL SCIENCES: Kay'Sea Leigh'Anne Johnson Kelley, DeRidder; Lydia Claire Faulk, Elton; Austin Blake Mouton, Erath; Mercedes L. Clark, Justin Wayne Higginbotham, Taylor D'Ann Hood, Stephanie N. Melancon, Lake Charles; Aaron L. Helton, Knoxville, Tenn.
HEALTH AND HUMAN PERFORMANCE: Andrea Ayala, Gilbert, Ariz.; Cecilia Ileana Groves, Arvada, Colo.; Katie E. Roux, Denham Springs; Robert William Mann, Navarre, Fla.; Alexandra Noelle Leibold, Carmel, Ind.; Alecea Danyel Thompson, Okinawa, Japan; Lauren M. Buteau, Lafayette; Daniel P. Landry, Cameron J. Soileau, Lake Charles; Victoria  Rachal, Natchitoches; Allison Hyde, Sarah Elizabeth Tyson, New Orleans; Kathryn L. Weaver, Jenks, Okla.; Lauren M. Meyer, Rayne; Maggie Frey Daniel, Roanoke; Ashley Danielle McCarble, Sulphur; Brianna Lovett, League City, Texas; William C. Fox, Montgomery, Texas; Amber Michelle DeJean, Spring, Texas; Sawyer Reace Stiller, Walla Walla, Wash.
INSTRUCTIONAL TECHNOLOGY: Sara D. Logan, Grand Lake.
MATHEMATICAL SCIENCES: Leah Danielle Gates, Lakeland, Fla.; Jordan A. Sermon, Lake Charles; Ray L. Christian, Pitkin.
Master of Science in Nursing
NURSING: Sarah Lindsey Eygabroad, DeQuincy; Kolt M. Nezat, Eunice; Kayla Sanner Nordstrom, Hackberry; Angela Renee Fontenot, Jennings; Megan LeBlanc Thibodeaux, Kinder; Jacqueline White, Lafayette; Ashley Elizabeth Bellow, Dana Chantel Parker Trahan, Christian Charles White, Lake Charles; Brandi Rene Boutte, Maurice; Candice Hope Wild, Springfield; Sarah Ardoin Bardin, Cheryl Nadine Blake, Kayleigh Paige Gibson Head, Lauryn Caitlin Teer Leslie, Kimberly Beth Molitor, Wendy Anne Wingate, Sulphur; Alivia D. Fontenot, Ville Platte; Joshua Clayton Gray, Youngsville.
Bachelor of Arts
ART: Kinleigh Rae Guidry, Basile; Justina Lynn Wolford, Longmont, Colo.; Amanda Catherine Donaldson, Kinder; Stefan Erik Borssen, Ariel D. Jueschke, Kayleigh A. Kohnke, Lake Charles; Bipesh  Koirala, Laphadi, Nepal; Roy L. Jones, New Orleans; Andrew Robert Dilmore, Pittsburgh, Pa.; Taylor T. Lebleu, Sulphur; Meredith A. Carson, Port Neches, Texas; Heather Marie Clark, Vidor, Texas; Shelby Suzanne Roberie, Welsh.
ENGLISH: Paul W. Morgan, Eunice; David Martin Combs, Abigail D. Guillory, Jamie Aleysa Mele, Jack Taylor Vanchiere, Lake Charles; Samantha Renee' Delahoussaye, Marrero; Amber Lynn Adams, Christian N. Marsh, Sulphur; Elizabeth Ann Birdlong, Jasper, Texas.
FOREIGN LANGUAGES: Kennedy K. Bodfield, St. Catharines, Canada; Mark A. Castille, Lake Charles.
HISTORY: Kathern Ann Robinson Plummer, DeRidder; Marcus S. Fontenot, Johnson's Bayou; Adrien G. Arabie, Kinder; Victoria R. Guillory, Lake Charles; Terry J. Johnson, Ragley; Nicole D. Bayles, Ruston; Matthew J. Hecht, Walker.
LIBERAL STUDIES: Dori Lee Bell, Kinder; Shatonia Orellana Paul, Lake Charles; Rachel S. Charles, Ville Platte; Caleb B. Hayes, Welsh.
POLITICAL SCIENCE: Christopher A. Fruge, Caleb Preston Malone, Lake Charles.
SOCIOLOGY: Celena R. Berger, Berwick; Calum Ray Duhon, Church Point; Ravyn Rene' Cormier, Crowley; Angela Dawn Bain, April Ford Tate, Denham Springs; Casey Potier, Duson; Jade Hannah Nunez Gotte, Grand Lake; Barbara Baythavong Buria, Keokuk, Iowa; Bianca Raquel Anderson, Jennings; Randy C. Savant, Kinder; Allyson Renae Breaux, Lake Charles; Paulette Marshall, St. Martinville; Kate L. Vallette, Sulphur; Stacie M. Wright, Fort Worth, Texas.
Bachelor of General Studies
GENERAL STUDIES: Kevin Hardy, Amy Rae Willard, Basile; Janice N. Coley, Fresno, Calif.; Jason Gibson, Victoria, Canada; Roxanne R. Falcon, Church Point; Mary E. Clark, Crowley; Cody A. Green, DeRidder; Carlton J. Lavergne, John M. Wright, Elton; Alexis Rae Miller, Laura A. Reed Eunice; Miranda Ann Daigle Booth, Grand Lake; Lindsey Brooke Miller, Hackberry; Whitney Lee Jordan, Holden; Abbie C. Melanson, Iowa; Jaci Elizabeth Sadden, Jarreau; Katelin Rose Shirley Windham, Jena; Samantha A. Landry, Jennings; Tavarious D. Battiste, Kentwood; Devon Todd Franques, Leeallen Williams, Lafayette; Daniel Terrell Berry, Kimberly Gothreaux Blanchard, Andrew P. Bryan, Taylor Lynne' Caldarera, Kyauhna Rene' Benoit Dennis, Kayla Annette Felix, Brionne T. Hebert, Bobby Honeycutt, Lance Howard, Ethan S. Jagneaux, Eldene Hanchey Niel, Jarad C. Perry, Lindsay Jeanne Thomas, Lauren C. Titus, Lake Charles; Catherine Louise Pipes, Leesville; Joni Rayelle Drake, Mermentau; Headyn Jewel Morvant, Mittie; Tijera A. Safir, Kansas City, Mo.; Erica Marie Jones Archon, New Iberia; Baylee E. Cifreo, New Roads; Danee M. Stanley, Oakdale; Sarah Lee Deshotel, Pine Prairie; Denzel Deron Brown, Plaquemine; Brooke M. Ducote, Rosepine; Madeline Rhea Brame, Alex Keith Hue-Patrick Spell, Gabrielle M. Sercovich, Austin C. Spell, Sulphur; Dawn Marie Welburn, Vinton; Beau Jacob Gaspard, Kaitlyn Nicole Guillot, Welsh; Melissa Sartin Conrad, Heidi A. Corley, Westlake; Mary-Katelyn Jean Price, Anahuac, Texas; Alicia LeAnn Trussell, Deweyville, Texas; Tara Nichole Bryant, Orange, Texas; Aurielle Denae Mosley, Port Arthur, Texas; Ryan R. Ross, Richwood, Texas.
Bachelor of Music
 MUSIC: Melanie Tish Kulaga, Lake Charles; Victor G. Medina, Houston, Texas.
Bachelor of Science
AGRICULTURAL SCIENCES: Kyle M. Zenon, Abbeville; Emily Ellen Stone, DeRidder; Breana B. Avant, Jack Logan McClelland, Elton; Darren S. Fontenot, Eunice; Selena Rae Clair, St. Cloud, Fla; Madison L. Bonsall, Grand Chenier; Dylan M. Terro, Indian Bayou; Emily Rose Granger, Iowa; Madalyn A. Broussard, Lauren A. Savoie, Jennings; Abby G. Miller, Kaplan; Brittany K. Leger, Kinder; Margaret J. Tuminello, Lake Charles; Matthew C. Frey, Morganza; Payton N. Zaunbrecher, Rayne; Logan Claire Richard, Scott; Karrie M. Pousson, Elizabeth A. Settoon, Sulphur; Joshua S. Martin, Sun; Benjamin P. Bergeron, Wacen Kane Fontenot, Ville Platte; Riley J. Istre, Vinton; Richard G. Leblanc, Cassidy J. Waters, Walker; Jodi Lee Hayes, Welsh; Kathryn Marie Forbes, Orange, Texas.
BIOLOGICAL SCIENCE: Clay P. Boudreaux, Kaplan; Julie R. Blalock, James Jean-Baptiste Inderkummen, Shaheryar T. Khan, Madison C. Malone, Lake Charles; Andre Jauwan Davis, Leesville; Nikki Danielle O'Pry, Opelousas; Hannah E. Burnett, Ragley; Adaure P. Anyanwu, Columbia, S.C.; Hunter Scott Misse, Sulphur; Patrick D. Ieyoub, Austin, Texas.
CHEMISTRY: John N. Rideau, Sulphur.
EARLY CHILDHOOD EDUCATION GRADES PK-3: Kaitlyn A. Bellard, Church Point; Hannah E. Click, DeRidder; Gabrielle L. Guidry, Sophie Alyce Eastman Thibodeaux, Jennings; Brianna Lee Floyd, Holly A. Hayden, Courtney Renee Ravia Huber, Genita P. Joseph, Alyssa A. Malveaux, Lake Charles; Samantha Ashley Ellerbe, Battle Creek, Mich.; Malori Rene Ener Thibodeaux, Bridge City, Texas; Aimee Elizabeth Dobos, Laporte, Texas.
ELEMENTARY EDUCATION GRADES 1-5: Allison E. Hoffpauir, Crowley; Lindsey N. Aycock, Joey Nicole Willis, Jossie D. Willis, DeRidder; Alysse M. Vondenstein, Egan; Hope Rene Guillory, Iowa; Bethany Nicole Courville, Kayli Elizabeth Scogin, Jennings; Kierra A. Malveaux, Lafayette; Alexis Rae Arceneaux, Mason Nicole Lyon Bower, Amanda Mariah Bellard Erbelding, Dana Rachelle Mouton, Lake Charles; Hannah A. Longino, Oakdale; Katelyn Marie Matt Bertrand, Opelousas; Ashton R. Williams, Plaquemine; Megan Ashley Levens, Houston, Texas; Brittany Valen Dowdle, Orange, Texas.
HEALTH AND HUMAN PERFORMANCE, GENERAL: Carlee N. Herrington, DeRidder; Michael C. Thevis, Iota; Morgan Dakota Smith, Iowa; Dominique Renee' Ivory, Jennings; Kailey R. Lejeune, Kaplan; Benjamin B. Jones, Kentwood; Kynnedy Monique Daniel, Andrew Keith Dietz, Kallie B. Duhon, Calli J. Dupont, Tyler Scott Matte, Charles Peyton McLemore, Joshua Chris Morrow, David Allen Pigno, Joseph P. Romero, Ashton T. St. Dizier, Lake Charles; Alexandra Browne Ramsey, Longville; Zachary E. Aucoin, Mamou; Ashari C. Goins, Monroe; Tre Porter, New Orleans; James Edward Tabary, River Ridge; Trent E. Jackson, Shreveport; Allie C. Butler, Samuel K. Mancil, Morgan Delaine Sherrill, Sulphur; Kelsey B. Fontenot, Meghan E. Harvey, Elizabeth R. Soileau, Ville Platte; Cole T. Wilkinson, Welsh; Kamon Roshawd Darby, Beaumont, Texas; Ashley Ke'Ana Vonner, Silsbee, Texas; David Hamm, Spring, Texas.
HEALTH AND PHYSICAL EDUCATION GRADES K-12: Amy E. Bryan, DeRidder.
MATHEMATICAL SCIENCES: Erin M. Leblanc, Lake Charles; Tylar Marguerite Matte, Longville; Jason Boyd Jones, New Iberia; Jenna M. Hacker, Corpus Christi, Texas.
MEDICAL LABORATORY SCIENCE: Darian A. Doga, Shashanka Ghimire, Lake Charles; Santosh Kunwar, Bharatpur, Nepal.
NATURAL RESOURCE CONSERVATION MANAGEMENT: Hannah E. Pitts, Cottonport; Jonathon T. Lueck, DeQuincy.
PSYCHOLOGY: Megan Elizabeth Kuhn, Helendale, Calif.; Kathryn Nicole Burleigh, Crowley; Katelyn G. Guillory, Denham Springs; Danielle R. Broussard, Duson; Mackenzie Baker, Orlando, Fla.; Taylor V. Johnson, Hackberry; Steven Craig Jones, Harvey, Ill.; Adam Lance Kershaw, Jennings; Kristen P. Johnson, Suzanne Louise Monlezun, Lake Arthur; Desaree Dany' Allbritton, Brett A. Chase, Brooke L. Ferguson, Anna Kaj Henriksen, Alexis Danielle Jason, Jillian Noelle Klaus, Kohl S. Klaus, Bailee L. Rogers, Kristin R. Wills, Autumn Praise Windham, Lake Charles; Amber N. Higginbotham, Longville; Nguyen Christina Chau Vo, New Orleans; Octavia Nicole Cormier, Mangum, Okla.; Jerrick C. Comeaux, Opelousas; Shawndareus E. Watkins, Rayville; Charnise P. Scott, Shreveport; Diamond C. Lee, Fort Worth, Texas.
SECONDARY EDUCATION AND TEACHING: Jennifer Elizabeth Guidry Ardoin, Sulphur.
Bachelor of Science in Accounting
ACCOUNTING: Dillon J. Breaux, Carencro; John F. Faciane, DeRidder; Keigan R. Hanks, Gueydan; Alla Voth, Temiktau, Kazakhstan; Leilani M. Sampia, Lafayette; Mary Ellen McCanless, Lake Charles; Diego A. Padilla-Chargoy, Puebla, Mexico;Katelyn Bree Malone, Sulphur; Matthew James Jones, Spring, Texas.
Bachelor of Science in Criminal Justice
CRIMINAL JUSTICE: Sarah E. Dillard, Anacoco; John R. Gill, DeRidder; Taatum Adair Rubin, Estherwood; Christian Bellard, Clint J. Brightwell, John Zachary Jackson, Sheryl Denise Lartigue, Chante` Nicole Rankins, Sadie B. Roberson, Sherell Rochelle Thibodeaux, Shimeka Renee' Washington, Lake Charles; Brandon Dominque Jackson, Leesville; Peyton Alexis Conner, Ethen P. Walls, Longville; Rowdy Landry Parrott, Mamou; Zachary M. Goodin, Oakdale; Caroline Elizabeth Bauer, Mary Elizabeth Mead, Sulphur; Aaron Reed Ardoin, Welsh; Christiana Ellen Sutton, Westlake; William Colton Ramsey, Houston, Texas; Pamela D. Rogillio, Orange, Texas.
Bachelor of Science in Computer Science
COMPUTER SCIENCE: Muhammad Ali, DeRidder; Brad A. Redlich, Eunice; Samantha Helene Gunnell, Jennings; Dandy Pham, Kinder; Ramanjit Kaur, Gabriel E. Windham, Lake Charles; Mohammed Abdullah K Almaghlooth, Khober, Saudi Arabia; Brandon J'Von Alexander, St. Francisville; Nicholas Adam Lantier, Sulphur;.
Bachelor of Science in Engineering
ENGINEERING: Andrea Encina Moreno, Santa Cruz, Bolivia; Haley Deshotel Ingold, Hayes; D'Angelo Romario Coates, St. Andrew, Jamaica; Yernin Bonilla Garcia, Taylor A. Butler, Alexandra Carolyn Gelsi Dupont, Caleb Ray Greathouse, Brooke Nicole LeJeune, Wesley Joseph Steech, Christian Andrew Wolf, Lake Charles; Summit Aryal, Kathmandu, Nepal; Min Bahadur Pun Kayat, Nawalparasi, Nepal; Amie E. Ferguson, Roanoke; John Mark Holliday, Rosepine; Mohammed Awadh M Asiri, Jeddah, Khalid Mohammed Ahmed Alaslami, Rayan Saleh N Alobaid, Riyadh, Saudi Arabia.; Austin A. Bourgeois, Eric Franco, Lance E. Hawkins, Spencer Kenyon Thorn, Sulphur; Stephen A. Moore, Westlake; Breyauna Kristine Jackson, Houston, Texas.
Bachelor of Science in Finance
FINANCE: Dillon J. Breaux, Carencro; Caleb M. Steech, DeRidder; Jacob P. Pousson, Iota; Kathleen Marie Hebert, Jennings; Alaine J. Williamson, Lafayette; Craig Allen Martin, Mary Ellen McCanless, Andrew Joel Self, Lake Charles; Diego A. Padilla-Chargoy, Puebla, Mexico; Darryl A. Blunt, New Orleans; John Hutson, Pineville; Sultan Saud A. Alrouqi, Taif, Saudi Arabia; Matthew James Jones, Spring, Texas; Duygu Aslan Istanbul, Turkey; Scott G. Hjembo, Port Orchard, Wash.;  Emily E. Meek, Westlake.
Bachelor of Science in General Business
GENERAL BUSINESS ADMINISTRATION: Cole M. Matheson, Bell City; Andrew M. Ayres, Denham Springs; Ryan A. Nolen, Lake Charles; Darryl A. Blunt, New Orleans; Robert James Dick, Cleveland, Ohio; Marie E. LeBlanc, Billie Jean Morgan, Sulphur; William S. Benoit, Welsh.
Bachelor of Science in Mass Communication
MASS COMMUNICATION: Bryce Alan Laird, Grant; Ashtyn Brea Curtis, Ebony L'Shai Lewis, Lake Charles; Emilee J. Stewart, Rosepine; Bethany Michelle Carnes, Sulphur; Valeria De Leon, Westlake; Alexandra P. Mason, Port Lavaca, Texas.
Bachelor of Science in Management
MANAGEMENT: Steven T. Duong, Mobile, Ala.; Christin Michelle Mallet, Arnaudeville; Ashley M. Bader, DeQuincy; Hunter W. Frusha, Lauren Shalee' Lewing, DeRidder; Scott E. Williams, Dry Creek; Julie Anne Bruce, Gueydan; Alexander S. Darbonne, Iota; Meghan Ashli Green, Iowa; Sydney L. Batiste, Caleb Marshal Butts, Hannah L. Murrell, Sharon Marie Murrell, Kristen M. Nevils, Kinder; Danielle Dalcourt, Lafayette; Thomas A. Bushnell, Mark A. Castille, Sarah Lynn Miller Caswell, James H. Hurley, Kaleigh A. Irwin, Wesley S. Labiche, Patrick A. Medina, Jeffery W. Menou, Dwight Aaron Nash, Brock C. Ney, Payton A. Partin,Shawn Charles Quinn, Kristin R. Wills, Lake Charles; Joey Lyn Okelley, Longville; Joan Mary Baker, Marrero; Manish Shrestha, Lalitpur, Nepal; Abdullah Ibrahim Mohammed Alshadidi, Abha, Alhanouf Alkhalil, Safwa, Saudi Arabia; Waleed Safar Saad Alshahrani, Saudi Arabia; Alexis Michelle Jenkins, Shreveport; Callie Faith Doucet, Starks; Michael D. Eckert, Jay Kumar, Caissy Roger McCall, Santana E. Wing, Sulphur; Courtney De'sha Rene, Sunset; Michael Jacob Barnes, Ville Platte; Kourtney A. Soileau, Welsh; Christian T. Jacobs, Houston, Texas; Jimmy F. Salter, Orange, Texas.
Bachelor of Science in Marketing
MARKETING: Lauryn Ashlie Copeland, DeQuincy; Howard W. Smith, Ansbach, Germany; Joshua E. Batiste, Marksville; Shelby Noelle Hunt, Ragley; Kirsten G. Webb, Sulphur; Shanna Brooke Spree, Houston, Texas; Alexandra J. Aguilera, Pearland, Texas.
Bachelor of Science in Nursing
NURSING: Nwamaka Jane Otibeh, Baton Rouge; Dallas D. Day, Kennetra Mickell Isler, DeRidder; Courtney M. Leblanc, Delcambre; Ashley Marie Mayeux, Deville; Kirsti N. Regan, Egan; Morgan Richard Benoit, Eunice; Ashley Kay Hargrave, Iota; Eryn Hope LeJeune, Jennings; Nakia R. Dennis, Faron Danielle Mitchell, Lafayette; Kaitlyn Marie Manuel Marcantel, Natalie M. Oliver, Lake Arthur; Caleb Doyle Blocker, Michael J. Narcisse, Michael J. Sonnier, Lake Charles; Abhishek Thapa, Chitwan, Nepal. Sara Ellen Prudhomme, West Paterson, N.J.; Lauren A. Stroman, Las Vegas, Nev.; William Gordon Johnson, Pine Prairie; Kennedy Suzanne Jeffcoats, Reeves; Sydney Ariane Guidry, Sharon Danielle Payne Willis, Sulphur; Jesus D. Cantu, Brownsville, Texas; Maggie M. Fusilier, Ville Platte.
Associate of Arts in Paralegal Studies
PARALEGAL STUDIES: Abby Marie Miller, Grand Lake; Nadine Marie Douglas, Lake Charles; Ruth N. Andrus, Westlake.
Associate of General Studies
GENERAL STUDIES: Ryan Joseph Robledo, Redwood City, Calif.; Caroline Elizabeth Bellard, Church Point; Stephanie M. Beck, Cody A. Green, TaNeesha D. Jackson, DeRidder; Andrew M. Ayres, Denham Springs; Ashley Marie Mayeux, Deville; Kayla R. Arabie, Iowa; Victoria R. Dubois, Kailey R. Lejeune, Kaplan; Alexis Rae Arceneaux, Mason Nicole Lyon Bower, Kevin John Delahoussaye, Kyauhna Rene' Benoit Dennis, Waiskesha Qualana Eaglin, Kaila L. Hebert, Heather N. Hilton, Bobby Honeycutt, Charles Peyton McLemore, Brant C. McNease, William Andrew Morris, David Allen Pigno, Sasha Lynn Redd, Kevin Paul Samuel, Neil Arlen Sanders, Anna M. Searcy, Katherine L. Soileau, Emily Marie Wilson, Lake Charles; Kinshuk Shishiro Debnath, Forestville, Md.; Christopher Allan Lyons, Marilyn Elizabeth Slaydon, Janice Wilkinson Smith, David Alan Spicer, Sulphur; Robert William Hebert, Groves, Texas; Megan Ashley Levens, Houston, Texas; Christopher Campbell, Lumberton, Texas; Morgan R. Tucker, Orange, Texas; Keysha Lashawn Richard, Port Arthur, Texas; Tracey Joubert, Ville Platte; Kaylen R. Guidry, Westlake.
Want more stories like this one sent straight to your inbox every week? Sign up for our McNeese eNewsletter!
The Office of Marketing and Communications
4205 Ryan Street
Lake Charles, LA 70609
337-475-5640
communications@mcneese.edu