Electrical Engineering Major Receives Hands-on Experience at Internship
February 1, 2021 | McNeese Public Relations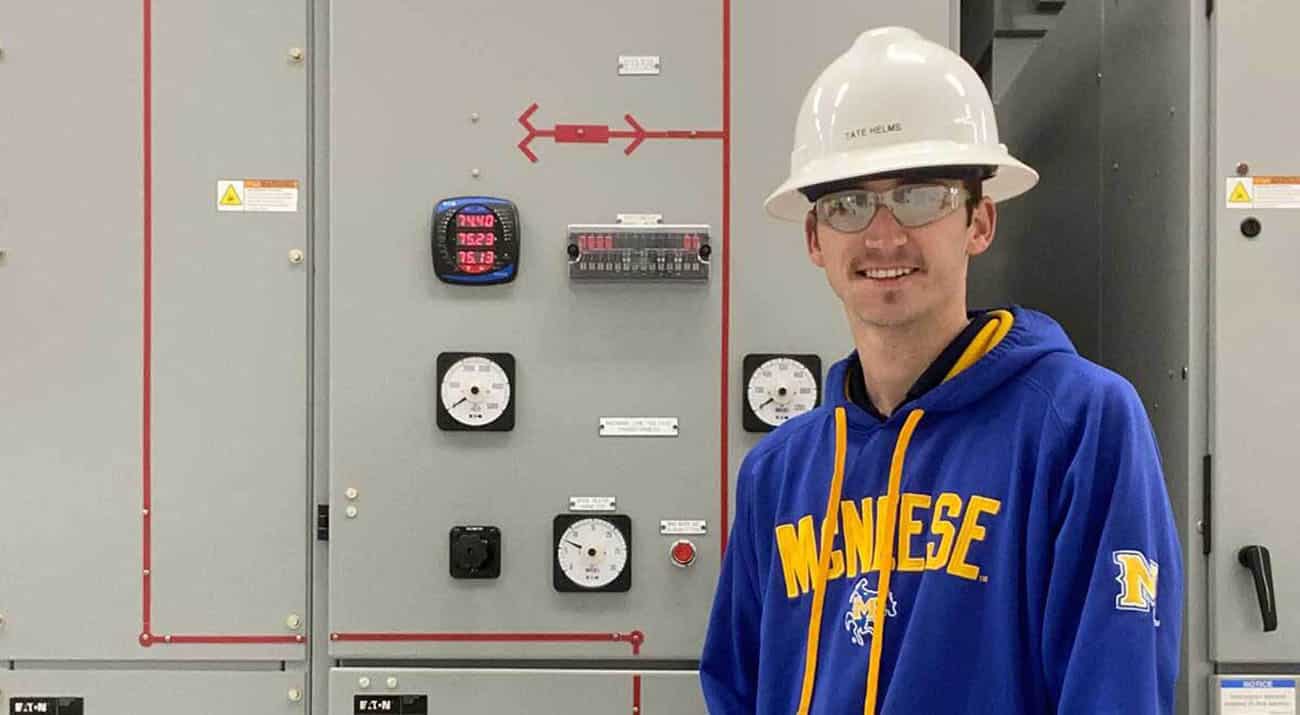 McNeese State University senior Tate Helms, an electrical engineering major from Sweet Lake, is gaining practical hands-on experience through an internship at Louisiana Pigment Co.
Originally attracted to the engineering program at McNeese because of its affordability and proximity to home, Helms says that Associate Professor of Engineering Brent Garner and Assistant Professor of Engineering Dr. Hamzeh Davarikia have made a special impact on him while at McNeese.
"Mr. Brent Garner really challenged me and Dr. Hamzeh Davarikia is very helpful," he says. "There's not a time I can't ask Dr. Davarikia a question and he won't dig to get the answer for me."
Helms says that he decided to apply to Louisiana Pigment in part because of its reputation. "I have known a few people who have worked here and they loved it," he says. "Plus, I knew it was a smaller plant and that seemed like a great way to get started because I knew I could take on more responsibilities."
Since the start of his internship, he has worked on a replacement uninterruptable power system, helped electricians install wires for the new electrical expansion, created preventative maintenance packets and other paperwork and is beginning to work on new equipment to help make more pigment.
While Helms says that he is constantly using the knowledge he learned in the classroom, the hands-on experience he's gained has been invaluable for bringing theoretical practice to life.
"In class you learn about this equipment, for example transformers, and you get the chance to practice on smaller transformers. But here you're working with 4,160-volt transformers and that's where you really have the chance to apply your knowledge," he says.
Plus, he adds, he gets to experience a side of real-life electrical engineering that doesn't often make its way into the classroom but is crucial nevertheless, such as things to watch out for when designing future equipment.
"It's great to gain experience with real life applications," he says. "I have top of the line bosses that give me room to grow and they send me on quests to find and dig up knowledge. They want to see what I can do. I truly believe that God granted me this opportunity and I am giving it my all."
The Office of Public Relations and University Events
4205 Ryan Street
Lake Charles, LA 70609
337-475-5640
publicrelations@mcneese.edu