Changing Lives Will Change the World
April 23, 2019 | McNeese Public Relations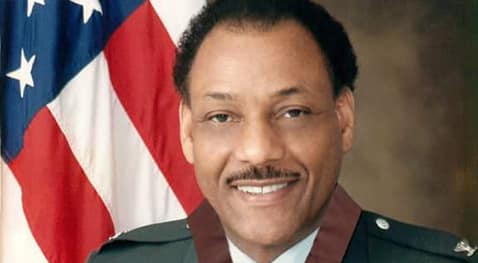 Retired U.S. Army Col. Anthony Polk, the first black medical laboratory science graduate, knew his life was about to change when he received his acceptance letter to McNeese State University. What he didn't know was that he was only at the beginning of a journey that would take him to all 50 states and over 100 countries. 
"I was in the ROTC program during my time at McNeese and was the first black student to be commissioned in the U.S. Army Medical Service Corps after I completed my degree in 1967," says Col. Polk. "Early in my career I had an interest in blood banking. This became my niche area throughout my 30 years of military service."
His career started in a military hospital where he was in charge of hundreds of military and civilian lab personnel. From there, he was positioned in the U.S. Pacific Command as deputy director of the blood program that offered blood product support during the Vietnam War.
"During my basic leadership training it didn't matter where I went to school but rather how I could apply what I knew. My time at McNeese groomed me to be a leader and provided an education that made me a competitive candidate for a number of positions," says Col. Polk.
After the Vietnam War ended, Col. Polk became the director/commander of the U.S. European military blood program where he helped provide quality blood products to U.S. military hospitals throughout Europe. Four years later, he became the first NATO blood program officer. Here he ensured a standardization of blood program practices were followed among various nations that allowed them to share blood products during emergencies.
"My experience at McNeese and a lifetime in the military allowed me to be the director of all U.S. Department of Defense blood program operations," explains Col. Polk. "McNeese opened the door for me to one day sit at a table with many powerful individuals, including the President of the United States."
Upon retirement from the military, he received the Defense Superior Service Medal from the Secretary of Defense, a Lifetime Achievement Award from the Army, Air Force and Navy Surgeons General and was inducted into the Order of Military Medical Merit.
In a second career, Col. Polk was hired by the National American Red Cross in Washington, D.C. He spent 15 years with the Red Cross that included being chief of staff where he coordinated the activities of 22,000 personnel that collected, tested and distributed 14 million blood products a year.
"My entire career was built upon the educational foundation that McNeese provided to me," says Col. Polk. "I hope my story will encourage students, who may feel as overwhelmed as I did in college, that by doing the best they can every day they will become the best version of themselves possible."
Want more stories like this one sent straight to your inbox every week? Sign up for our McNeese eNewsletter!
The Office of Marketing and Communications
4205 Ryan Street
Lake Charles, LA 70609
337-475-5640
communications@mcneese.edu