Student Investigates a Mystery in Louisiana's Waterways
February 20, 2020 | McNeese Public Relations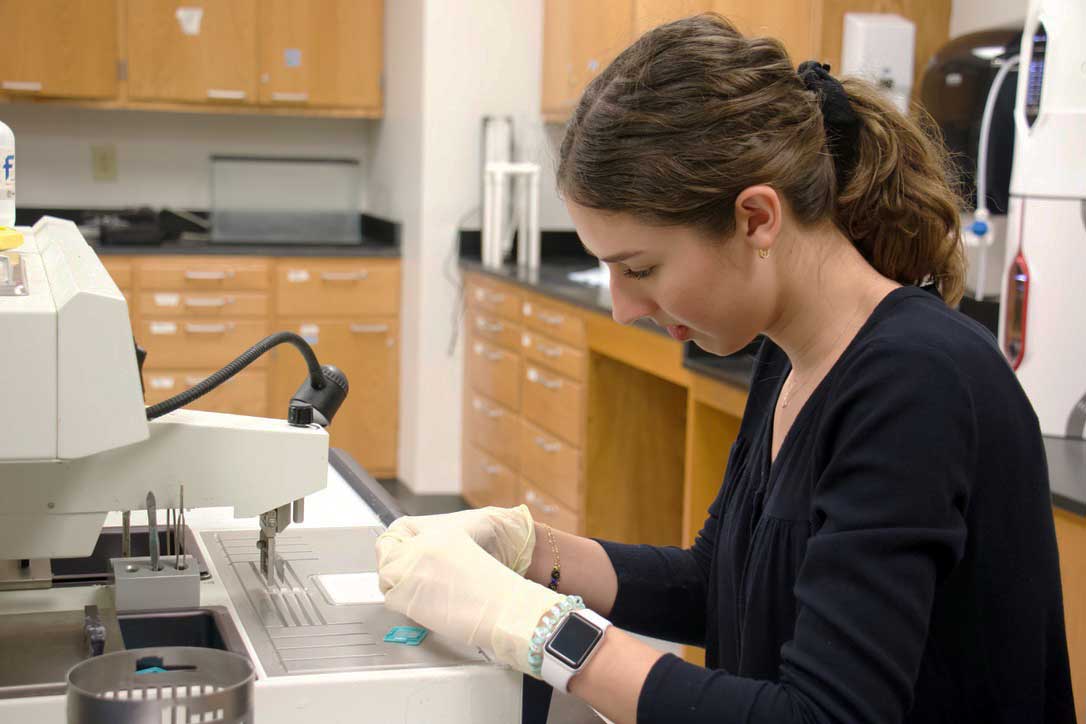 A McNeese State University Biological Science Junior is helping unlock a mystery about American eels in Louisiana waterways. Biological science junior Valeria Faria is getting hands-on experience in laboratory science through a special research project with assistant professor of biology Dr. Amber Hale.
Found all over the state, American eels are caught by The Louisiana Department of Wildlife and Fisheries (LDWF) and other cooperating institutions primarily as bycatch during sport fish surveys and other fish sampling activities. LDWF catalogs caught eels' characteristics, including length, weight, age, stomach contents, the presence of parasites and sex. But because the eels aren't easily visually distinguishable as male or female until they're at least 400 centimeters, tissue samples have to be studied microscopically to determine sex. LDWF formed a partnership with McNeese's Department of Biology to make conclusive identifications.
"These eels are found all over North America, but the ones in our project are caught only in Louisiana," Faria says. "LDWF is trying to learn about their population trends because we're not sure about their conservation status in Louisiana."
But with more than 100 samples analyzed, all have come up either as female or undifferentiated – no males have been captured. Unlike humans, eels don't have a chromosomal sex, and Hale says while there are theories about what influences their sexual development, almost nothing definitive is known about the process.
Faria and Hale are now working together to better understand the molecular pathways that affect the eels' development.
"The work that Dr. Hale and Val are doing on our eels has been invaluable to our research," says Robby Maxwell, an LDWF biologist working on the project. "By confirming our original determination of the sex, they're giving us insight into eel development."
Though Faria is following the pre-medicine track and plans on attending medical school, she says that the research has been an invaluable experience.
"Dr. Hale took me under her wing. I really like looking at the histology to learn more about how the tissue is processed," she says. "You have to think like a scientist, solve problems, analyze and decide what you want to do with the research. Actually applying the concepts in the lab solidifies what I've learned in class. This has been a learning experience in every way."
Faria has already attended three undergraduate conferences; at the most recent, The University of Louisiana at Lafayette Honors Undergraduate Research Conference, she presented her results.
"The lab skills Val is learning are directly applicable to the medical field and the presentation experience is invaluable," says Hale. "She's going to get more opportunities to travel and present research because faculty in our department – and across campus – put a lot of time and energy and resources in providing these opportunities for our undergraduates.
"I was able to bring Val into my lab so early as a sophomore because she was my advisee," she adds. "Because many larger universities don't have faculty advisors, it's much more difficult to establish that relationship and work on projects like this. The longer you work in research as an undergraduate, I think, the more benefit you get out of your undergraduate experience."
As for the future of the project, Faria says she's excited to continue investigating eel development.
"I really hope we can make some new discoveries," she says.
Want more stories like this one sent straight to your inbox every week? Sign up for our McNeese eNewsletter!
The Office of Marketing and Communications
4205 Ryan Street
Lake Charles, LA 70609
337-475-5640
communications@mcneese.edu