Augmented Reality Project at McNeese
December 15, 2017 | McNeese Public Relations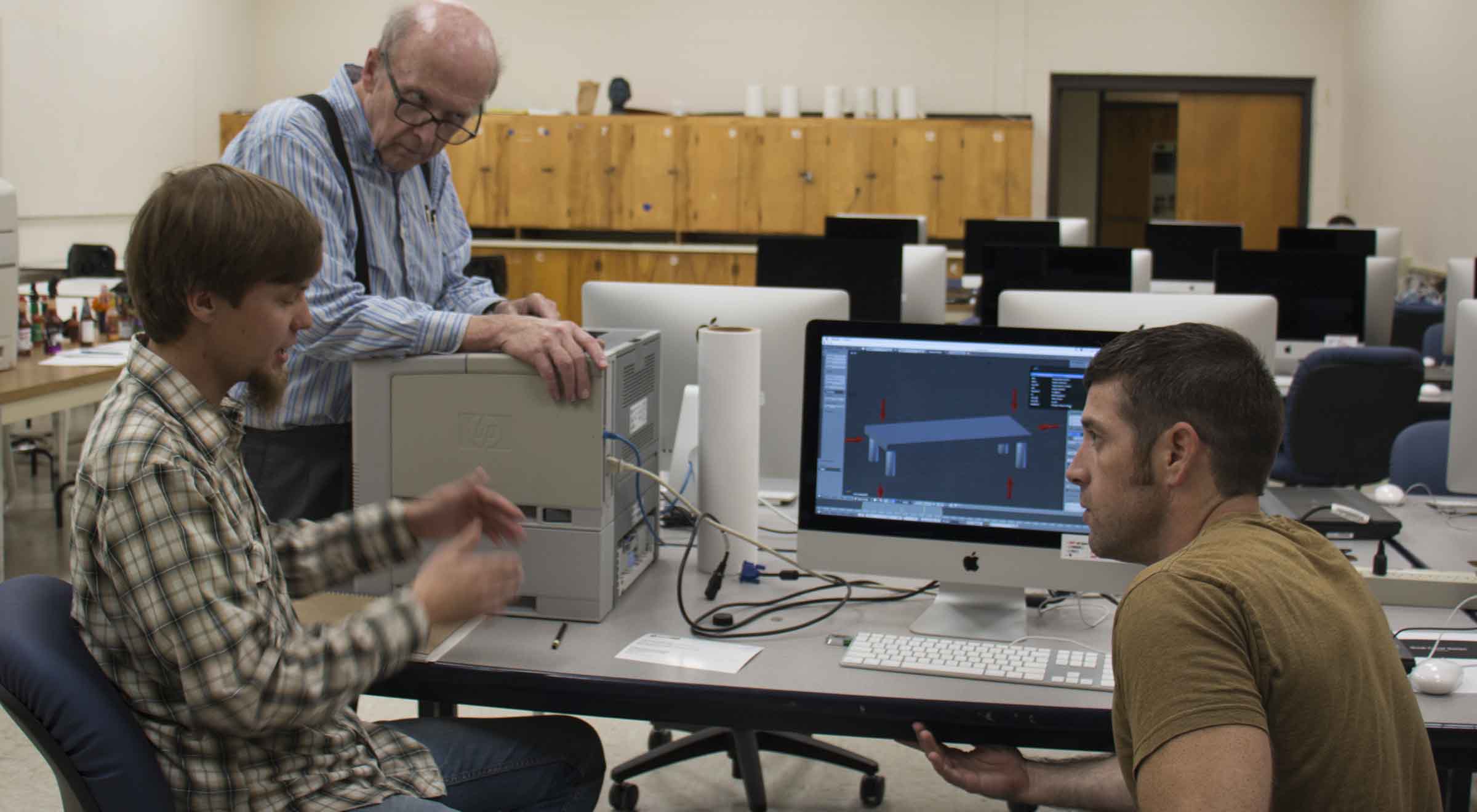 Imagine the reaction by students in an introductory engineering course when the professor says, "Open your textbook to page 50 and scan the page with your tablet or smartphone," and then an animated 3D model pops up!
With almost $25,000 in funding from the Louisiana Board of Regents eLearning Innovation Grant Program, McNeese State University's Departments of Visual Arts and Chemical, Civil and Mechanical Engineering are joining forces to create a revolutionary new way of bringing engineering education to the classroom through the burgeoning science of augmented reality.
Using augmented reality – defined as an enhanced version of reality created by the use of technology – is the brainchild of Dr. Dimitrios Dermisis, assistant professor of civil engineering. "This program will bring engineering concepts to future student's fingertips through a combination of classic print and digital devices, all to help students better learn elementary engineering theories and principles."
The need is pressing, according to Dermisis, as he sees a big drop in engineering students from one semester to another. "Some of this loss," Dermisis says, "is unavoidable due to family or financial reasons, but some students simply struggle with learning essential concepts."
It's his belief that every student is capable of learning. "But sometimes it's difficult to understand these concepts because they're so abstract and we have to find a way to help those students. We can use technology to fill those gaps," explains Dermisis.
With this planned program, he says, future textbooks will feature codes that students will be able to scan with their phones or tablets, allowing them to access an interactive 3D model on their device's screen. Students will then be able to experiment with the 3D model using different physics and engineering principles in a program that will be available for all students and educators to use – all without having to use special equipment.
"When students are reading from a textbook or listening to a lecture, they don't have much interaction with the engineering component or principle they are learning," Dermisis explains. "Right now, because we can't show something that is truly 3D during a class, students don't have the ability to look at a model and rotate it and check out the different perspectives. This innovative program aims to address that problem."
He was inspired by a professor's project at the Missouri University of Science and Technology called "MecMovies." These short animations display engineering concepts for students through the use of computer-generated models.
"These videos seemed to help my students understand some concepts. But the models are still 2D," says Dermisis. "You can get a better sense with 3D, though, so I thought we could take his concepts and bring it to the next level, which is an augmented reality."
Once he had a concrete idea of what the program might look like, Dermisis approached McNeese Professor of Art Martin Bee about combining the knowledge and expertise of the two departments. Bee enthusiastically agreed.
Bee has been working in graphic modeling since 1998. But, he says, this project offers the biggest potential of any modeling program he's been involved with.
"I think this is going to be a breakthrough," he says. "The models are going to be very precise and have some of the best physics in the world. Students will be able to see the models, spin them around and apply effects like water flow, the distortion from heat and more. They can adjust gravity to show stress or they can determine how much weight to put on the model before it would break."
Bee says this will allow students to see and experiment with concepts and effects that are potentially not replicable in the classroom due to size and weight limitations and can potentially eliminate or reduce the need for expensive lab equipment.
While the program is still in its beginning stages, Dermisis and Bee have about 10 animation models planned. Now, they've tasked their students from their respective departments with creating the models under their guidance.
"The engineering students will translate the science of engineering for visual arts students, who will then fabricate the models, providing real-world training for both," says Bee.
"I think that it's not augmented reality but rather augmented education," adds Bee. "The more opportunities we have to input into the students' minds, the better off they're going to be. So they're not just reading or watching what's put up on a board – they're getting more insight through this animation."
Both see wider ramifications through all education levels and hope this program will be expanded to reach disciplines beyond just engineering and graphic design at McNeese to truly become an "augmented" reality.
Want more stories like this one sent straight to your inbox every week? Sign up for our McNeese eNewsletter!
The Office of Marketing and Communications
4205 Ryan Street
Lake Charles, LA 70609
337-475-5640
communications@mcneese.edu