McNeese to Introduce Joli Blon Beer
September 19, 2018 | McNeese Public Relations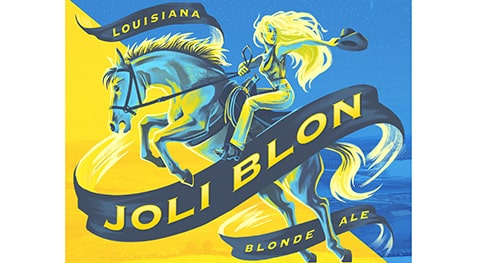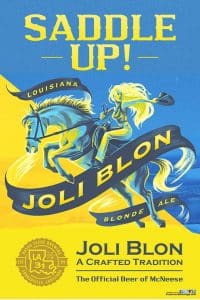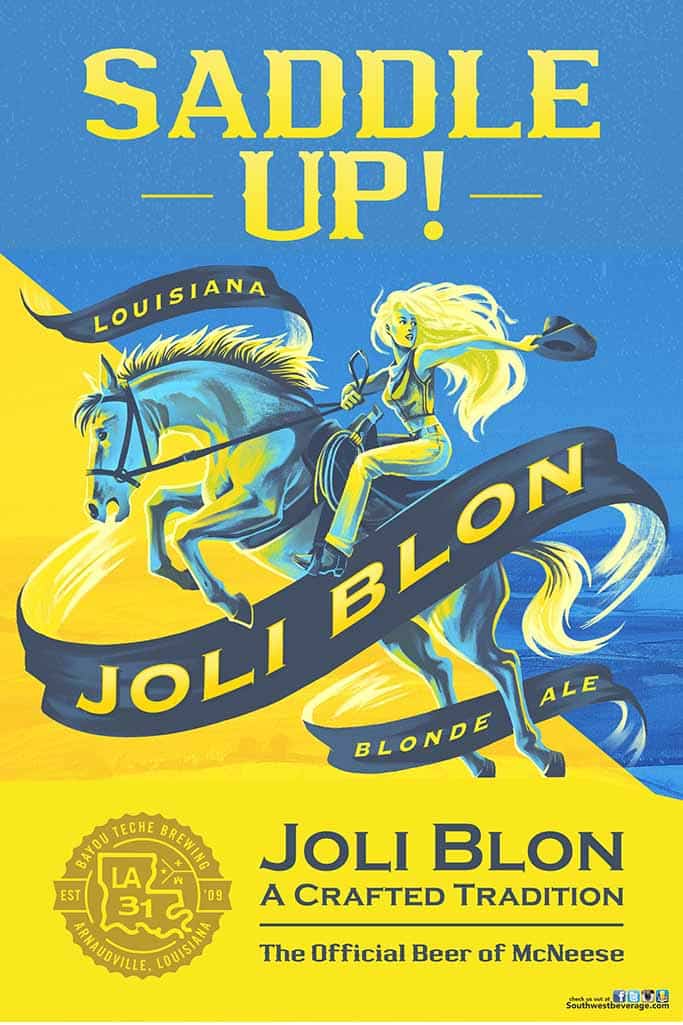 McNeese will soon introduce a popular tradition to restaurants and retailers throughout Louisiana with the launch of Joli Blon, the official McNeese beer.
"We are excited to partner with one of the most established and highly successful Louisiana craft breweries, Bayou Teche, to create this unique beer and to work with our wholesale partner, Southwest Beverage Company, to bring this spirit of McNeese to restaurants, pubs and retailers throughout Southwest Louisiana," said Candace Townsend, McNeese director of public relations and university events.
Joli Blon is the official McNeese song. It has been played at McNeese football games since 1951 and it became the university's official song in 1970. When McNeese scores, the marching band strikes up Joli Blon and fans clap and sway right and left ending with a thunderous round of applause.
Bayou Tech Brewery was established in 2009 by brothers Karlos, Byron and Dorsey Knott on the family farm in Arnaudville, and it produces more than 10 different handcrafted beers that are sold throughout Louisiana. Known for brewing beers that compliment and celebrate the cuisine and lifestyle in South Louisiana, the flagship beer, LA-31 Bière Pale, won a silver medal at the 2013 World Beer Championships.
"Blonde ale is not a style we've offered before," said Karlos Knott, company president, "so we are excited to offer this beautiful golden blonde ale brewed in small batches with fine quality malts and American hops."
Joli Blon is a modern take on a traditional blonde ale. "It's a thirst quencher for our hot Louisiana weather and it will pair well with our spicy cuisine," Knott said. "I can't tell you how excited we are to brew this beer and work with McNeese and Southwest Beverage to make Joli Blon Blonde Ale not just a local favorite, but a highly sought after craft beer throughout the region!"
Family owned and Lake Charles based for more than 60 years, Southwest Beverage Company has been a supporter of McNeese for more than two decades through McNeese Foundation academic scholarships, McNeese athletics, the Banners Arts and Cultural Series and Rouge et Blanc.
"Our company is very proud to partner with McNeese and Bayou Teche to bring the first official McNeese beer to the marketplace," said Ben Marriner, the third generation Marriner to serve as company president. "The name was a natural connection and it will remind McNeese fans everywhere of one of the most time-honored traditions of Cowboy football."
McNeese and partners Bayou Teche and Southwest Beverage will introduce Joli Blon to McNeese fans attending the first home football game on Sept. 15. It will be served at the Alumni-Petrochem tailgate party and sold in the premium seating in the End Zone Room and the Blue and Gold Room in the SkyRanch.
Initially offered only on tap, Southwest Beverage will begin distributing Joli Blon beer on Sept. 17 in restaurants and entertainment venues throughout Southwest Louisiana.
"Joli Blon is a quality craft beer that will become a favorite among the products we distribute," Marriner said.
The package product will be available within a month. "Then fans will be able to find Joli Blon on the shelves of their favorite retail stores," Townsend said.
Want more stories like this one sent straight to your inbox every week? Sign up for our McNeese eNewsletter!
The Office of Marketing and Communications
4205 Ryan Street
Lake Charles, LA 70609
337-475-5640
communications@mcneese.edu