McNeese Band Director Spearheads National Online Wind Symphony Performance
April 8, 2020 | McNeese Public Relations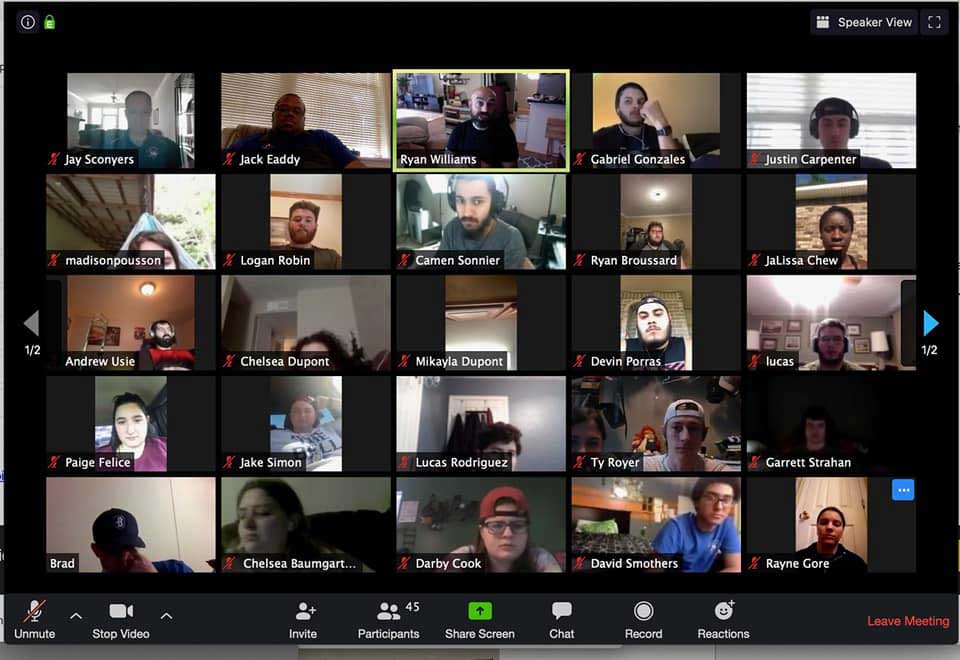 COVID-19 (coronavirus) may have forced the postponement of large concerts and ensembles at universities across the United States but that hasn't stopped McNeese State University director of bands Dr. Jay Sconyers, who is spearheading a virtual wind symphony event involving 21 university and college bands and five high school bands from across the nation.
"As schools around the nation started to move to an online format, it became apparent that we needed to create something new and innovative to bring music students together despite being separated," Sconyers says. "Ironically, the need for mandatory social distancing has led to this project, which brings together musicians from around the country that have never played together to make music as one giant ensemble."
The goal, Sconyers says, is for this virtual wind symphony to perform the first ever band work composed for a virtual setting. To achieve this, Sconyers commissioned composer Ryan Williams to create a special musical piece. Williams is currently pursuing his Doctor of Musical Arts degree in music composition at the University of South Carolina and works as a composer, arranger, performer, educator and consultant with professional and student musicians from high schools, colleges, drum corps and independent groups across the country.
On Tuesday, March 31, Williams met with Sconyers, McNeese assistant director of bands Dr. Jack Eaddy and members of the McNeese State Wind Symphony and the McNeese Symphonic Band via Zoom conference. Students had the opportunity to ask the composer about the compositional process, the construction of the work and recording procedures.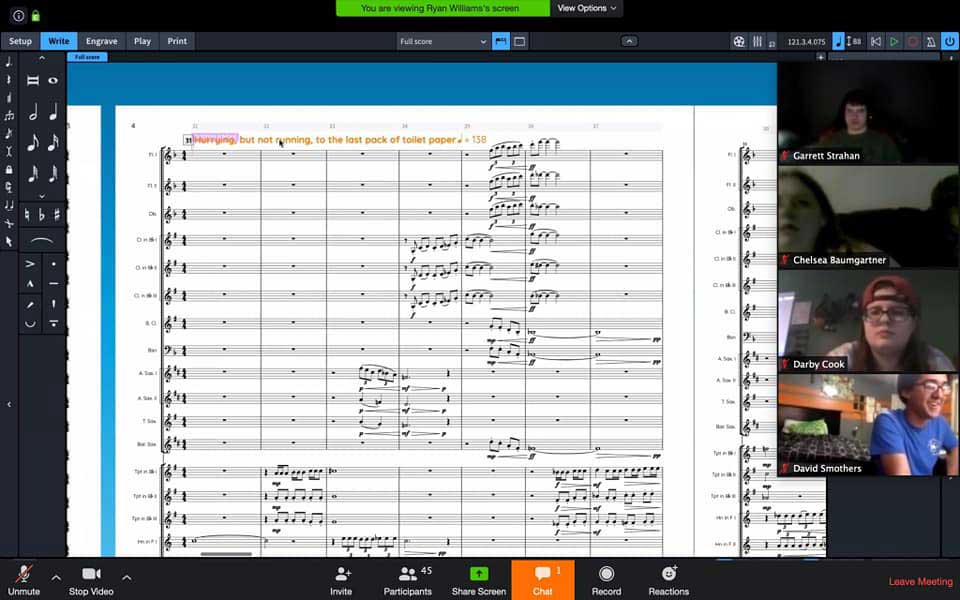 "I am always amazed at how hard these musicians work and the willingness with which they tackle adversity in order to get the job done, performing a piece of music by recording a solo video from wherever they call home," says Williams. "I have no doubt but to expect the highest of standards."
McNeese students, as well as the students at the collaborating universities, have already started learning the composition, called "Mandatory Social Distancing." The performance is set to premier on YouTube in May.
"I'm very proud of the tremendous effort Dr. Sconyers has made to ensure that our students remain engaged during this difficult period," says Dr. Lonny Benoit, head of the W.A. and Dorothy Hanna Department of Performing Arts. "I believe he is a fine example of why we are all proud of our talented McNeese faculty. I'm looking forward to the wonderful world premiere of the piece in the near future."
"This is an excellent example of our faculty changing lives through innovation and creativity," adds Dr. Mitchell Adrian, provost and vice president of academic affairs.
The schools and ensembles involved in the project are:
McNeese Wind Symphony
McNeese Symphonic Band
The University of Arizona, Tucson, Ariz.
University of Central Florida, Orlando, Fla.
University of South Alabama, Mobile, Ala.
Ohio University, Athens, Ohio
University of South Carolina Wind Ensemble, Columbia, S.C.
University of South Carolina Wind Symphony, Columbia, S.C.
University of South Carolina Concert Band, Columbia, S.C.
University of the Southern Caribbean, Port of Spain, Trinidad
University of Wisconsin – LaCrosse, LaCrosse, Wis.
Gonzaga University, Spokane, Wash.
Southeastern Louisiana University, Hammond, La.
Austin Peay State University, Clarksville, Tenn.
Gettysburg College, Gettysburg, Pa.
Tarleton State University, Stephenville, Texas
Mount Mercy University, Cedar Rapids, Iowa
University of Arkansas at Little Rock, Little Rock, Ark.
West Valley College, Saratoga, Calif.
University of West Florida, Pensacola, Fla.
Midland University, Fremont, Neb.
North Central Texas College, Gainesville, Texas
Los Angeles Valley College, Los Angeles, Calif.
California State University, Northridge, Northridge, Calif.
Providence High School, Charlotte, N.C.
Theodore Roosevelt High School, Kent, Ohio
Lumberton High School, Lumberton, Texas
Silsbee High School, Silsbee, Texas
Calvert Hall College High School, Baltimore, Md.
More on Williams, his music and this project can be found at www.ryanjwilliams.net/. For information on the McNeese Bands, visit www.mcneesebands.com/.
Want more stories like this one sent straight to your inbox every week? Sign up for our McNeese eNewsletter!
The Office of Marketing and Communications
4205 Ryan Street
Lake Charles, LA 70609
337-475-5640
communications@mcneese.edu