McNeese Theatre Returns with Two Upcoming Performances
April 1, 2021 | McNeese Public Relations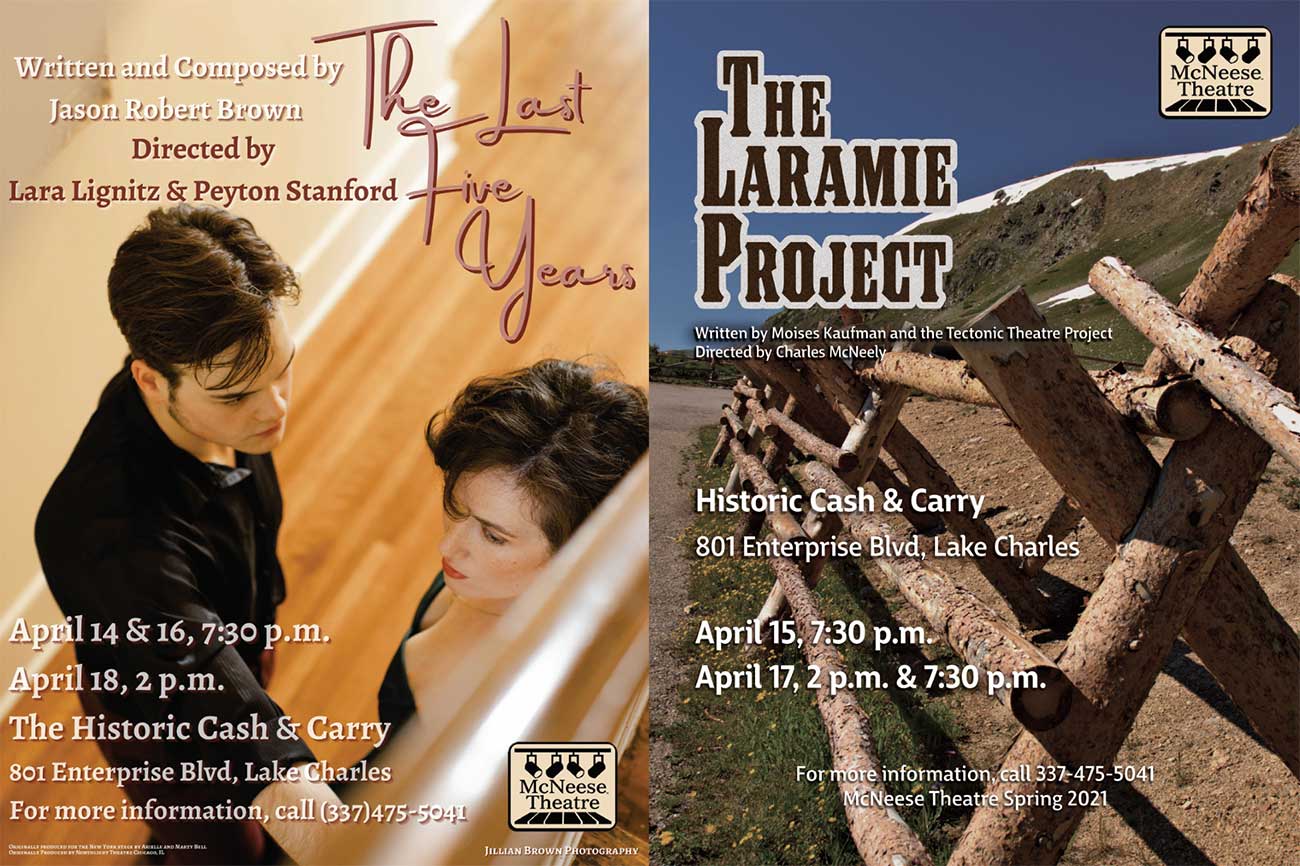 Theatre returns to McNeese State University this spring with special repertory performances of "The Laramie Project" on Thursday, April 15, at 7:30 p.m. and Saturday, April 17, at 2 p.m. and 7:30 p.m. and the musical, "The Last Five Years," on Wednesday, April 14, and Friday, April 16, at 7:30 p.m., and on Sunday, April 18, at 2 p.m.
All performances are open free to the public and will be held at the Lake Charles historic Cash & Carry Building at 801 Enterprise Blvd. Donations will be accepted.
Associate Professor of Theatre Arts Charles McNeely says that the two plays will be the first theatre productions in Lake Charles since the start of the COVID-19 pandemic.
"As for everyone, the last year has been a difficult one," says McNeely. "We were a week and a half away from production when the first shutdown happened. Then, in August, we were back in school for a week before Laura hit, which took out all of our plans for the fall. After a year of setbacks, we're extremely excited to bring live theatre back to the Lake Charles community. Both of these productions are extremely powerful and feature both former cast members and students who are taking the stage for the first time."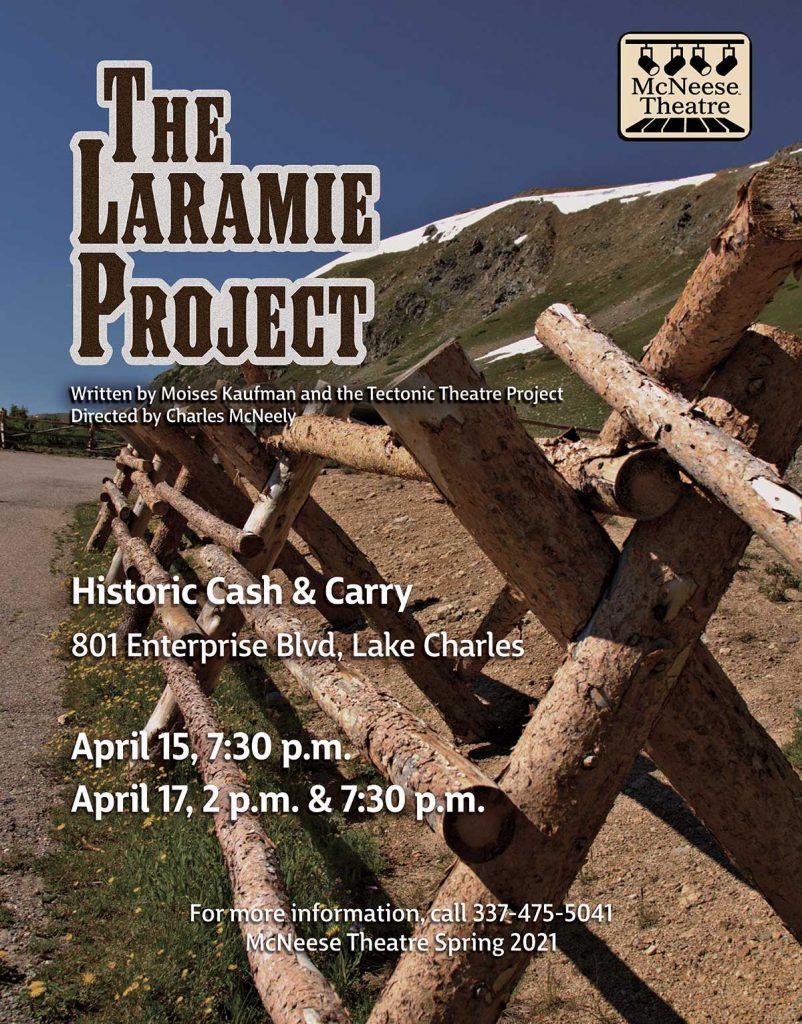 "The Laramie Project" tells the story of a community shaken by violence after Matthew Shepard, a gay University of Wyoming student, was brutally killed in Laramie, Wyoming, in 1998. Following the brutal crime, theatre director Moises Kaufman and the Tectonic Theatre Group traveled to the town to interview residents to learn how the murder had affected the community. "The Laramie Project" is a compilation of those interviews and its characters are the townspeople. With each actor playing multiple roles, the play seeks to explore the capacity in people and communities for hatred and compassion, prejudice and tolerance.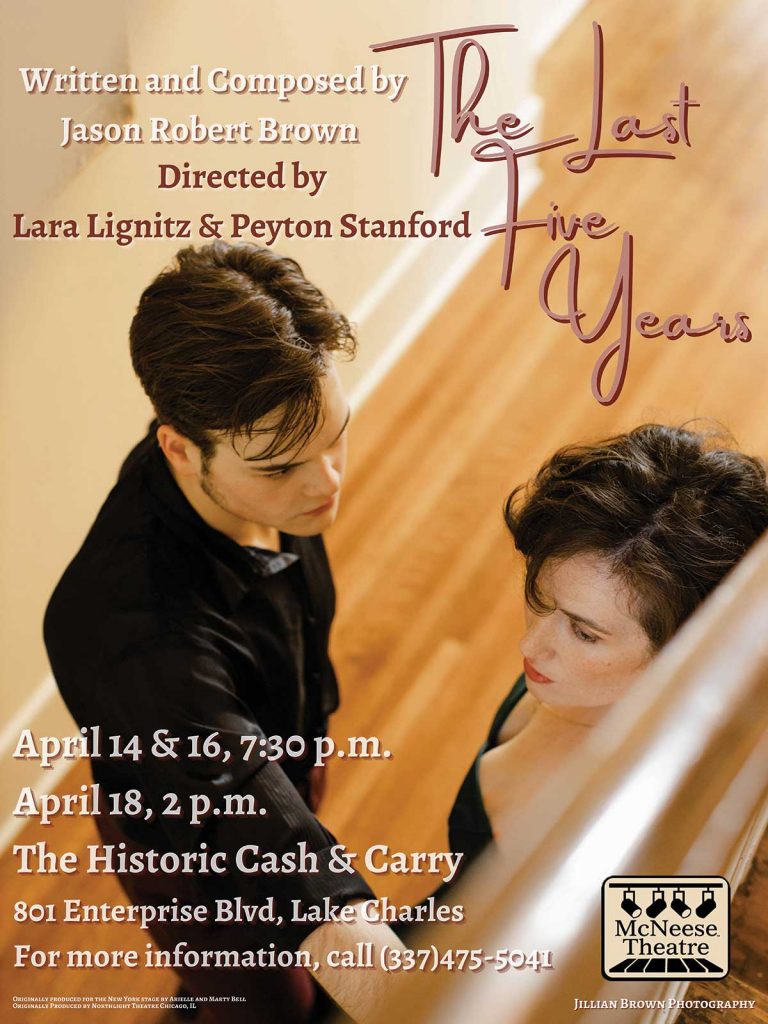 "The Last Five Years" is a musical that follows the five-year relationship of two characters, novelist Jamie Wellerstein and actress Cathy Hiatt, in conflicting chronological orders – Jamie's story is told from the couple's first meeting moving forward in time, while Cathy's story is told in reverse, staring from the end of the relationship, with the characters only truly "meeting" on their wedding day. With compelling songs and conflicting perspectives, "The Last Five Years" brings a unique perspective on how relationships face and struggle with the challenges of love, career, independence and commitment.
"Both of our theatres are currently still undergoing repairs, and the Empire of the Seed has been extremely generous in allowing us to use the historic Cash & Carry," McNeely says. "The amount of support we've received from the community, and from McNeese – from the W.A. and Dorothy Hanna Department of Performing Arts and from College of Liberal Arts Dean Michael Buckles, as well as from McNeese President Dr. Daryl Burckel – have been a blessing. We wouldn't have been able to do this alone.
"I'm so impressed with our students," he adds. "They have overcome so many obstacles and we couldn't be more proud of them."
"The Laramie Project" is directed by McNeely and stars Kassie Coltrin, Dylan Conley, Tyron Corpuz, Taylor Novak-Tyler, Anna Sternaman, Jennifer Tolbert, Carson Turgeon and Jeffrey Underwood as the people of Laramie and the members of the Tectonic Theatre Project.
The play's crew includes Paul Pharris as technical director/set and light designer, David Ifland as sound designer, Lara Lignitz and Peyton Stanford as costume designers and Kaleiah Fulgence and Kenzi Whitman as assistant stage managers.
"The Last Five Years," written by by Jason Robert Brown, is directed by Lignitz and Stanford, and stars Lignitz as "Cathy" and Stanford as "Jaime." Crew for the production includes Pharris as technical director/set and light designer, Emmie Gonsoulin as musical director/conductor, Tabitha Leger as assistant director/stage manager, Andrew Wang as collaborative pianist and Amber Garner and Raethen Accardo as assistant stage managers.
For more information, call 337-475-5040 or go online at www.mcneese.edu/performingartsboxoffice. Persons needing accommodations as provided by the Americans with Disabilities Act should contact the ADA Coordinator at 337-475-5428, voice; 337-475-5960, fax; 337-562-4227, TDD/TTY, hearing impaired; or by email at cdo@mcneese.edu.
Want more stories like this one sent straight to your inbox every week? Sign up for our McNeese eNewsletter!
The Office of Marketing and Communications
4205 Ryan Street
Lake Charles, LA 70609
337-475-5640
communications@mcneese.edu