June 9, 2021 | McNeese Public Relations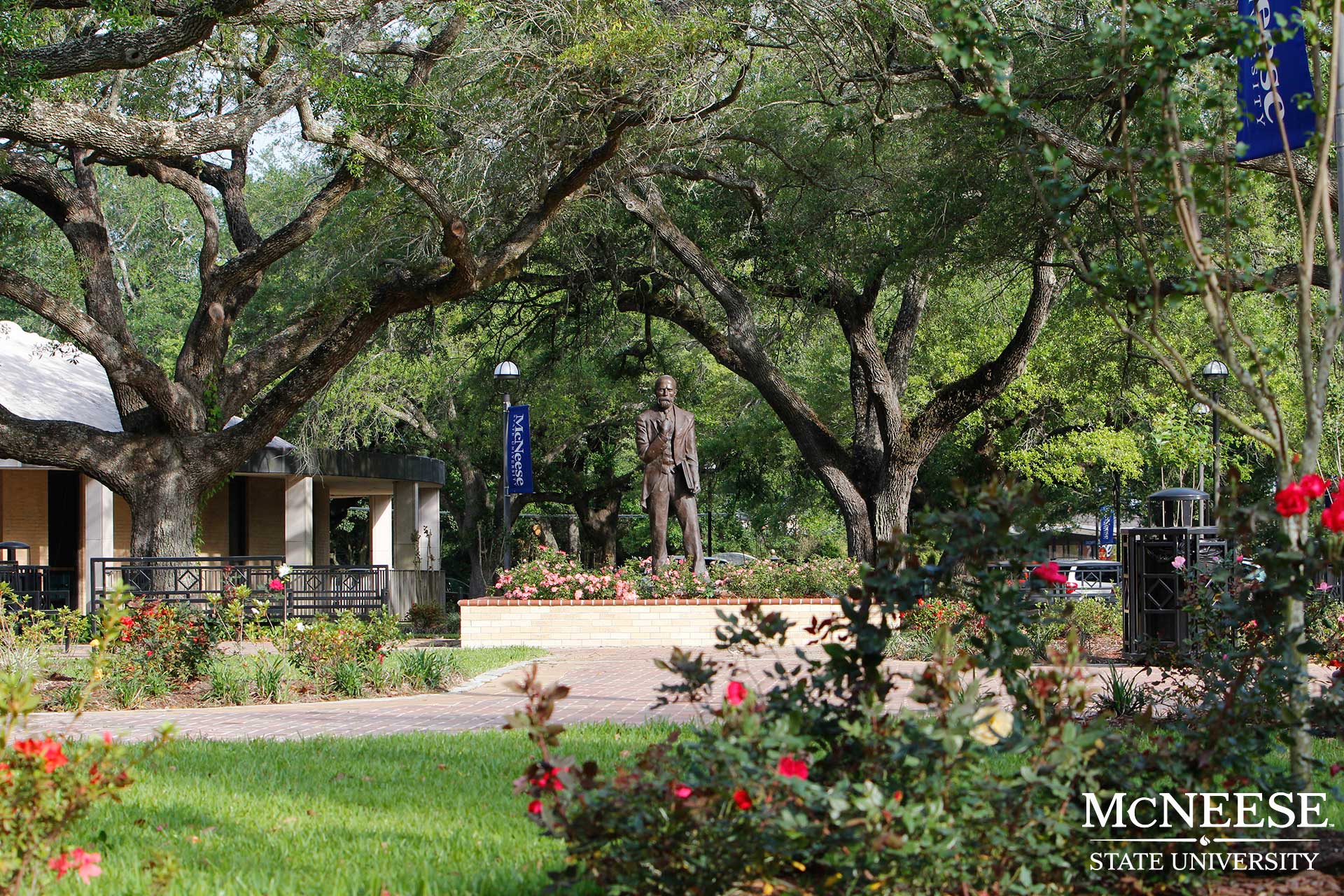 The McNeese State University Honor Roll for the 2021 spring semester has been announced. The honor roll lists undergraduate students earning at least a 3.0 or B average while carrying 12 or more semester hours.
            Honor Roll is as follows:
LOUISIANA CITIES
Abbeville: Myles Jacob Hutchinson, Braden R. Sellers, England Tallmore, Haley E. Zenon
Abita Springs: Lisa Strain
Alexandria: Jalissa D. Chew, Marquis Dontre Dangerfield, Brandy Humphries, Greere K. Koehler, Adele Marie Pouncey, Gabrielle Ruth Snow
Anacoco: Allison M. Chaney, Barrett J. Mann, Maci Kai Quayhagen, Karlie McKenna Robison
Arnaudville: Jillian K. Lemaire, Morgan Trahan
Baker: Terikka Nevels Walter
Baldwin: Naishaylyn A. Brown, Amy Marie Carpenter
Ball: Kaitlyn Nicole Brown
Basile: Harlie B. Denette, Sydney Kate Fontenot, Garrett C. Mcclelland, Ashley Paige Miller, Kylee Devon Walker
Baton Rouge: Heather Ann Faris, Ethan D. Franks, Stephanie Leigh Garcia, Megan Waller Langford, Alaina Turner
Bell City: Kallan Elise Conner, Janet Contreras, Karli Nicole Leger, Claire E. Leonards, Katie E. Mhire, Annaston Lorraine Picou, Logan Patrick Shaughnessy, Mattie Jean Sonnier
Benton: Kayla M. Cassidy, Kaitlyn Jeter Palombo
Bossier City: Ashley M. Morton
Branch: Shelbi R. Faul
Breaux Bridge: Janae M. Poirier, Bethany Michelle Thibodeaux
Broussard: Shawnia P. Davis
Bunkie: Nicholas T. Perry                  
Calhoun: Chad Layton Garnett, Blake Kidner, Autumn E. Williams
Cameron: Michael J. Boudreaux, Marley A. Thibodeaux, Ava Jordyn Trahan, Kortni M. Trahan
Carencro: Jordan Nicole Breaux, Jessica Gotch, Mckayla S. Lind, Angelle Denae Sion, Mallori A. Taylor
Chataignier: Bailey A. Johnson
Church Point: Hailey Jenee' Abshire, Caleb A. Boudreaux, Sydney M. Boudreaux, Waylon Bourgeois, Miranda D. Charlotte, Katlyn Marie Richard
Clinton: Amauria A. Matthews
Covington: Kobe K. Callahan
Creole: Karlee Ann Nunez
Crowley: Madeline E. Barbin, Alexis R. Bernard, Gentry J. Borill, Ashton G. Broussard, Trenasha J. Conley, Madeline C. Corley, Eulalie Marie Cormier, Keylie D. Cruse, Markel Jerome Domino, Emily E. Gotreaux, Brittany D. Lacroix, Austin Michael Lamm, Sydney F. Leblanc, Grace C. Leonards, Jessica N. Morrow, Zur'Najah S. Poullard, Gillian G. Roy, O'Dazio Markain Thomas, Brady L. Williams, Emily Louise Wilson
Cut Off: Elizabeth Renae Barron, Blaine A. Ougel
DeQuincy: Tanner Cade Bartholamew, Zane David Cooley, Logan Ray Copeland, Maci B. Davis, Michael Benjamin Fontenot, Nicholas P. Kelly, Cavin P. Leckelt, Carli J. Monceaux, Kaitlyn Leanne Perkins, Thad W. Segura, Blaise D. Smith, Claire Yvette Smith, Jordan C. Smith, Kristin Rose Streams, Tristin Denice Templet, Caitlyn Paige Thibodeaux, Gracie E. Whatley
DeRidder: Myia Amella Abdalla, Kailey Rae Bailey, Mary Elizabeth Bergen, Kailee R. Bishop, Tracey E. Blankenship, Emma M. Boyd, Jonah A. Brown, Kelsey N. Cooley, Kennedy Leigh Cooley, Alyesia Shelby Davis, Darby J. Day, Kristopher Paul Evans, Bailey Renee' Payne Greene, Victoria Marie Harris, Miranda R. Haugen, Alexia-Paige Hebert, Kimberly Ann Henley, Autumn Alexis Henson, Megan Elizabeth Hibbitts, Megan T. Jenkins, Camaren A. Johnson, Morghan P. Latour, Jared Leibee, Jackson W. Lewis, Serena Michelle Loftin, Johnathan Ryan Mason, Lauren T. Maxie, Maygen E. Mcmahon, Shelby L. Powell, Bryan Eric Redler, Destiny Nichole Reynolds, Emory Roberts, Carlos Alberto Rodriguez, Sarah N. Ruckert, Natalie N. Rush, Brianna K. Sinegal, Courtney A. Smith, Katie Ann Teegardin, Justice Slade Tilley, Ariel P. Wade, Briana Nicole Westmoreland, Nakayla M. White, Courtney Jane Wilber, Brianna D. Wright
Delhi: Leshenae Stubblefield
Denham Springs: Keyoka KeyShawn Carter, Kamryn L. Duncan, Lakin A. Fletcher, Emily J. Hernandez, Kelly Cazes Smith, Kelsey Couvillion Wheat
Destrehan: Sharon Welch    
Deville: Cristy Wernick
Duson: Megan Lauren Broussard, Ireland Daye Sloane
Egan: Lani A. Hanks, Cameron J. May, Kirsten E. Regan
Elizabeth: Jaslynn Rose Chamberlain, Audie E. Soileau, Natalie N. Welch
Elton: Amber Jade Estes, Emily Marjeanne Estes, Gabrielle Lynn Gobert, Brittney Celestine Shallow
Erath: Katelyn E. Blanchard, Morgan S. Lemaire
Estherwood: Brooke A. Comeaux, David H. Schmid                                                                                    
Eunice: Brooke A. Aguillard, Philippe M. Aguillard, Victoria A. Ardoin, Sarah Ann Bollich, Isaiah Evan Ceasar, Trevin S. Ceaser, Celeste Elizabeth Cormier, Kelby D. Duplechain, Abbigail R. Fontenot, Evan J. Fruge, Quinn Faustin Fruge, Madelyn Elizabeth Granger, Hillary Monet Reed Guillory, Melody Guillory, Allison C. Lafleur, Kadryn K. Lawyer, Addison E. Moreau, Deacon B. Richard, Isaac D. Richard, Alyson B. Rougeau, Amber Nicole Sanders, Lundyn G. Shreve, Sydnee A. Siebert, Hailey C. Thibodeaux, Kassidi Raye Thibodeaux, Shelby A. Veillon, Erica B. West, Lilly J. Zaunbrecher
Evangeline: Taylor Ann Fruge
Evans: Havn Rusty Egan
Fenton: Taylor Marie Dickens
Forest Hill: Margarita X. Cazares
Forked Island: Blair A. Hebert
Fort Polk: Kathryn A. Foley, Ineshka N. Mercadoramos
Franklin: Demya A. Hines
Franklinton: Jasper D. Lasalle
Galliano: Tanner N. Danos
Glenmora: Lauren E. White
Gonzales: Tristin Dubois Prince, Ciara E. Young
Grand Lake: Mallory Breann Dupuie, Tanner Dionne Olson, Kayla Mae Quibodeaux
Grant: Madison C. Guillory, Laynee K. Jinks, Madeline N. Stark
Gretna: Lenora L. Burton
Gueydan: Abigail L. Broussard, Gracie E. Broussard, Emily Claire Gaspard, Malori Dupree LaDelle, Hunter S. Lepretre, Madison P. Lepretre, Gabrielle Diana Virella
Hackberry: Savanna Yvonne Boudreaux, Chloe Elizabeth Granger, Drew James Kyle, Jeanne Marie Trahan, Bryce Paul Welch
Hammond: Desha Renee Hubbard
Harahan: Kayla Marie Capitano
Harrisonburg: Braden M. Hammons
Hathaway: Caleb D. Gary, Prudence Jacqueline Thibodeaux
Hayes: Joshua Scott Nelands
Hessmer: Jessica Juneau
Houma: Brice G. Chauvin, Danica Hoover Courteaux, Malory Tate Hopkins, Joseph L. Leboeuf, Rubie L. Valdivia
Iota: Steven Nelson Bertrand, Kobe R. Dardar, Kali Gatte, Cole J. LeJeune, Bailey W. Leonards, Levi G. Manuel, Abby Gail Miller Redlich, Anna C. Semar, Madison N. Smith, Hayden E. Young
Iowa: Andre J. Ange, Jennah Grace Baguex, Victoria G. Canter, Scotty Wayne Comeaux, Brant M. Courville, Koby Trent Delino, Ryan R. Denison, Isaiah Thomas Donald, Macyn Douget, Hope E. Duhon, Ashlynn J. Elliott, Christopher B. Fontenot, Hilliard Stephen Foreman, Kayla Elizabeth Foster, Jodi Kay Fruge, Kayleigh A. Fruge, Hilary J. Fuselier, Kylee F. Granger, Gavin Jeffery Grantham, Kaleigh R. Guillory, Madison M. Guillory, Candice Lee Johnson, Hannah Brooke Joseph, Andrew C. Kay, Brailee Nichole LaBove, Nicola Raquel Lavan, Austin P. Leger, Claudia Rose Merritt, Sadie Marie Prejean, Gabriel Aaron Ratcliff, Ashley Renee Blocker Rodrigue, Jacie Grace Sargent, Grant D. Simoneaux, Colby L. Trahan, Katie Renee Vincent, Kylie Marie Wilson, Joshua K. Wykoff, Linsie Paige Yocham
Jackson: Breona LeJean Gipson
Jeanerette: Anterrio Ja'vante Williams
Jefferson: Accord Green
Jennings: Kamryn M. Andrus, Gavin Heath Benoit, Mackenzie Brenner Benoit, Brock J. Bonin, Alexis M. Broussard, Lauren Brooke Broussard, Darisabel Charbonier, Jaci Rae Deaville, Shelby Rae Dronet, Hannah Elizabeth Dupuis, Devin B. Fontenot, Morgan C. Fontenot, Hannah L. Gates, Meagan Paige Guidry, Juliana Marie Guinn, Olivia R. Habetz, Sidney Brooke Haydel, Kane T. Hebert, Alexis P. Hornsby, Catherine Alaine Landry, Camryn Chaise Lopez, Kasey Layne Marceaux, Ryan M. Millet, Kali Nicole Morvant, Thmyra Gregglyn Pattum, Cade Paul Person, Caileb J. Richard, Benjamin David Rozas, Alexis L. Schexnayder, Lauryn L. Simmons, Benjamin P. Sonnier, Hannah E. Sonnier, Kevin Douglas Stracener, Layna Reagan Touchet, Carson Daniel Turgeon
Jonesboro: Jamus Ja'Waun Patterson
Kaplan: Alexis N. Bertrand, Emma C. Broussard, Grant A. Frick, Andre N. Gaspard, Francesca Alaina Harrington, Alexandra C. Herpin, Mallory M. Meaux, Kameryn M. Richard, Mackenzie E. Romero, Victoria E. Roussel
Kentwood: Natalie Dorene Johnson
Kinder: Avery L. Barron, Kiana A. Carroll, Edna Rose Cavenah, Britney R. Hebert, William T. Mayes, Amanda Leeann Porche, Tara St. Clair, Audrey G. Witherington, Madison Faith Young
Lacassine: Haley Paige Cooley, Jordyn M. Garriet, Hannah N. Kozelski, Cutter William Tonn, Kaleb A. Wright
Lafayette: Javia Jasiah Archelle, Shayla S. Benjamin, Sean-Michael Brady, Brooke Bryant, Dade E. Dieterich, Rani Nicole Duhon, Destiny R. George, Sherri L. Green, Morgan E. Guidroz, Maria Esther Ibanez Romero, Brittney C. Joseph, Tavis J. Killebrew, Luis Alejandro Marrero Norat, Luis Antonio Marrero Norat, Mary McKinney, India J. Mouton, Bernadette Juleeta Ndayizeye, Hunter C. Neumann, Meeyana D. Richard, Anna Joy Sternaman, Betsie Thibeaux, Nikayla A. Thomas, Ryan C. Vidrine, LaMonique Washington
Lake Arthur: Reagan E. Bourgeois, Harley C. Hall, Taya M. Hebert, Hannah Cecile Hensgens, Joycelyn C. Miller, Jenna Marie Savoy
Lake Charles: Angel Loriny Abbasi, Claire E. Adams, Lane Andrew Alaniz, Alexandra Elizabeth Albrecht, Jada Clarke Alexander, Ethan Wayne Anderson, Laura F. Anderson, Morgan L. Andrepont, Taylor Alexis Andrepont, Amber Ann Andrews, Kailyn Ashanti Andrews, Adriana N. Antoine, Kendra D'Jon Antoine, Alanna Rayjean Ardoin, Brett Christian Ardoin, Collin Joseph Ardoin, Mcklayne E. Ardoin, Addison M. Armand, Landon J. Arnold, Gabrielle R. Ashford, Gabrielle C. Auzenne, Chloee B. Babineaux, Izabella S. Baggette, Aurora Leigh Baker, AnaClare Sydney Barras, Andrew Michael Barras, Kaylee Madison Barrow, Claire B. Basone, Nathan M. Bauer, Tiffany N. Beck, Emma Alyce Bellon, Gracie B. Benoit, Luke W. Bentley, Shelbie D. Bergeaux, Kylie Danielle Bergeron, Christopher I. Bertram, Darby Rae Bertrand, Kirklyn M. Bethea, Amy Grace Biessenberger, Rolando Edra Bigalbal, Hailey Marie Blackwelder, Lydia Louise Blue, Caleb P. Boenig, Emily E. Bono, Katherine E. Booth, Marlee Michelle Boudreaux, Caroline Marina Boullion, Kaycee E. Bourque, Michael N. Bower, Ashley Claire Bowler, Chassity P. Bradford, Mekayla Ornell Branche, Odreonna P. Brankline, Nicholas A. Breaux, Sierra Antoinette Britton-Okwuokei, Allison Claire Brocato, Aaliyah Rachelle Brooks, Kenyetta Brooks, Anna Catherine Broussard, Ava G. Broussard, Collin M. Broussard, Dylan P. Broussard, Emily L. Broussard, Hannah L. Broussard, Chavaza D'Juan Brown, Hannah N. Brown, Kent M. Brown, Ian G. Bruce, Janann M. Bruns, Morgan D. Bruns, Mark Wesley Buller, Nicolas D. Burge, Matthew D. Burnham, Camille E. Bushnell, Angelica Cabrera Martinez, Matthew Roane Cagle, Anna Catherine Cameron, Michael Joseph Carmouche, Ethan Jude Carnahan, Laura Nicole Carroll, Michaela Alaynah Carroll, Colby Carter, Aaron D. Castete, Timothy S. Castle, Holden J. Cates, Alonzia Katelyn Catlon, Michaela E. Cavolaski, Kaitlyn Ruth Ceasar, Brittney Renee' Celestine, Hannah Faith Cena, Trevin James Ceril, Jennifer F. Champeau, Kameron D. Chandler, Breahnna N. Charles-Royster, Anna M. Chavanne, Julia K. Cheramie, Hester Lee Chesson, Kyla Michelle Clark, Maegan Mashelle Clark, Haylee M. Clophus, Andrew J. Coe, Gavin Kade Coffman, Sarah M. Coker, Kadijah Coleman, Shane Michael Colletta, Christopher David Colley, Katy Rae Colley, Alakyn Nehemiah Collins, Cortney N. Collins, Tyler A. Collins, Crystar Adra Mahogany Collins-Molitor, Brandon K. Comeaux, Jackson Conner, Darby N. Cook, ZIon Elise Cook, Ethan Cooley, Justin N. Cormier, Tyron P. Corpuz, Margaret Elizabeth Courtney, Danielle Shae Courville, Haley Jo Cox, Sara C. Crawford, Abigail Y. Criglow, Breanna R. Cross, Isabelle R. Cross, Keagon W. Croxdale, Ethan Matthew Cruze, William Cummings, Chance F. Daigle, Christa L. Daigle, Matthew S. Daigle, Tyla R. Daigle, Zachary W. Daigle, Madalyn G. Daley, Megan Daley, Claire R. Darbonne, Bryce J. Dartez, Emilea Kate Davis, Josie L. Davis, Kendrick S. Davis, Kaylie D. Delacerda, Deja D. Dellafosse, Alyssa Sheridan Derouen, Aubrey Rae Dillon, Caitlyn N. Dionne, Taya R. Dixon, Galaxy T. Do, Landry A. Donham, Amber Elizabeth Donovan, Camille N. Dorsey, John M. Downer, Michael Christopher Driskill, Camille H. Dugas, Alexandra Michelle Duhon, Michael A. Duncan, Alyssa Renee Duplechain, Sydney Alyce Duplechain, Madison S. Duplechin, Savanna A. Dupree, Bethany Lorraine Durham, Johnnie Wayne Dyer, Zachary Eisner, Justin C. Epperson, William D. Ertell, Cassidy A. Evans, Hailey Elizabeth Evans, Jaqualin T. Evans, Daxton E. Everage, Robert Matthew Everage, Alayna Jade Ewing, Kylee Alexandra Ezell, Mitchell J. Ezernack, Elisabeth L. Falgout, Maximilian Thomas Henry Ferguson, Nasir Fiaz, McKenna L. Fields, Clifton Blake Fisher, Jackson W. Flaherty, Tyrell Lamonta Flugence, Hayden T. Fogleman, Barbara J. Fontenot, Broc A. Fontenot, Brooke Renee Fontenot, Cameron G. Fontenot, Kaitlyn Bailey Fontenot, Logan J. Fontenot, Malerie Claire Fontenot, Zachary Reid Fontenot, Matthew J. Foreman, Alexa M. Fountain, Harwin Schwendy Francois, Alexia Frank, Ungel Renee Frank, Hannah M. Frazier, Shea Elisabeth Frensley, Bailey E. Fruge, Mallory B. Fruge, Sydney Claire Fruge, Lauryn A. Fulkerson, Cameron D. Fultz, Mason A. Funderburgh, Barbara J. Fuqua, Jada Rochelle Fuselier, Jakala J. Fuselier, Emily Denise Fusilier, Jonas Paul Fusilier, Heidi Michelle Gambrell, Savannah J. Garner, Travis Marcellus Garner, Alexander P. Garrido, Lauren P. Gayle, Caimen Blayne George, Baeleigh B. Gilson, Kyle T. Godeaux, Malcolm James Goodley, Isaiah Jerome Goodly, Amy Jo Goudeau, Eann K. Gover, Crysta Leigh Granger, Alyssa Denee Gray, Lisa Jeanne Grayson, Keelan J. Griffin, Jonathan T. Grigg, Mckenzie B. Grossi, Alyssa E. Grueber, Anna Marie Guidry, Emmy M. Guidry, Kyle P. Guidry, Jada D. Guillory, Logan A. Guillory, Paige M. Guillory, Peggy Elizabeth Guillory, Kelly E. Gustafson, Marci N. Hackler, Roger Lewis Haley, Madison P. Hamilton, Carly X. Hand, Trina Nichole Hansen, Allison Nicole Hardy, Jacqueline P. Hardy, Brandon Keith Hare, Haley M. Harless, Christopher Logan Hart, Gage Allen Hartman, Alexandra L. Hebert, Jackie Katelynn Hebert, Kayleigh L. Hebert, Marc Thomas Hebert, Noah J. Hebert, Ryan Michael Hebert, Lexie Ursula Heisser, Blaire L. Herr, Tyler Kristopher Hickingbottom, Matthew D. Higginbotham, Jana N. Hijazi, Kristopher C. Hill, Benjamin J. Hilliard, Nicholas R. Hilliard, Cameron Gideon Hinton, Jason Ho, Lauren E. Hoffpauir, Samantha J. Holland, Savannah Alene Hollen, Kaelyn R. Hollier, Elviney R. Holmes, John-David G. Houssiere, Anne Marie Hughes, Harold E. Iles, Farmina Islam, Camryn Nicole Istre, Kennedy L. Istre, Lauren D. Jackson, Noah E. Jackson, Joel D. Jacob, Amanda E. James, Austin R. James, Bryson Jardneaux, Emily J. Jarrell, Nathan P. Jimney, Alexia M. Johnson, Alyssa K. Johnson, Andie J. Johnson, Cullen Jude Johnson, Havana Marie Johnson, Jamie L. Johnson, Jared Lee Johnson, Peyton Bowen Johnson, Tamara Adila Ann Johnson, Tyler J. Johnson, Deanna Jones, Jaylan DeVaughn Jones, Justin M. Jones, Kayci Danyale Jones, Kennedy Claire Jones, Alyssa B. Jordan, Kaleb Marcus Joseph, Brennan S. January, Ameera M. Kattash, Aniese M. Kattash, Baleigh Grace Keating, Gabrielle Blythe Myers Keehnen, Jillian Keesee, Eileen Jeanie Kemink, William Gerald Kemink, Solasse D. Kennison, Carrie Rebecca Kibodeaux, Kevin Thomas Kinder, Alexander C. Kingsley, Bryce M. Kingsley, Arianna Kiritsis, Danika Nichole Kleven, Malora Beth Klumpp, Klair R. Kohnke, Sarah Elizabeth Kohrs, Madeline C. Kraus, Ana K. Kusters, Faith Elyse LaCour, Maggie Grace Lafargue, Hanna K. Lamendola, Aubrey N. Landreneau, Davia L. Landry, Hope Elizabeth Landry, Jesse C. Landry, Kaitlyn R. Langley, Jordan Elizabeth Latham, Richelle D. Lathan, William J. Latta, Brock M. Lavergne, Kylie Rose Lavergne, Annamarie Lawson, Vackham Le, Lorraine Adele LeBleu, Brandon Joseph LeCompte, Jorion D. LeGros, Courtney Layne LeJeune, Robi Marie LeJune, Luke H. Ledet, Evelyn Florence Lee, Sydney C. Leger, Brandon J. Legnion, Lila D. Legros, Cheyenne Leigh Leleaux, Jolie Nicole Lemelle, Austin T. Lewis, Kamri Renee' Lewis, Alexander Jordan Lilly, Kristen N. Lovell, Katie Gail Lovett, Christian T. Luciani, Tara L. Lynch, Grant S. Lyons, Emily C. Mack, Logan K. Mack, Riley C. Maggio, Crystal Elnetha Malbroux, Webb B. Mallett, Arie M. Malveaux, Dylan James Manuel, Ashley Marie Marcantel, Ethan Bryce Marcantel, Blake M. Marceaux, Gabrielle R. Marceaux, Lindsay Claire Marceaux, Maria A. Marceaux, Summer Rae Marin, Samuel Maddox Marrero, Ashley Janae Martin, Bryanah P. Martin, Jazmin N. Mason, Caleb B. Mathieu, Janna Christine Matthiesen, Caleb W. Mayo, Chandler D. Mayo, Devin L. McGee, Emily Mae McGee, Adam N. Mcbride, Peyton Kade Mccain, Timothy J. Meaux, Dylan Jay Meche, Olivia N. Meche, Cameron D. Meeks, Hayden Michael Melanson, Stephanie Alyse Menou, Aubrey Grace Mercer, Isabelle R. Metcalf, Madison E. Miller, Shayna Rae Miller, Sierra Dawn Miller, Julia Grace Mills, Deriesha L. Milton, Hasan Nisar Mir, Ryan C. Monk, Sarah Rae Moore, Michael B. Morales, Eden G. Moreno, Katelyn F. Morrell, Evann D. Morris, Jaydn Danielle Morvant, Kacie Diann Morvant, Madelyn C. Mouton, Madalyn Louise Mudd, Taylor Renae Murphy, Cameo R. Muth, Brandon P. Naquin, Brenon M. Nash, Reginald D. Nelson, Gavin Michael Nettles, Logan B. Nettles, Allyssa Rene Neubauer, Anh K. Nguyen, Anh N. Nguyen, Julie Trinh Nguyen, Lily L. Nguyen, Tia T. Nguyen, Trinh Thi Nguyen, Cameren M. Novak, Justin O'Quain, Cailin O'Reilly Oliver, Kylie M. Oliver, Caden C. Owens, Kiran E. Owens, Christopher D. Pace, Lauren E. Pace, Zachariah Sky Painter, Joseph W. Pajak, Emily P. Palombo, Grace Elizabeth Park, Kathryn V. Parmentier, Alexandra K. Parsons, Waniyah Lashae Patterson, Jocelyn Aileen Pena, Laken L. Pennick, Jeremiah K. Perkins, McKenlie Nicole Perry, Hannah Nikol Pete, Hailie R. Pettefer, Emily E. Phenice, Michelle Lee Phillips, Emma NeCole Picard, Konnor Aaron Pittman, Nicholas G. Polkey, Emily Mae Poole, Thomas A. Post, Kennedy L. Pousson, Jasmine M. Powers, Annabelle R. Pugh, Sophie Anne Qui, Cody Cornelius Quinn, Jordin Kae Quinn, Chloe M. Ramcourt, Shelly F. Reddin, Cameron Patrick Reed, Jacob C. Reeves, Rebecca L. Reeves, Viola Summer Reeves, Eric D. Rene, Abdalla F. Reynaud, Jacob A. Rhodes, Sara J. Richard, Sarah C. Richard, Brittany Rochelle Richards-Pete, Emily Alexia Ritter, Lucia Alexandra Riviere, Linsey Aileen Roach, Annabeth G. Robideaux, Michael H. Robinson, Heather Dagain Rogers, Nicole Lynn Romero, Makenzie Brooke Roofner, Lindsay Marie Russell, Julia J. Saloom, Alexia M. Savant, Jessica Diane Tucker Savant, Emily C. Savario, Carson M. Savoie, Zoe E. Schenimann, Madison R. Seaward, Trent Michael Self, Clophus Joseph Semien, Isabel R. Shamsie, Dhruv Sharma, Audreana Silva, Kendall James Simien, Alyna M. Smith, Alysia Paige Smith, Bailey Maria Smith, James N. Smith, Jillian N. Smith, William C. Smith, Alexander K. Snell, Asef Sobhan, Bethany A. Soileau, Katlin B. Soileau, Ally Nicole Sonnier, Emily Katherine Sonnier, Tabitha D. Sonnier, Brandon James Speer, Haleigh Jade Spell, Malaija Nichelle Spikes, Andrea Danielle Stevison, Emily Morgan Stillwell, Brayden T. Stockman, Alissa Lee Stout, Fallon N. Strahan, Garrett D. Strahan, Tayler L. Strother, Rachelle Denise Lovejoy Strouse, Saniah J. Sullen, Nina Raquel Summers, Christian J. Sutterfield, Nabila Hannah Syed, Christian Heath Tabor, Marwan Khalid Taha, Abby Tarver, Emily D. Tassin, Zachary Paul Tassin, Kali G. Tate, Mary Claire Tete, Alexine Yevette Tezeno, Madison Renee Theriot, Maggie Elizabeth Theriot, Kourtni Faith Thibodeaux, Collin J. Thomas, Karlee Elizabeth Thomas, Jennifer M. Tolbert, Vonetta Michelle Toussaint, Emma Catherine Trahan, Joseph Seth Trahan, Richard C. Truong, Grifin C. Turner, William C. Upshaw, Brice Chandler Valentine, Bradley J. Verberne, Brooke Elise Veronie, Bridgett Marie Verret, Nicholas D. Veuleman, Meagan E. Vezinot, Kellee D. Viator, Tori N. Viator, Douglas Joseph Vincent, Heather Denise Moore Vincent, Joseph R. Vincent, Darrius Z. Wallace, Deseree L. Wallace, Bilal Wardariya, Jeriah P. Warren, Benjamin Gauge Welch, Jon L. Welch, Jonathon Garrett Whitson, Brandon K. Whittington, Anastasia Brianne Guidry Williams, Avery Joseph Williams, Bonni M. Williams, Haley M. Williamson, Alyssa Lane Willis, Cameron D. Willis, Alaina Annette Wilson, Chanda Vanessa Withers, Ashley Faith Wright, Mckenzie L. Wyninger, Kyon Xiao, Hannah Nicole Young, Katie N. Young, Samuel Edouard Zahm, Claire E. Zaunbrecher, Charley C. Zeno
LaPlace: Macie Nicole Reine
Leesville: Alexis Lyn Barton, Gordon B. Boone, Haylee J. Brinlee, Andrew R. Croker, Cadence Ross Ledet, April Lynn Kennedy Magee, Cory Beauchea McCoy, Nellie Esther Miller, Katelyn N. Shapkoff, Brooklynn Grace Sumner, Jason Lee Vanleuven
Leonville: John Quentin Julien, Thalia F. Mayon
Livonia: Cyrah L. Parker
Lockport: Camille Marie Dufrene
Longville: Katelyn Nicole Ahearn, Trinity Paige Anderson, Nicholas A. Bell, Ariel Diana Bennett, Carson O. Caraway, Canlin P. Dionne, Montana James Faulk, Grant Jackson Gregory, Brady James Jacobsen, Trudy Lynn James, Kaylan Michelle Landreneau, Callie Shea Tims, Israel Seth Whalley, Kathryn Enite Williams
Loreauville: Rory A. Ronsonet   
Lyons Point: Payton A. Champagne
Mamou: Caleb C. Aguillard, Hannah L. Beene, Abigail E. Fuselier, Maria M. Lahaye, Kendralyn B. Lavergne, Claudia M. Miller, Remey Jude Parrott, Seth Andrew Rider                                                            
Mandeville: Elizabeth F. Kenley, Lexie M. Smith, Elizabeth Mary Ulfers, Kaley I. Wintz
Mansfield: Takia Samone Walker
Maurepas: Kameron J. Aime
Maurice: Julia K. Albert, Samantha Montet, Autumn S. Romero
Mermentau: Joshua Cade Lessigne, Megan R. Martin
Merryville: Bianca R. Barnes, Gabrielle J. Barnes, Brett Patrick Bell, Matthew Charles Taylor, Dawson R. Wallace
Midland: Zack M. Breaux
Minden: Tamerion L. Phenix
Mittie: Natalie R. Stracener
Monroe: Yatierra Z. Brown, E'karia L. Hollis, Serenity Lashae Lee-Perkins, Tahjmalik A. Samuel
Monterey: Sarah Wiley Duncan
Morse: Alana C. Vincent
Moss Bluff: Paige N. Andras, Zachary B. Fontenot, Colby Adam Quave, Abigail K. Ralston, Correin R. Scott
Napoleonville: Emme Elizabeth Traigle
New Iberia: Geraldlyn Broussard, Aliana M. Henry, Tranae LaChelle Marks, Saige K. Mestayer, Heather Renee Moreaux, Geomiya K. Obey, Aniyah D. Phillips, Kaysha K. Pradia, Kenzi L. Whitman
New Orleans: Nolan C. Heitmeier, Michelle S. Moltz, Tyler A. Toliver
Oakdale: Sadee Marie Chamberlain, Ashton B. Gilley, Hunter J. Longino, Brooklyn A. Noblitt, Mckenzi D. Richmond, Daniel Dominick Rodriguez, Gabriel A. Rodriguez, Morgan Alicia Smith, Lauren Catherine Soileau, Brennon W. Taylor, Benjamin F. Thornhill
Oberlin: Morgan Reillie Dodd, Cortnee L. Gallow, Madison Grace Meaux, Lakyn Nicole Thomas, Jasmine L. Victorian, Jordan L. Warren, Taylor E. Young
Opelousas: Kiara Desmonik Brown, Chyna M. Evans, Delacia A. Gant, Arial J. Lemelle, Breanna A. Newell, Dominique Duvon Washington
Paulina: Ravin N. Louque
Pitkin: Nathan S. Butts, Jordyn Cross, Kaleb L. Davis, Griffan E. Paul
Plaquemine: Brittany S. Arnold
Plaucheville: Mandy Lynn Guillory, Alex J. McCaleb
Pollock: Austin C. Futrell 
Ponchatoula: Jodi M. Lewis    
Port Allen: Xavier Davis
Prairieville: Joshua Matthews, Blake M. Nunez, Elizabeth Nicole Sam
Raceland: Alyssa Nicole Labit
Ragley: Samantha M. Boudreaux, Kodie Elaine Burch, Alexander Heath Cormier, Sara N. Dubose, Kaley E. Frith, William M. Hillebrandt, Alyssa M. Hollier, Tiffany Danielle Lacy, Cody Paul Lafleur, Emily C. Leubner, Holly Marie Louviere, Abigail Louise Marcantel, Marissa Alyce Jinks Miller, Sadie B. Perkins, Savanah F. Savell, Cade Joseph Sharpton, Alexander C. Single, Abigail Lea Stanfield, Hunter Gavyn Toney, Kaylee N. Wright
Rayne: Ethan S. Alleman, Ethan P. Comeaux, Lanisha R. Francis, Marcella Gossen, Leeann B. Gray, Brooke A. Guthrie, Trenton Latiolais, Meghan R. Matlock, Gabriel M. Menard, Sydney K. Menard, Caitlyn Clair Peltier, Krysten L. Theunissen, Walton J. Thibodeaux, Trent K. Winbush
Reeves: Kelly Shyan Cutting
Roanoke: Hannah Elizabeth Esthay
Roseland: Torlexia Cherez Williams
Rosepine: Megan S. Cates, Kalyn B. Willis
Scott: Abigail M. Brinkman, Delana D. Kelly, Alona R. Tolliver
Shreveport: Malachi E. Billingsley, Domenica R. Kary
Singer: Sarah Jean Betts, Roy Chester Champagne, Neal R. Jordan, Alyssa Nicole Mitchell, Faith E. Richard
Slidell: Victoria P. Barron, Austin B. Bonnaffons, Hallie Nicole Faciane, Amanda M. Kittel, Jonathan T. Lott, Michael P. Mills, Alexis M. Pipkin
St. James: Jacob R. Matirne
St. Martinville: Brennen S. Bourliea, Lucah A. Broussard, Candace N. Guilbeau, Logan R. Willis
Starks: Benjamin Joseph Gaillard, Madisyn Demi Swain, Samuel Alexander Williams
Sulphur: Molly Irene Adams, Karey E. Alexander, Zachary R. Allain, Kelsea Lynn Allen, Lacey D. Andrus, Tylee Blair Arabie, Jillian Rose Arnold, Jamie Lynn Authement, Tristan Gage Baggett, Elise Morgan Benoit, Cameron P. Bertrand, Blythe Marie Bolton, Alexis D. Bostick, Lexi E. Bourgeois, Madison A. Bourgeois, Katelyn Marie Bragg, Kelsey A. Breaux, Pierce M. Breaux, Benjamin L. Broussard, Brandon D. Broussard, Cameron E. Broussard, Olivia C. Broussard, Makenzi Bryant, Raigen Annyston Bryant, Lydia A. Burleson, Krystian Ray Burum, Jaeb R. Byrd, Cason Matthew Caldwell, Katelyn Lee Carras, Maitte Castillo, Leighton K. Chamblee, Payton N. Comeaux, Christina Marie Cryer, Alyssa Faith Darbonne, Jacob David Darbonne, Michael S. Davidson, Abbie Nicole DeCoursey, Shelby M. Deaton, Lindsey Beech Del Bosque, Denee R. Delcambre, Lydia I. Delcambre, Laiken D. Demary, Bryce T. Dickinson, William Chad Dion, Allie L. Domingue, Alanna Paige Doss, Anna Claire Elise Dowers, Blaine Ryan Drost, Dillon Thomas Duplechan, Haylee C. Dupree, Abigail E. Ellender, Colin Andrew Ezernack, Heather Rose Foreman, Elizabeth Claire Forman, Claire L. Foster, Jessica A. Freeman, McClain Alexandra Frey, Anastasia Nicole Fritzinger, Varvara G. Fritzinger, Abigail Marie Fruge, Gabrielle Leigh Garner, Blake Evan Garrison, Brianda Rubi Gill, Damien A. Gillard, Holly Nicole Gillard, Julian J. Gonzales, John Batt Gregory, Hannah Marie Griffith, Ashlyn Grace Gros, Ashleigh Elizabeth Guidry, Angela Gail Hoffpauir Guillory, Ileana Gutierrez, Nancy Carol Hales, Omar M. Hatch, Brandie Carlton Hayden, Brandon Lee Hayden, Breanna Ann Hayden, Cassidy Rain Hayes, Jenna C. Henry, Hollis Gabrielle Hernandez, Emily Claire Higginbotham, Cydney Rae Hillard, Aleah M. Hilton, Haylie Eshel Hoffpauir, Randall Wade Istre, Kailee Quinn Johnston, Baylee Elizabeth Jordan, Kashia Jonea Kelly, Jordyn P. Knighton, Katelyn Belle Kohlenberg, Jacob David LaFleur, Mia C. Labove, Gabriel T. Lanier, Cameron Zane LeJeune, Jace Charles Leblanc, Joshua Wade Ledoux, Abby G. Lobue, Taylor Joelle Lobue, Jeanalee K. Martin, Mia Ysabel Martin, Kallie Paige McBride, Kristina Marie McCaskill, Jada Nicole McCoy, Claire Nicole McMillen, Sarah E. Medwick, Erin N. Meek, Christian Scott Menkveld, Dianne Nicole Pettefer Mere, Abigail Anne Miller, Anne Marie Miller, Madison Rain Miller, Sarah Nicole Miller, Heather Danielle Misse, Nicole Lynn Monceaux, Payton Nicole Moreaux, Erin Catherine Moss, Aidan Matthew Myers, Kobe Matthew Nevills, Courtney Rickert Nevils, Stephanie P. O'Blanc, Sydney K. O'Blanc, Brennan S. Peloquin, Jessica N. Percle, Abbigail J. Perkins, Kamden E. Perkins, Jillian Catherine Peterson, Ian G. Porter, Abbagail Grace Portie, Madison D. Qualls, Austyn G. Quintela, Kelseigh Brooke Ramirez, Ethan Alexander Rapp, Kira Paige Richard, Megan C. Robertson, Mary Elizabeth Rollins, Jacob H. Salvador, Ryder L. Sanford, Michaela Kay Sawyer, Keileigh L. Schoeffler, Jade Mychel Lewis Schultz, Alisah Grace Sexton, Andrew Sheridan, Karin Christine Shinn, Makenzie Brooke Simon, J'cobi Skinner, Danni K. Smith, Noah Paul Sonnier, Madelynn Anice Renee Speights, Olivia Kay Stark, Kenner Strother, Nicole L. Taylor, Bethany Marie Thibodeaux, Rudharveer Singh Thind, Tanner Austin Trahan, Trinity Faith Trahan, Baylee Denae Treme, Travor L. Turner, Tabitha Nicole Tyler, Allison B. Vincent, Sydney Patrice Weidner, Vynessie L. Wilburn, Anna C. Williams, Mandi Lynn Winkelman, Madison Wyatt
Sunset: Kathryn Payten Gumfory, Peter T. Sheppard
Thibodaux: Kenyori Keeshon Jackson, Kayla Elizabeth Movant
Vidalia: Nathan C. Nations, Zachary A. Nelson
Ville Platte: Kasey Jean Lafleur Aguillard, Za'Kayrah A. Bellard, Camille E. Bergeron, Kathryn M. Bergeron, Logan G. Blood, Emily K. Bordelon, Lillian I. Bourque, Meredith M. Brou, Hayle C. Castille, Bethany S. Fontenot, Camille J. Fontenot, Laura B. Fontenot, Madelie A. Fontenot, Victoria L. Fontenot, Cade M. Foret, Madison A. Hernandez, Olivia B. Hernandez, Emma M. Hollier, Antoinette R. Joseph, Andie M. Landry, Aidan L. Lejeune, Cade M. Manuel, Morgan D. McDaniel, Alexandra L. Perron, Brianna M. Pete, Bradley J. Reed, Caroline G. Reed, Jacob Michael Soileau, Kailey B. Soileau, Tristan P. Soileau, Lacey A. Thomas, Anna G. Tuminaro, Evan J. Veillon, Averie L. Vidrine, Wesley P. Vidrine
Vinton: Mohamed Liaquath Ali Khan, Kylie T. Braquet, Bailey B. Bujard, Jacie Brooke Crador, Ali Kay Davis, Laurel M. Gaebel, Javeon Onri Gans, Drake Anthony Guidry, Hunter Andrew Guidry, Brooke Alyssa Habetz, Faith E. Hoffpauir, Jacob Conner McCaughey, Kayden Blake McFarlain, Kaitlyn M. Pickett, Caitlin Michelle Rogers, Cale Norman Stine, Jacye M. Trahan, Nathaniel William Willett
Waggaman: Blake Wyatt Truss        
Walker: Victoria Ashleigh Priest, Ashley Alyssa Schenk
Washington: Alec J. Gotro, Drew M. Latour, Garrett J. Manuel, Tyler J. Mire
Welsh: Hallie K. Ardoin, Paden A. Augustine, Daphne H. Boudreaux, Ryan A. Broussard, Garren Michael Hebert, Ranna R. Hebert, Ragan A. Hill, Kaitlyn R. Iguess, Emie Claire Johnson, Jacie A. Johnson, Skyler Lane Johnson, Gracie A. Leger, Lindsey P. Lejeune, Kennedy A. Mallett, Caroline R. Matte, Sherry C. Richard, Dominic Marcus Alexander Slover-Prudhomme, Trenton Kade Soileau, Peyton Zane Stanford
West Monroe: Morgan Colvin                                                                                                  
Westlake: Zane J. Andrus, Jaina R. Ange, Mark E. Ashworth, Bayleigh V. Ball, Sarah Marie Bengston, Maci L. Duhon, Reese Michelle Edwards, Ben M. Ellender, Leah G. Ellender, Matthew A. Fast, Amber Renee Higginbotham Foreman, Luke H. Gaskin, Laci N. Glover, Layne Kyle Glover, Kalley Marie Habetz, Julia C. Istre, Desiree' C. Jackson, Jena D. Johnson, Jasmine J. Jones, Shaknocka Lewis, Tiffanie April Noelle Matteson, Stephen W. McConathy, Emily Anne McGuire, Brennan C. Meyer, Brooke E. Meyer, Connor W. Moyer, Carley L. Parker, Lexi R. Peck, Regan Marie Rhodes, Graham J. Rougeou, Roishetta Stansha Sibley, Michael Andrew Speeg, Breah D. Tansley, William A. Underwood
White Castle: Ronnisha J. Jackson
Winnfield: Carly Nicole Parker, Tyron D. Slack   
STATES                                                                                                                                                      
Alabama                                                                                                                                                                                                
Florence: Brianna L. Johnson                                        
Arizona                                                                                                                                                                                                 
Surprise: Rachel E. Young
Yuma: Ricardo Munoz Ahumada
Armed Forces Americas
DPO: Kaylee J. Smith
California                                                                                                                                                                                             
Bellflower: Megan E. Mielke
El Dorado Hills: Alexis Brooke Miller
Mission Viejo: Carly M. Passaglia
Redding: Jenna Victoria Bosetti                                                                   
Riverside: Isaiah M. Windsor
Colorado                                                                                                                                                                                                
Arvada: Megan E. Mally
Connecticut                                                                                                                                                                                             
Norwich: Amanda C. Lehn
Delaware                                                                                                                                                                                                
Townsend: Morgan Renee Meekins
Florida                                                                                                                                                                                                 
Miramar: Enos L. Lewis
St. Augustine: Morgan Marin Schooley
Tarpon Springs: Emma Rose Hollenback
Vero Beach: Donald Wayne Meadows
Georgia                                                                                                                                                                                                 
McDonough: Christopher Torez Joyce
Idaho                                                                                                                                                                                                   
Coeur D' Alene: Alexis Webster
Indiana                                                                                                                                                                                                 
West Lafayette: Karissa Mae Illingworth
Kansas
Overland Park: Kolbi Savannah Gonzales
Wichita: Jacob E. Abel
Kentucky                                                                                                                                                                                                
Irvine: Caitlin Curtis McQueen
Union: Kayla A. Harrison
Mississippi                                                                                                                                                                                            
Brandon: Mark Kyle Chandler
Gulfport: Whitney Johnson
Natchez: Chandler C. Mccann
Nebraska                                                                                                                                                                                                
Lincoln: Severyn Foster
Scottsbluff: Andru Joseph Kuxhausen
Oklahoma
Tulsa: Earenest J. Grayson                                                                                   
South Carolina
Columbia: Lori Nicole Ned
Tennessee
Martin: Ashlyn C. Keasler
Texas
Allen: Kinnady River Hawkins
Alvin: Nathan L. Collins
Arlington: Mason E. Kinsey
Athens: Hayden Shaddox
Baytown: Priscilla Janelle Ibarra
Beaumont: Lauren Janae Cox
Bridge City: Lauren Lynae Darby
Cedar Hill: Leon D. Young
Cibolo: Nicholas A. Holiday
College Station: Jordan J. Yeatts
Conroe: Uriah C. Blackmon, Cristen Faith Perera
Cypress: Hayley E. Halliday, Daniel Stephen Hines, Ashley F. Thibodeaux
Dallas: Gabriel Vasquez                                                                                                                   
Dayton: Garrett R. Perkins, Jailyn B. Semien
Frisco: Keilee Addison Guinn
Garland: Calvin M. Barkat
Garwood: Macee A. Krpec
Hamshire: Madison E. Novak
Harlingen: Devin Andrew Porras
Hitchcock: Skyler Nycole Thorne-Chambers                                                                             
Houston: Jaylin Alexis Aguirre, Paigelyn A. Carter, Destiny Johnson, Ivana M. Jones, Avery Elizabeth Kelly, Darius K. Shields, Hung Tran, Kayla Alexis Warner
Humble: Kyllon L. Harmon, Grace E. Smith
Huntsville: Isabel L. Huntsman
Hutto: Macy Suzanne McRight
Katy: Micah R. Chevannes, William C. Devany, Caroline Harper Mally, Alexa M. Schmid, Christian C. Vega, Trent V. Vondenstein, Trey Joseph Vondenstein
Kingwood: Amanda Sue Squyres
Kirbyville: James H. Burchett, Harley B. Jackson
League City: Sarah Gutierrez
Longview: Victoria Danyell Pierson
Lumberton: Ethan M. Petix
Magnolia: Zachery Diaz
Manvel: Amanda Nicole Johnson, Karis Gabrielle Johnson
McAllen: Cody D. Quinn
Mesquite: Elizabeth Critton
Missouri City: Collin J. Warren
Montgomery: Kyle Herridge, Dylan M. Villarrubia
Navasota: Ronnie Elmer Ray Jackson
Nederland: Emma Kathryn Roccaforte
Nevada: Keely Reagan Morrow
New Waverly: Ashley R. Vallejo
Orange: Katie L. Arabie, Meg Lauren Clark, Kennedy E. Franklin, Leah M. Lagrange, Zoe M. Levens
Plano: Mariah Skylyn Ruelas
Port Arthur: Bey'Ounce S. Banks
Port Neches: Gabrielle Nicole Falgout, Dianna Pham
Richmond: Camryn A. Pletka, Delilah J. Van Campen
Rosenberg: Mikayla D. Wright
San Marcos: Garrett Lee Dietert
Santa Fe: Haylie Michelle Ruhl                                                                                                                            
Silsbee: Daniella Renee-Glenn Nash
Spicewood: Kaleb Wenson
Spring: Tia L. Andrews, Auston Layne Barnes, Chloe I. Gomez, Mary K. Marcantel
Spring Branch: Matthew J. Madrey
Sugar Land: Ty Abraham
The Colony: Ravenn Simone Worthen
The Woodlands: Madison Lynne Doise
Vidor: Raethen Nichole Accardo, Annabeth B. Harris, Stephanie L. Stidivent
Wallis: Skyler D. Zahradnik
Warren: Savanna R. Ard
Utah                                                                                                                                                                                                    
Spanish Fork: Averi Marshall
Virginia                                                                                                                                                                                               
Ashburn: Alexis Nicole Bourg
COUNTRIES
Bangladesh
Zarin Musarrat Manita
Belarus                                                                                                                                                                                                 
Hanna Blinouskaya
Benin                                                                                                                                                                                                  
Segnisso Ahokpossi
Brazil                                                                                                                                                                                                 
Alicia Vieira Claudio, Kiyodi Dec Sakano
Canada                                                                                                                                                                                                 
Magalie Depot, Delana K. Friesen
Colombia
Juan Sebastian Fierro Trujillo
Dominican Republic
Carlos Bladimir Rosario
Finland                                                                                                                                                                                                
Eemil Herranen
Germany                                                                                                                                                                                                
Sabrina Romance
Hungary
Maja Gebauer  
India
Praneetha Gobburi, Harikrishnan Radhakrishna Pillai, Anto Jean Xavior
Ireland                                                                                                                                                                                                 
Jack Hearn
Kenya                                                                                                                                                                                                  
Gladys Jemaiyo, Henry K. Kiplagat, Pamela Kosgei
Korea, Republic of
Junghyun Park                                                                                                                            
Montenegro
Stefan Mirkovic
Nepal
Dev Shankar Acharya, Upendra Adhikari, Keshav Aryal, Abhishek Bhusal, Saugat Budathoki, Santosh Chaudhary, Sujan Chaudhary, Shrijan Dhakal, Manish Ghimire, Krishna Gurung, Laxman Gyawali, Sujal Joshi, Nita Kaphle, Aakash Karna, Rita Khadka, Sabin Khadka, Milan Khanal, Saroj Khanal, Suraj Khanal, Anil Khatri, Samir Lamichhane, Rabina Maharjan, Aaditya Ranjan Mahato, Hemant Mahato, Samrat Marasini, Naresh Neupane, Vipan Parajuli, Aayam Paudel, Bishnu Prasad Poudel, Sudarshan Poudel, Sambridhi Poudyal, Sandip Sapkota, Shikha Sharma, Kandu Sherpa, Biplop Shrestha, Saurav Singh, Aashma Subedi, Rojina Sunuwar, Rashmita Tamang, Achyut Kumar Thapa, Manita Khatri, Bipin Kumar Mahato, Krishna Gurung, Mamata Dahal Ghimire, Aman Khan, Diksha Parajuli, Biplav Paka Shrestha, Abiral Mainali, Sagar Pandeya, Suman Giri, Shristee Sapkota, Raunack Sharma, Biplop Shrestha, Nhujaa Ratna Tuladhar, Sirapa Tuladhar, Anugnya Yadav, Ayush Banjade, Ankit Goel Ghimire, Gopal Thapa Chhetri, Dinesh Upadhyay
Nigeria
Favour Onyinyechi Anyalebechi, David Oluwatobiloba Majekodunmi, Oluwasemilore Fredrick Adefila, Eniola Mercy Adenuga, Olufadekemi Daniella Agbelusi, Stephen Olaleke Alagbe, Damilare Johnson Awodele, Cheta Vanessa Ezenduka, Obumnaeke Gabriel Odinamkpa, Oghenemarho Tiara Ogboru, Olivia Chinazaekpere Okpala, Zainab Adeola Sanusi, Joseph Oladeji Sanya, Temiloluwa Oluwabusayomi Oluwadare, Joan Edima Fintan, Motunrayo Mary Ayodele, Josemaria Kamsiyochukwu Ezejelue, Muqeet Oluwanifemi Gbolahan, Didunoluwa Folakunmi Johnson, Oluwatoyin Oluwayomi Abbas, Efetobore Justice Esiri, Frank Uchechukwu Obioma                                                                                                        
Norway                                                                                                                                                                                                 
Martine Ellefsen                                                                                                                       
Pakistan                                                                                                                                                                                               
Amin Memon, Anita Fiaz, Abdul Wahab Javed, Muhammad Shazad Yousufzai Pathan
Peru                                                                                                                                                                                                    
Francisco Javier Cordova-Segura
Philippines                                                                                                                                                                                             
Ethan Fernando Joaquin Ontiveros Alon
Saudi Arabia                                                                                                                                                                                           
Jaydaa Areef K. Alghamdi, Jehad Aref K. Alghamdi                                     
Spain                                                                                                                                                                                                  
Natalia Mora Ballo
Tanzania                                                                                                                                                                                               
Mpawenimana Violette
United Kingdom
Fiona Heffernan, Matthew James Harding
Venezuela                                                                                                                                                                                              
Yileynis Melisa Jimenez Rodriguez, Jose Alfredo Betancourt                  
Vietnam                                                                                                                                                                                                
Quyen Hoang, Bao Ngoc L. Tran, Thi Thuy Linh Tran, Huynh My Ngoc Phan, Hoang Le, Truong Lap Phan, Anh Thi Thuy Chu, Tho Nguyen Hoang Tran     
Want more stories like this one sent straight to your inbox every week? Sign up for our McNeese eNewsletter!
The Office of Marketing and Communications
4205 Ryan Street
Lake Charles, LA 70609
337-475-5640
communications@mcneese.edu